Results for July to December 2022
---
Veterans AC 5 Mile Road Race and Race Walk, Battersea Park, 2 August 2022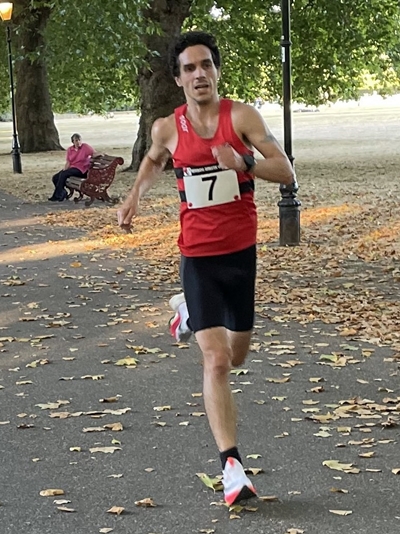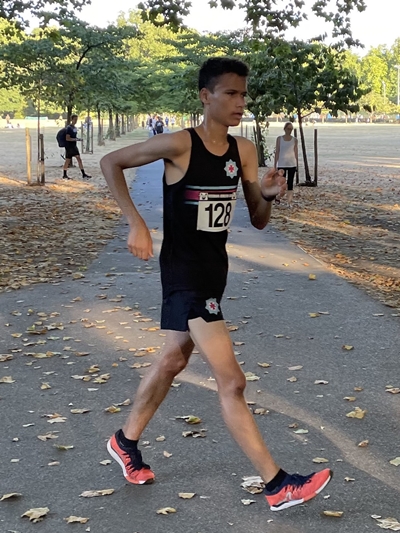 Louis Taub, Road Race Winner Jonathan Ellerton, Race Walk Winner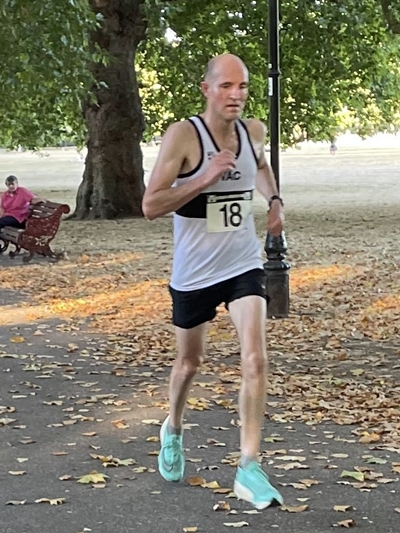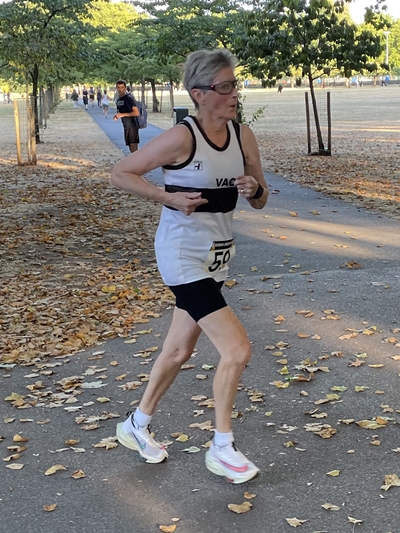 Will Pitt, 2nd place Penny Elliott, W75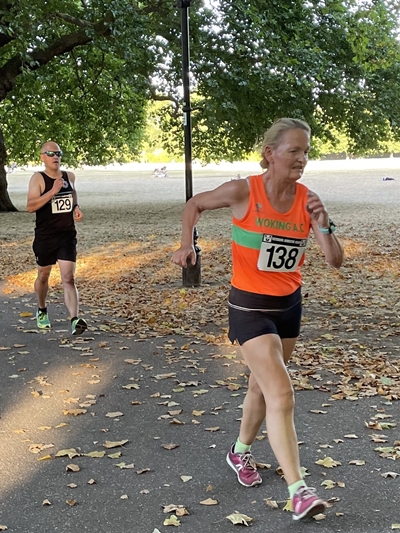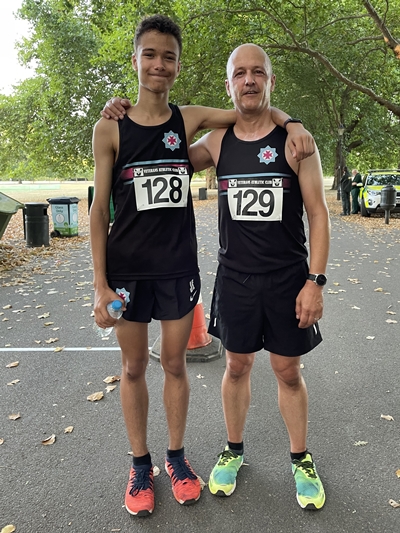 Fiona Bishop, W60 walker Jonathan and Matthew Ellerton
Photos by Maggie Statham-Berry
Here are the Results of the 5 Mile Road Race
Road Race report
Hot conditions reduced the numbers starting and affected the times achieved. The winner was Louis Taub (M45) from Brighton & Hove AC in 28:31, running strongly to hold off VAC's Will Pitt (M50) by 14 seconds. VAC's Robin Jones (M45) was third in 29:05. Jonathan Ratcliffe (M55) and William Fradley (M40) were the other sub-30 minute performers. Joe Aspinall (M80) made a welcome return to the 5 mile distance after three years, comfortably ahead of fellow-M80, Peter Torre.
The women's winner was Anna Critchlow (W50) in 9th place overall with a commendable time of 31:52. Jane Fabes (W65) of Abingdon AC posted a similarly admirable time of 37:48 to finish as the third woman.
Race Walk report
The fourth and last of the regular Battersea Park races had a reasonable field in the continuing hot weather, with some breeze and less humid than the previous race in the series.
The course was 5 miles to end the season.
The men's winner was Jonny Ellerton, from Blackheath & Bromley, who had done the 5k at Battersea Park the previous year, and also achieved a personal best, with plenty to look forward to in the future, in addition he also does hurdles amongst other things when not race walking.
Maureen Noel (Belgrave) came first for the ladies in her usual creditable time.
Matt Ellerton, also Blackheath & Bromley, posted a respectable time in his first attempt at 5 miles.
It was good to see Stuart Bennett (Ilford) back after a layoff due to injury and VAC hope he will return to form in the not too distant future.
Veterans AC 5M Race Walk

- Battersea Park, 2 August 2022
RWA Permit No RWA22025-4
Category B
RESULTS
Place
Name
Age Group
Club
Time
1

Jonathan Ellerton
U17M
Blackheath & Bromley Harriers AC
47:08
2
Steve Bishop
M60
Veterans AC
50:08
3
Maureen Noel
W55
Belgrave Harriers/Veterans AC
52:50
4
Stuart Bennett
M60
Ilford AC/Veterans AC
53:06
5
Fiona Bishop
W60
Woking AC/Veterans AC
54:06
6
Matthew Ellerton

M45
Blackheath & Bromley Harriers AC
55:35
7

Lesley Morris

W60
Ilford AC/Veterans AC
57:04
8
David Hoben
M65
SyWC/Veterans AC
1:02:29
9
Christopher Flint
M75
SyWC/Veterans AC
1:02:52
10
Peter Hannell
M75
SyWC/Veterans AC
1:06:03
Kathy Crilley
W70
SyWC/Veterans AC
DNS
Officials
Race Director and Starter: Ben Noad
Clerk of Course: Dennis Williams
UKA Adjudicator: Malcolm French
Timekeepers: David Harris, Helen Davies
Recorders: Ian Isherwood, Carl Lawton, Maggie Statham-Berry and Ros Tabor
Walk Judge: Mark Culshaw
Registration: Maggie Statham-Berry, Ros Tabor and David Hoben
Marshals: Martin Berry, Peter Hall, Tony Harran, Andy Murray, Richard Stansfield and Lucy Woolhouse
Lead Bike: Henry Murdoch
Results: Ben Noad
Photography: Maggie Statham-Berry
First Aid: Bespoke Medics Ltd

---
England Masters Athletics Association Inter-Area Challenge, Nuneaton, 31 July 2022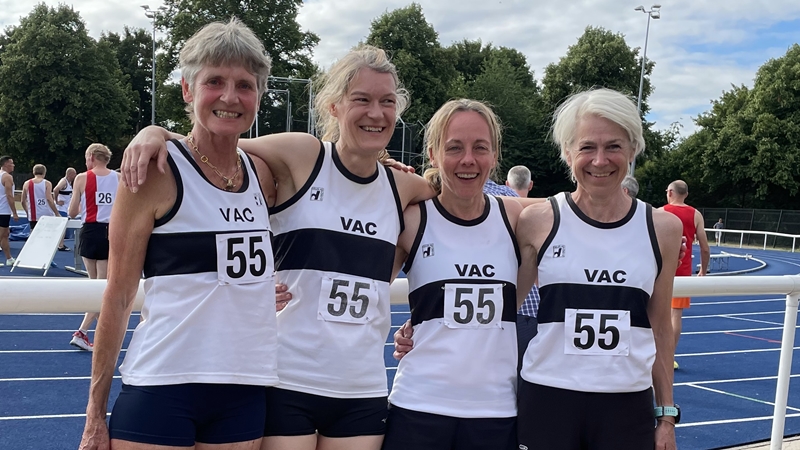 W50 Relay Team: Anna Garnier, Helen Davies, Rachel Berry, Lucy Woolhouse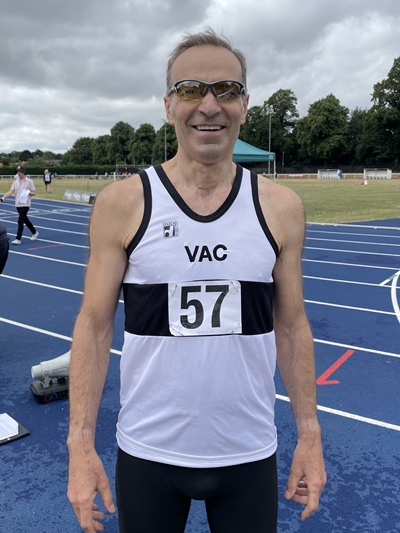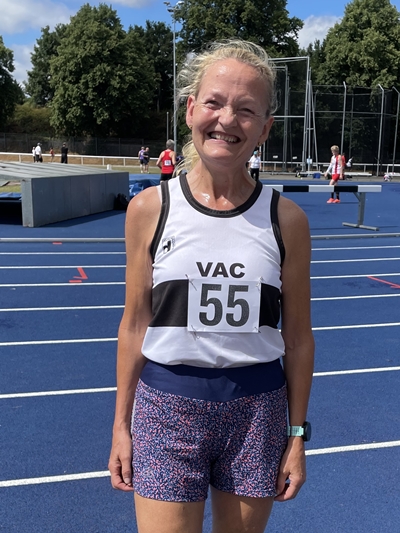 David Hines, 200m 1st Fiona Bishop, 2K Walk, 2nd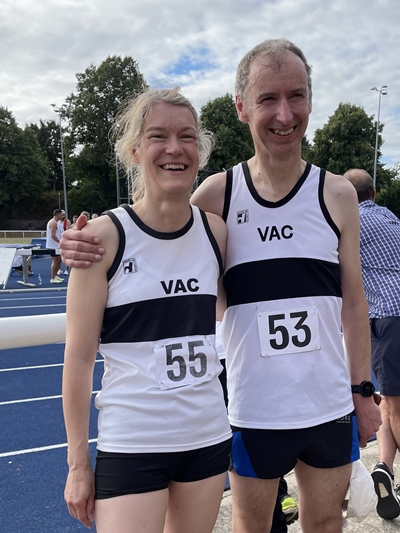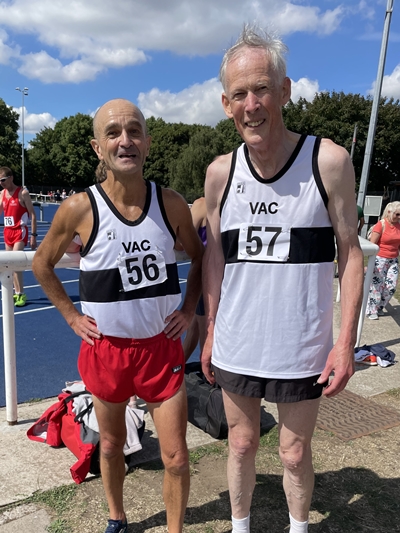 Helen and Malcolm Davies, 3 events each Richard Jenkin, Peter Kennedy, 800m 2nd places
Photos by Maggie Statham-Berry
Thirty six members made the trip to Nuneaton to represent VAC in the prestigious Inter Area challenge for the UK's Masters area clubs. Every place counted for a point in the eight track races and eight field events for each gender in various age groups, followed by relays. Team spirit was high and many members doubled up and some stepped into less familiar events, which added to the fun. VAC was sixth overall but it was close. In the men's match another twenty points would have elevated the team from sixth to third.
A particular highlight was the Championship Best Performance of 10.58:21 achieved by Sue McDonald in first place in the W50 3,000m. There were six other individual first places including two by Zoe Doyle (W35 800m and 1500m). Other firsts were David Hinds (M70 200m), Robert Datnow (M50 800m), Dave Annetts (M35 2k Walk) and Stacey Gonzalez-Betancourt (W35 Pole vault). In addition, there were 17 second places and 7 third places.
Here are the provisional results of the 2022 Masters Inter Area Challenge.

---
VAC 5,000m Championships, Wimbledon Park, 27 July 2022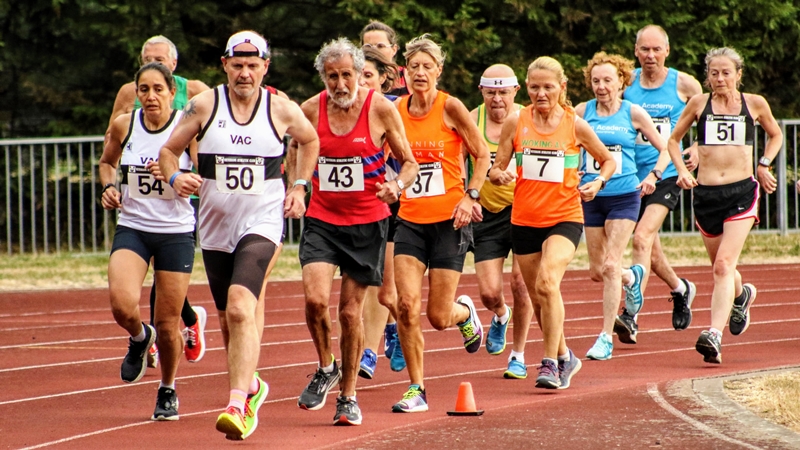 Race 1 with race winner Andy Mitchelson (50) in the lead

Race 2 with race winner Jonathan Whittaker (76) in the lead.

Race 3: Satnam Singh, Rob Marcus, Gina Galbraith, Andy Bowen, Julie Backley, Anna Critchlow,
Peter Robertson, Ben Gilmore, Kate Carter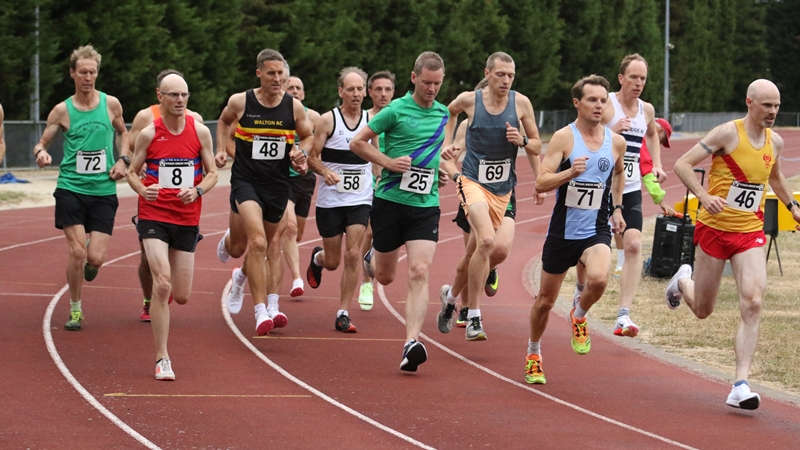 Race 4 with men's champion Richard McDowell (46) leading the way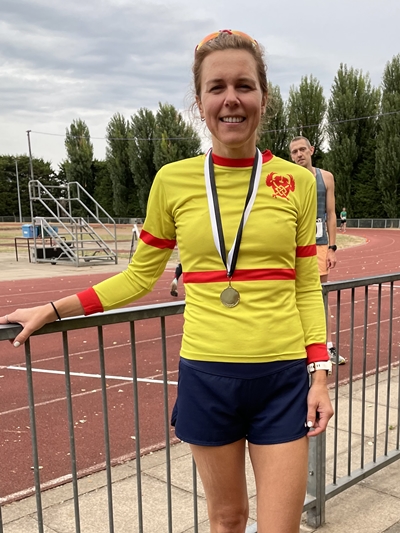 Richard McDowell, men's winner Gina Galbraith, women's winner
Action photos by Edward Thorpe. Others by Maggie Statham-Berry
Here are the Combined Results showing the medallists.
A pleasant evening at Wimbledon was appreciated but was maybe a little too warm for high intensity racing over 12.5 laps. Nevertheless, there were some fine performances in the four seeded races, with 54 people taking part.
Andy Mitchelson (M50) won the first race of 15 starters in a time of 22:50.22. He was pushed all the way by Mike Mann (M70) in 22:59.42, with Rhiannon Needham (W40) in third place in 23:10.87, only five seconds off her PB. It was good to see Alan Rich making a welcome return to track racing after a long absence. Jonathan Whittaker (M40) won the second race in 18:42.99. There was a close battle for the second and third placings with Martin Daoud (M55) (19:58.46) just edging Helen Pool (W45) (19:59.75) by one second.
The third race featured the women's winner, Gina Galbraith (W45), posting a fine time of 18:17.52 to win the W45 Gold medal. She was second behind race winner, Chris Ness (M50) (17:53.25). Richard McDowell (M40) won the fourth, fastest, race and retained his title of VAC Men's 5,000m Champion, as well as winning M40 Gold. His time of 15:44.54 had a margin of 16 seconds over Andy Bond who pursued him relentlessly throughout the race, winning M45 Gold.
Other Championship Gold medals were awarded to Ben Goddard (M35), Will Pitt (M50), Terry Booth (M55), David Ogden (M60), Dave Watson (M65), Mike Mann (M70) and Edward Thorpe (M75).
For the women, Anna Critchlow was VAC's first women and won the Champion's trophy as well as the W50 Gold medal. Other Golds were awarded to Claire Curtin (W40), Nicky Atkins (W55), Lucy Woolhouse (W60) and Pauline Rich (W75).

---
Veterans AC 5k Road Race and Race Walk, Battersea Park, 12 July 2022
Anna Garnier, VAC President, presents the championship medals.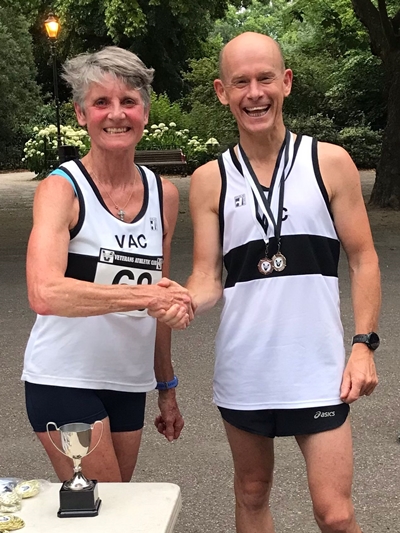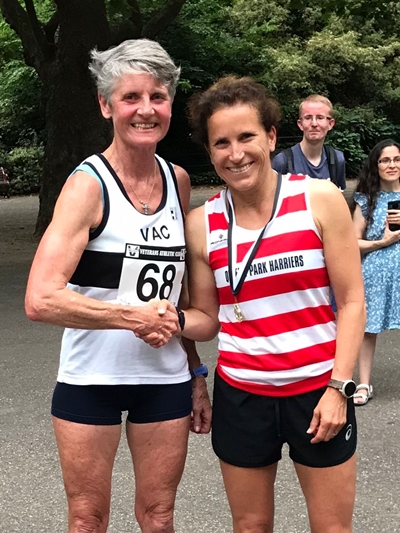 Rich Berry, VAC Men's Champion Karima Harris, Women's Champion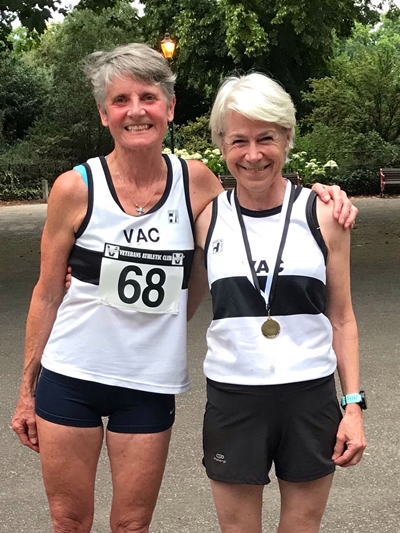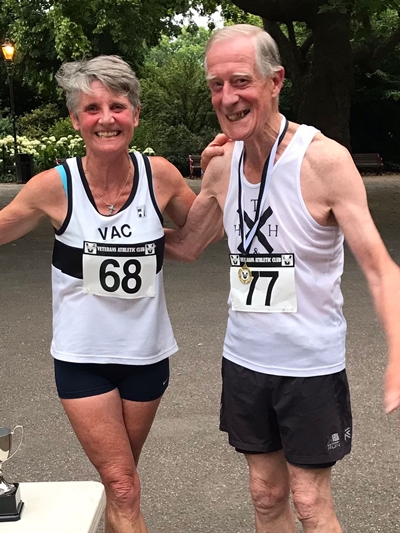 Lucy Woolhouse, W60 Gold Michael Johnson, M80 Gold
Photos by Lisa Thomas
A hot, sultry, evening adversely affected the turn-out and the times achieved. Barnaby Day (M35) of Kent AC was the race winner in 16:23, comfortably ahead of Micah Evans (M40) in 16:39. The first VAC members had a fine contest for 6th, 7th and 8th places with Rich Berry (M45, 17:20), the first VAC man, just one second ahead of Richard Tomlinson (M50) who was in turn one second ahead of Robin Jones (M45). Terry Booth was not far behind in 17:34, taking the M55 Gold medal. Other age-group first places were claimed by John Barron (M65), Mike Mann (M70), Michael Johnson (M80) and Richard Pitcairn-Knowles (M85).
Karima Harris (W50) had a splendid win in the women's race, achieving a PB of 18:49, only four seconds short of the W50 course record set by Anna Critchlow in 2021. Anna herself was second in 19:14 followed by Kate Carter (W45) in third in 19:38. Age-group firsts were achieved by Pippa Major (W55), Lucy Woolhouse (W60) and Anna Garnier (W65).
Here are the Results of the 5k Road Race , showing the medallists.
Here is a link to the final Results of the 5k Road Race and Race Walk
Race Walk report
The third of the regular Battersea Park races had a reasonable field with excessively hot weather and cloud cover, with some breeze not the best of racing conditions.
The course was 5k which has become popular distance with our members.
The men's winner was Steve Bishop, formerly of Stock Exchange AC.
The ladies winner and second overall was ever present Maureen Noel (Belgrave) in her usual impressive time.
VAC were pleased to have yet another newcomer to the event and to race walking, Nick Fleeman from SCVAC, who recorded a respectable time.
Veterans AC 5K Walk Championships - Battersea Park, 12 July 2022
RWA Permit No RWA22025-3
Category B
RESULTS
Place
Name
Age Group
Club
Time
Championship position
1
Steve Bishop
M60
Veterans AC
30:10.1
1
2
Maureen Noel
W55
Belgrave Harriers/Veterans AC
32:16.4
1
3
Peter Watts
M70
Swanley AC/SCVAC
32:35.6
1
4
Nicholas Fleeman
M60
SCVAC
35:07.4
2
5
David Hoben
M65
SyWC/Veterans AC
37:39.9
1
6
Artur Olszewski
M40
Veterans AC
37:50.2
1
7
Christopher Flint
M75
SyWC/Veterans AC
37:51.6
1
8
Peter Hannell
M75
SyWC/Veterans AC
39:53.1
2

Lesley Morris

W60
Ilford AC/Veterans AC
DNS
Stuart Bennett
M60
Ilford AC/Veterans AC
DNS
Officials:
Race Director: Ben Noad
Clerk of Course: Dennis Williams
UKA Adjudicator and Starter: Malcolm French
Timekeeper: Ben Noad
Recorders: Ian Isherwood, Carl Lawton and Colin Harris
Walk Judges: John Hall, Mark Culshaw
Registration: Anna Garnier, Lucy Woolhouse and David Hoben
Marshals: Peter Hall, Tony Harran, Lisa Thomas, Stephanie Burchill and Dennis Williams
Lead Bike: Henry Murdoch
Results: Racing Timing Solutions
Photography: Lisa Thomas
First Aid: Bespoke Medics Ltd