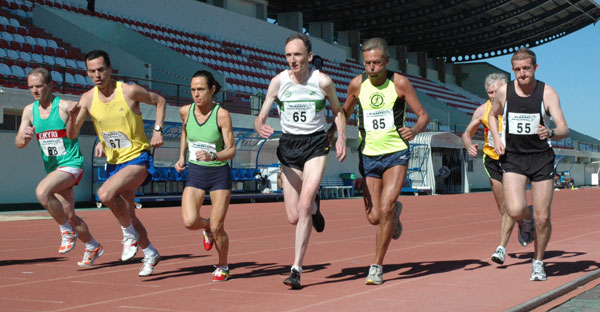 The start of one of the Mile races where Elms (green vest) ran 5:04.9 with other Vets AC members Martyn Rouse (85), Steve Smythe (67) and a partially hidden Martin Miller.
ALGARVE CHALLENGE November 2007
Veterans AC athletes did well at the second Algarve Challenge. They didn't manage to retain their team title this year but that was only because the second and third placed athletes overall Steve Smythe and Clare Elms (both Vets AC members) were running for their first claim club, Dulwich Runners who won the overall team title.
Telford's Dave Mansbridge won the overall challenge held on the eastern side of the Portuguese coast, which consisted of a 8K cross-country, a one mile track race, a 6K beach race and a 10 mile road race. He timed 1:54:03 for the 20 miles.
Elms just missed out on second place but she won the overall women's Challenge in 2:03:17, which gave her victory by just under 45 minutes. She finished third overall in the cross-country and beach race but her best race came in the Mile, where her 5:04.9 was a personal best and went top of the UK Masters ranking for 2007. Her final race was the X Milhas do Guadiana, a 10 mile event from Portugal to Spain across the Guardiana river. She finished third women in that behind two top Russians though struggled in the heat in the last few miles in 62:04.
Martyn Rouse led the overall Vets AC team, finishing third man overall, an excellent performance for the M60 from Invicta East Kent AC. His best performances came in the Beach race where he led for the first half, and the 10 mile where he was first M60 in the 500 strong field with 63:31 and he timed 2:08:28 for the overall event.
Stephanie Burchill finished fourth overall woman and first in the W50-W59 category with 3:01:17.
Other Veterans AC athletes who competed in the overall challenge were Martin Miller (7th, 2nd M60, 2:23:09), Alan Davidson (8th, 3rd M60, 2:28:06), Clifford Hyde (9th overall, 1st M50, 2:32:38), Stephen Edwards (10th, 2nd M50, 2:34:10), David Brooks (14th 2:52:25), Dennis Willams (18th, 3:01:39) and Alastair Jackson (24th 3:10:22).
Ros Tabor just competed in the Beach race where she was 3rd woman overall and first W50 in 28:35, and in the 10 mile she was first over 45 woman in 71:42. Andy Murray also competed in both races and was first M50 in the Beach race.
Next year's event should be held at the same weekend though for those who can't make the whole week, the 10 miles, unusually spabbing 2 countries, is well worth a weekend visit. The race gives you your time overall position and category position within seconds of finishing on a piece of paper and all runners get a quality t-shirt, medal, and well stocked goody bag for a very small fee. The facilities in the area are superb and Vila Real San Antonio and Monte Gordo are increasingly popular venues for athletes for warm weather training though the British team used it as a holding camp as long ago as the 1999 World Championships in Seville. The track facilities are excellent, with a new indoor facility, there is a cross-country course close by (used for the European Masters Championships the year before) and it sits beside the Portuguese National Forest which has some excellent trails. They are clearly marked and sit both sides of Monte Gordo. The beach is also excellent for running most of the time, stretching close on 10 miles and running along to the Guadiana river, and is flat and besides the dunes and forest trails and very quiet.
Anyone interested in taking part in the 2008 Algarve Challenge, or the X Milhas do Guadiana, should contact Track and Field Tours (01277 354 377) http://www.trackandfield.co.uk or e-mail tftours@aol.com
Steve Smythe