Results for July 2015 on...
Results for January to June 2015 here...
---
Alf Palmer Memorial Handicap Walking Races incorporating VAC 5k championships, 19 December 2015, Broadbridge Heath Track, Horsham
This event was held in conjunction with Steyning AC's open track meeting for 5k, other distances, and Young Athletes group, and was the first time the VAC championships had been hosted there.
9 VAC members in all entered this event, which with a total turnout of 48 exceeded all expectations. The 2 VAC ladies continued their form of the season, and the VAC contingent was led home by Ian Richards of Steyning AC just outside top 3 (4th overall) in an excellent time.
The fine dry sunny weather, although there was some surface water on the track, made this a perfect day, which ended with presentation, awards to VAC members and a Xmas social in the leisure centre.
Results
W55
1 Fiona Bishop (Woking AC) 31:55.6
W60
1 Anne Jones (Steyning AC) 32:48.3
M60
1 David Hoben (Surrey Walking Club) 35:30.0
M65
1 Ian Richards (Steyning AC) 25:43.5
2 Dan Maskell (Surrey WC) 31:43.5
M70
1 Ron Penfold (Steyning AC) 32:11.8
2 Peter Hannell (Surrey WC) 32:29.0
M75
1 Arthur Thomson (Enfield H) 34:13.7



---
Hercules Wimbledon 5M cross country and East Surrey League, Wimbledon Common, 5 December 2015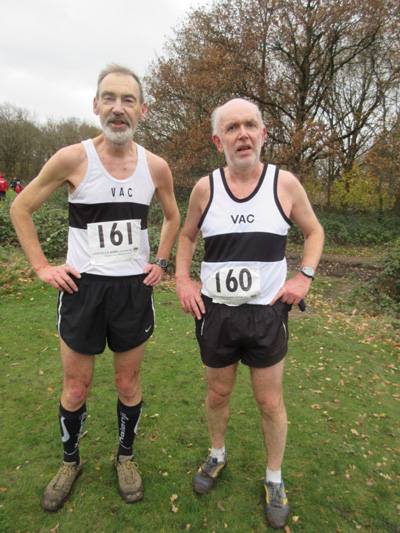 Graham Laylee Andy Murray and Graham Laylee
Many VAC members competed in this popular fixture for their first claim clubs. Graham Laylee and Andy Murray were the VAC scorers.

87. Graham Laylee M55 38:14
94. Andy Murray M60 39:01



---
VAC 10 mile Championships, "Epsom 10", 15 November 2015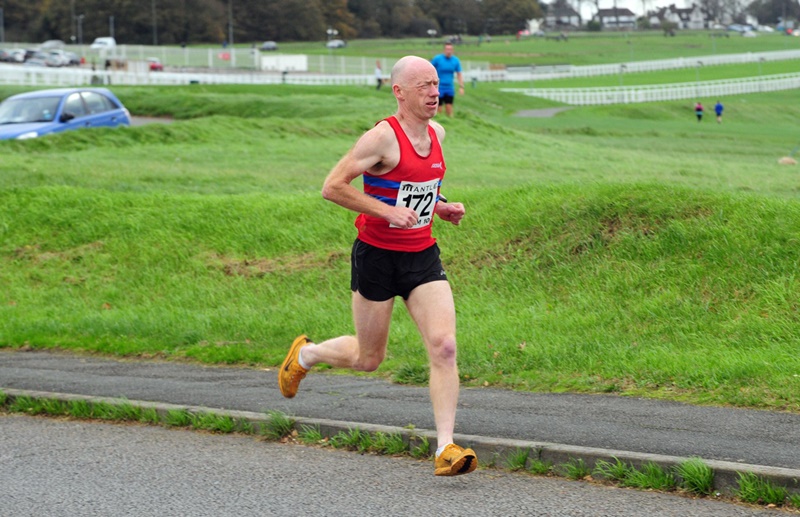 Tony Tuohy 2nd M50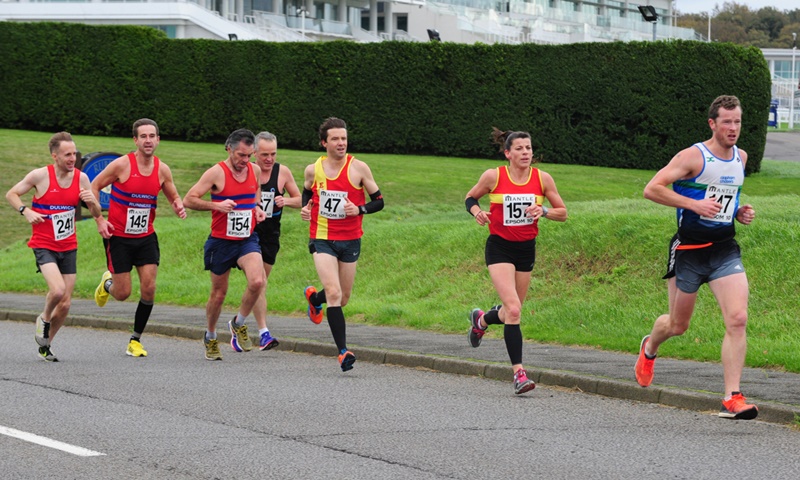 157 Di Norman 2nd Lady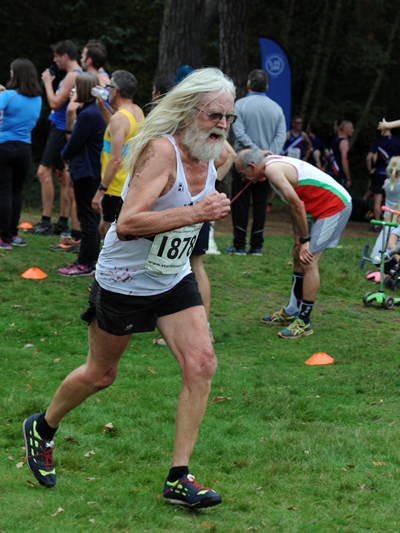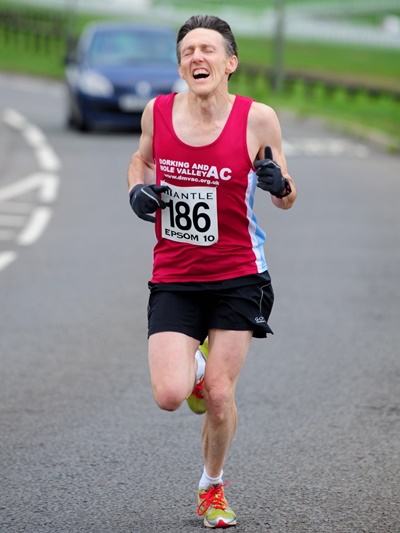 Timothy Bowen, Race 2nd David Moore 1st VAC
Photo by Jeremy Hemming

VAC placings
6 David Moore(DMV Race 1st M50)              60:32
7 Tony Tuohy(DR Race 2d M50)                    61:22
24 Kevin Chadwick(DR M35)                         65:57
27 Simon Bean(E&E M55)                             66:37
38 Eberhard Prill(DR M50)                              68:22
46 Susan McDonald(SLH Race 1st W45)   70:15
48 Stephen Vincent(SLH M45)                     70:38
64 Gideon Franklin(DR M50)                       73:15
82 Steve Clancey(SLH M40)                       75:58
152 Chris Wheeler(VAC M60)                     88:33
189 Ann Bath(26.2RC W55)                       96:42
192 John Taylor(Hailsham H M75)             97:56


Team Men 1 Dulwich Runners
Team Women 1 Epsom & Ewell H


See complete Results and Report at www.eandeharriers.co.uk




---
British and Irish Masters Cross Country Championships, Dublin, 14 November 2015
VAC Members' medals and placings
M45 Ian Johnston (Scotland) 24th 29:41
M50 Ben Reynolds 4th 27:29 Team Gold
M60 Dave Cox 4th 30:35 Team Silver
M65 Peter Whitcomb 6th 24:53 Team Silver
M70 Peter Giles 1st 24:56 Team Gold
M75 Edmond Simpson 13th 33:52 Team Gold
W35 Sophie Carter 6th 22:43 Team Silver
W40 Cath Stibbs 14th 23:43 Team Gold
W50 Clare Elms 1st 22:43 Team Gold
W55 Claire Donald 1st 23:48 Team Gold
W60 Maggie Statham 3rd 26:25 Team Gold
W65 Ros Tabor 2nd 26:58 Team Silver
W65 Ann Bath (Scotland) 13th 34:11
W70 Pauline Rich 5th 32:48 Team Gold
W70 Lesley Bowcott 8th 33:55 Team Gold
Pouring rain in Dublin did not deter the VAC members selected to represent England and Scotland at this prestigious international Masters championship. Clare Elms (W50), Claire Donald (W55) and Peter Giles (M70) excelled by winning individual gold medals, with Ros Tabor taking the W65 silver medal and Maggie Statham the W60 bronze.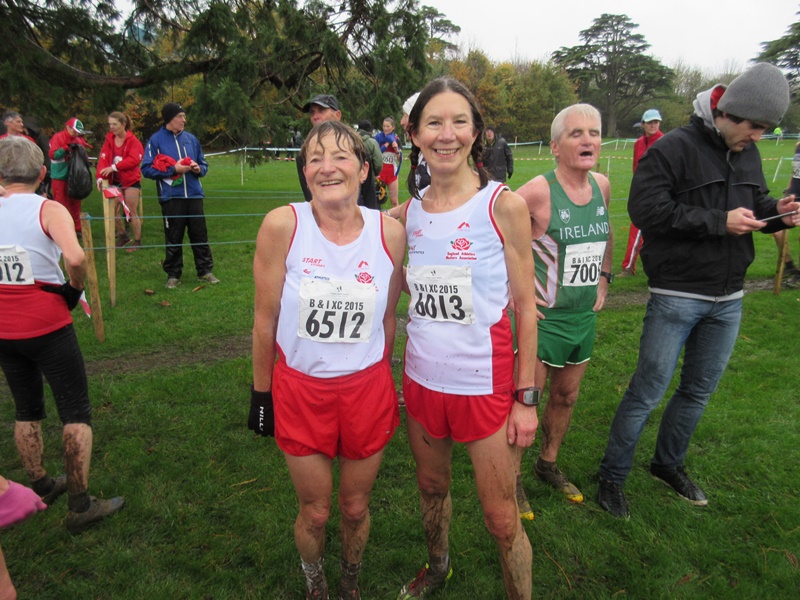 Ros Tabor and Maggie Statham



---
VAC 7 MILES RACE WALK CHAMPIONSHIP, 14 November 2015, Lee Valley Athletics Centre
The event was held in conjunction with Enfield & Haringey AC's 7 Mile Open race. An encouraging turnout of 14 VAC members was above expectations, bearing in mind a number on the sick list and persistent rain. In context, the host club Enfield AC had 50 on the start line.
The VAC contingent was led home by Ian Richards of Steyning AC (6th overall). His sub 1 hour slot was a testament to an excellent season, and contributed to his club's second team placing in the main race. Several VAC members bettered their 2014 times.
November 2016 will see the 90th edition of this classic walking event organised by Enfield AC, now the oldest on mainland UK. It is widely predicted to attract large numbers.
Results
W50 1 Maureen Noel (Belgrave H) 70.02
W55 1 Fiona Bishop (Woking AC) 73.45
W60 1 Anne Jones (Steyning AC) 74.46
M55
1 Steve Uttley (Ilford AC) 65.44
2 John Ralph (Enfield HAC) 65.47
M60
1 Paul King (Belgrave H) 75.22
2 David Hoben (Surrey Walking Club) 80.29
M65
1 Ian Richards (Steyning AC) 57.58
2 John Hall (Belgrave H) 69.08
3 Dan Maskell (Surrey WC) 70.35
M70
1 Shaun Lightman (Surrey WC) 70.29
2 Ron Penfold (Steyning AC) 74.21
3 David Delaney (Surrey WC) 79.33
M75
1 Arthur Thomson (Enfield HAC) 72.33



---
Surrey League Cross Country, Epsom Downs, 7 November 2015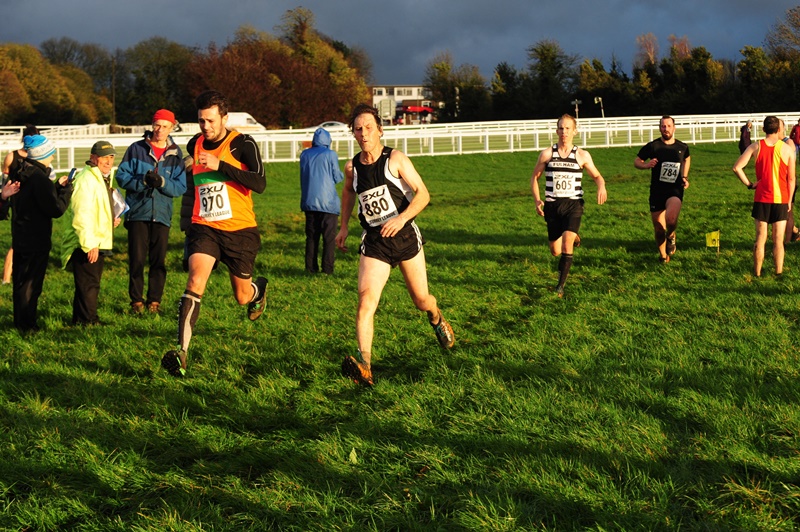 Barry Atwell(880) races into the finish, near Tattenham Corner
Photo by Jeremy Hemming
Men's Surrey League Cross Country, Epsom Downs, 7 November 2015
Thirteen VAC men braved the rain on an exposed 5 mile, two-lap grassy course on Epsom Downs, complete with a sharp, steep 2 metre descent which was best tackled at a fast leap. Richard Batchelor once again led the VAC team home in a fantastic 6th position, and first M40. He was followed by Dan Pescod who this time was ahead of fast-finishing Mark Cawood. Barry Attwell, as an M60, showed his class as 4th scorer ahead of his SLH club mates, Jamie Freeland, Steve Clancey, Robin Dow and Steve Vincent, who packed well for the next four scoring positions. Peter Giles was not far behind, and the ever-present Carey Gray completed the scoring. Paddy Clark, Dennis Williams and Alan Lane made sure that VAC was well represented, and well respected.
This magnificent turn-out and fine performance resulted in Vets AC achieving third place in the team standings on the day. First indications from the provisional results are that VAC remains in 4th place overall after two matches, but only 30 points behind 3rd placed Woking AC. Let's push for another good result at the next match at Oxshott on 16th January!
VAC placings: Division Four (provisional results)
6 Richard Batchelor M40 33:25
22 Dan Pescod M40 35:18
26 Mark Cawood M45 35:46
33 Barry Attwell M60 36:38
42 Jamie Freeland M40 37:26
53 Steve Clancey M40 38:28
54 Robin Dow M40 38:42
58 Steve Vincent M45 39:08
64 Peter Giles M70 39:32
77 Carey Gray M55 41:31
104 Paddy Clark M70 47:03
111 Dennis Williams M65 50:28
117 Alan Lane M80 70:21
Team Position in Match (top five of ten teams):
1. Fulham Running Club: 161 points
2. Runnymede Runners: 297 points
3. VAC: 422 points
4. Woking AC: 424 points
5. Barnes Runners: 491 points
Full results and team placings are here.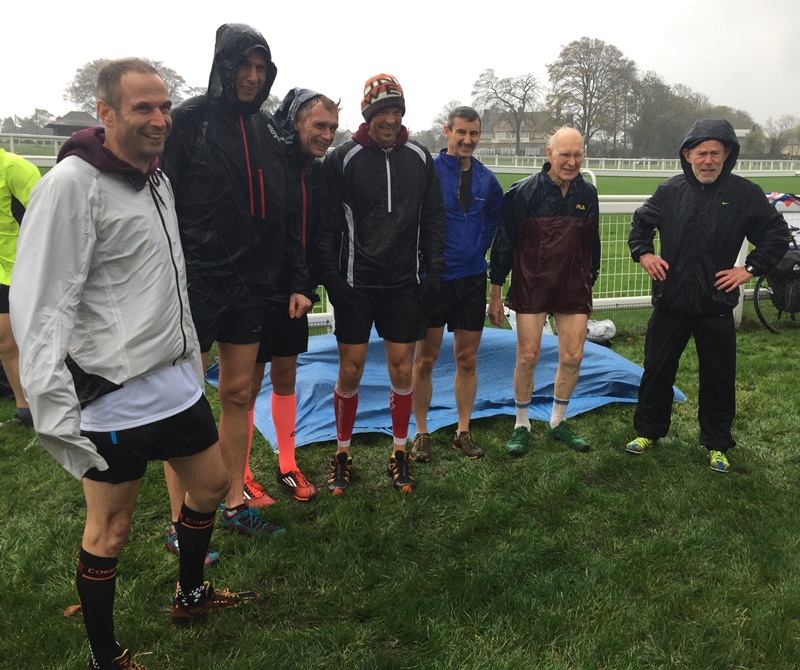 Some of the VAC team at Epsom Downs, soaked before the race (from left to right):
Mark Cawood, Robin Dow, Steve Clancey, Jamie Freeland, Steve Vincent, Alan Lane, Paddy Clark. Photo by Martin Berry.

---
Surrey League Cross Country, Roundshaw Downs, 10 October 2015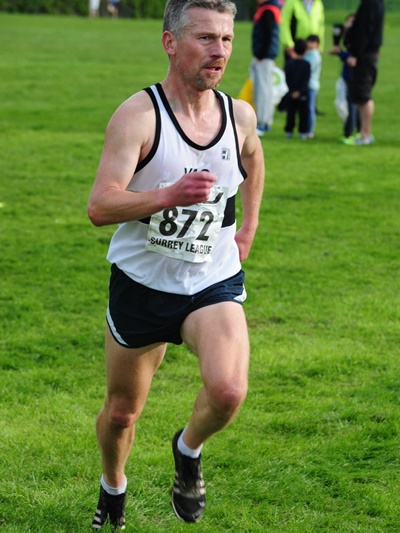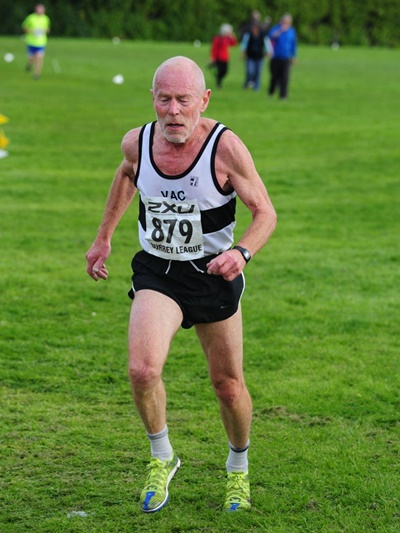 Richard Batchelor Paddy Clark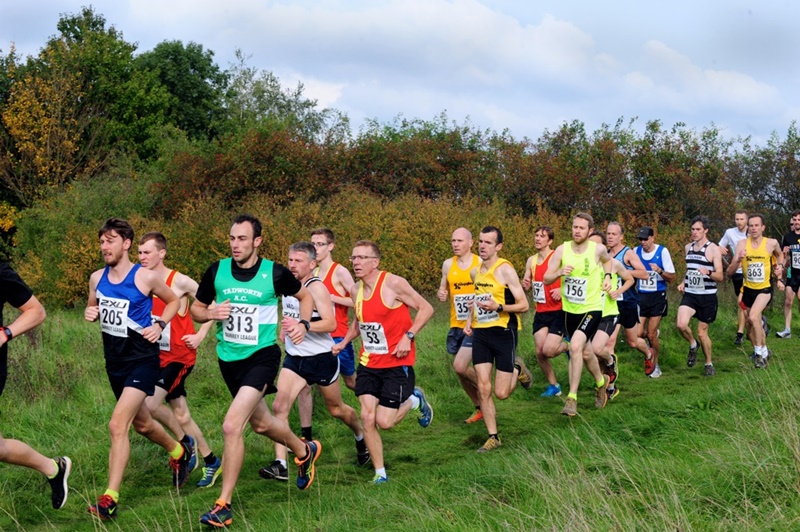 Richard Batchelor, 4th in picture, led VAC team into the further reaches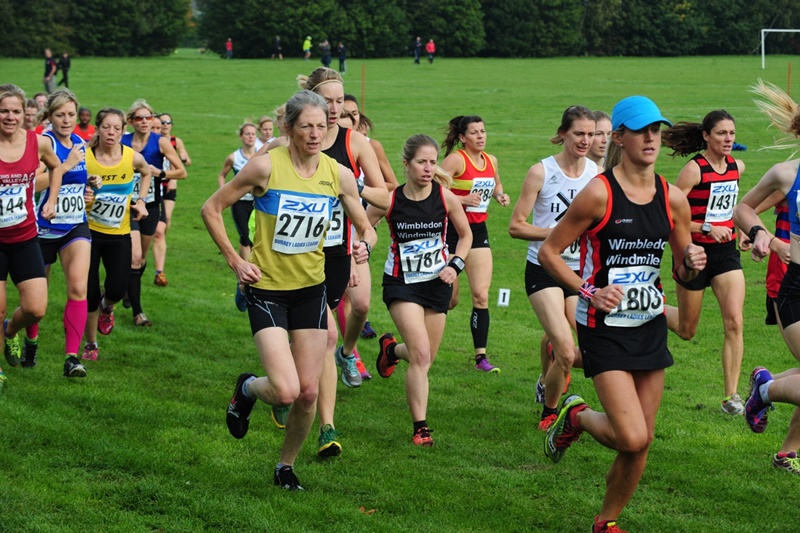 Surrey Womens League with Anna Critchlow (2716) for West 4
Photos by Jeremy Hemming
Surrey Womens League; no VAC team but many members in the very big league naturally
Surrey Womens League Roundshaw Park 10 October
1 Steph McCall(SLH) U23 21:38
2 Gillian Saunders (Ran)21:46
10 Clare Elms(Dul) 24:03
37 Anna Critchlow(W4) 25:15
38 Rachel Badham(W4) 25:16
42 Nicola Richmond(Dul) 25:19
53 Ola Balme(Dul) 25:50
122 Maggie Statham(Holl)27:53
139 Liz Richardson(KP) 28:18
165 Ros Tabor(Dul) 29:03
167 Liz Amos(Walton) 29:06
185 Nicky Atkins(KP) 29:44
222 Clare Wyngard(Dul) 30:39
250 finished
Men's Surrey League Division Four Match
A magnificent turn-out of 12 finishers resulted in Vets AC taking fourth place in the team standings after a very competitive match at Roundshaw Downs over the 5 mile course of grassland and some tricky trails. This splendid achievement was made possible by fine performances and powerful team spirit. Richard Batchelor led the VAC team home in 4th overall and 1st M40, followed by the fast finishing trio of Mark Cawood, Dan Pescod and Barry Attwell who battled between themselves for 24th, 25th and 26th placings. The rest of the team scorers packed well and fought for every place. Carey Gray continued his ever-presence and the biggest cheers were saved for Alan Lane. Most dedicated on the day had to be Tony Austin who despite sustaining badly bruised ribs after a running fall a week earlier, turned out for VAC and managed to complete a full lap before painful breathing got the better of him.
VAC results
4 Richard Batchelor M40 29:09
24 Mark Cawood M45 31:30
25 Dan Pescod M40 31:31
26 Barry Attwell M60 31:33
44 Peter Giles M70 34:08
46 Tony Harran M55 34:14
58 Steve Clancey M40 35:31
60 Carey Gray M55 35:41
83 Liam O'Hare M65 39:42
87 Paddy Clark M70 41:06
89 Dennis Williams M65 42:04
91 Alan Lane M80 61:14
239 Finished
Division Four Team Standings (top five of ten teams):
1. Runnymede Runners: 311 points
2. Fulham Running Club: 347 points
3. Woking AC: 414 points
4. VAC: 445 points
5. Windrush Tri Club: 509 points
Full results and team placings are here.
VAC Team Photo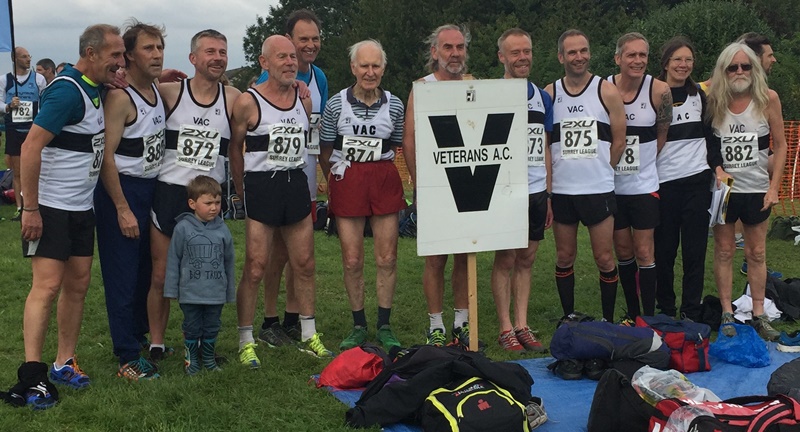 Most of the VAC team at Roundshaw (from left to right): Tony Austin, Barry Attwell, Richard Batchelor, Paddy Clark, Tony Harran, Alan Lane, Dennis Williams, Carey Gray, Mark Cawood, Steve Clancey, Maggie Statham (Assistant Team Manager), Liam O'Hare.
Photo by Martin Berry

---
East Surrey League, Lloyd Park, 3 October 2015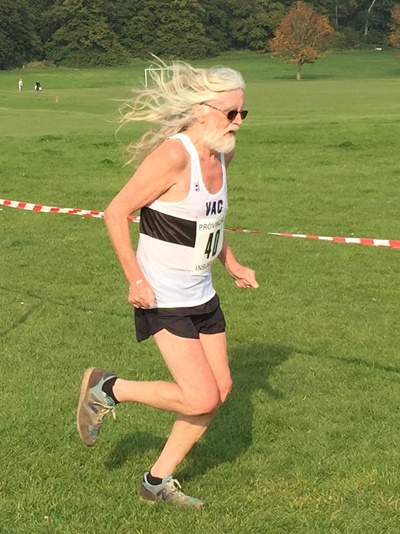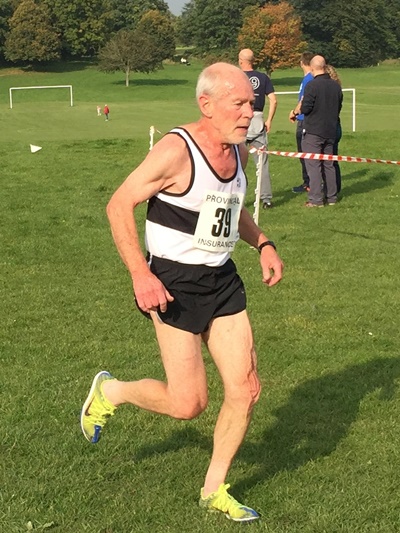 Liam O'Hare Paddy Clark
Photos by Martin Berry.
A good show of local clubs competed in Match One of the East Surrey League, which featured the season's first cross country race. Vets AC has been a long-standing member of this small friendly league and we will continue to give support. The benign weather and the dry, firm, two-lap, "Surrey County" course made for fast times over the two laps. A VAC team of three (one short of a full team) completed the race, as follows:
Maggie Statham, 44th, 6th woman, 1st W60, 38:23
Liam O'Hare, 61st, 1st M65, 44:13
Paddy Clark, 66th, 2nd M70, 45:49
74 finishers

---
Brockwell parkrun 26 September 2015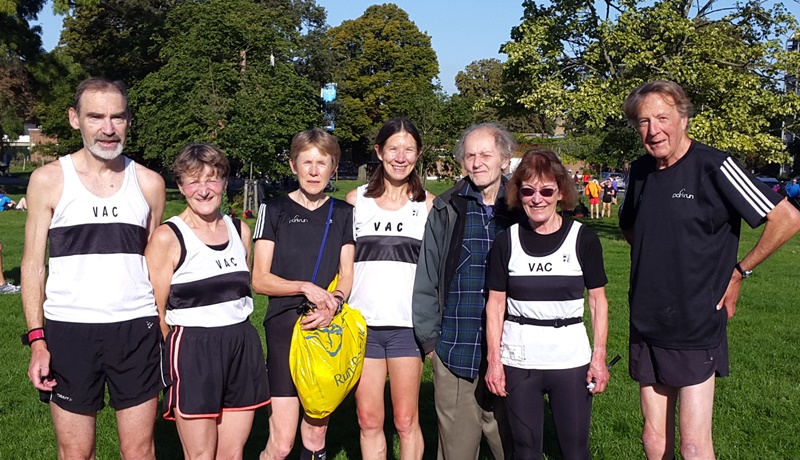 Brockwell parkrun: VAC runners and supporters (Andy Murray, Ros Tabor, Jo Quantrill, Maggie Statham, Joe Aspinall, Ann Bath, Richard Pitcairn-Knowles). Photo by Stephanie Burchill.
This parkrun was chosen as a VAC "mob match" and get-together. Nine members competed and made their marks through a good show of VAC vests, two new age-group course records and the top three age-graded performances. Nearly all the course was run on Brockwell Park's tarmac perimeter paths but fast times were abated by the energy-sapping slopes.
First home for VAC was Graham Laylee, closely followed by Maggie Statham, Ian Sesnan and Andy Murray. New W65 and M80 records for the course were posted by Ros Tabor and Richard Pitcairn-Knowles and the top three age-graded performances on the day were achieved by Ros, Maggie and Jo Quantrill. The VAC line-up was completed by John Carter, a prolific Wimbledon Common parkrunner, and Ann Bath, still fresh from her recent 24 hour track race. Joe Aspinall and Stephanie Burchill added welcome spectator support.
Name

Time

Age

Group

Age-grading

Age-graded position

(245 finishers)

Graham Laylee

22:08

M55

71.23%

21

Maggie Statham

22:14

W60

88.53%

2

Ian Sesnan

22:36

M55

69.76%

26

Andy Murray

22:41

M60

71.93%

18

Ros Tabor

23:04

W65

90.61%

1

Jo Quantrill

23:55

W60

80.00%

3

John Carter

24:46

M70

72.07%

16

Richard Picairn-Knowles

30:23

M80

72.90%

12

Ann Bath

31:13

W65

67.97%

38

---
24 hour race, Tooting Bec 19/20 September 2015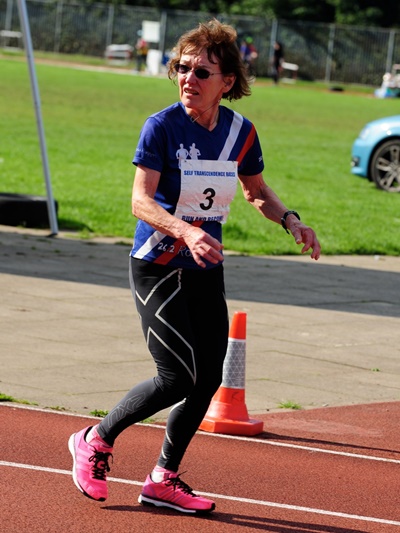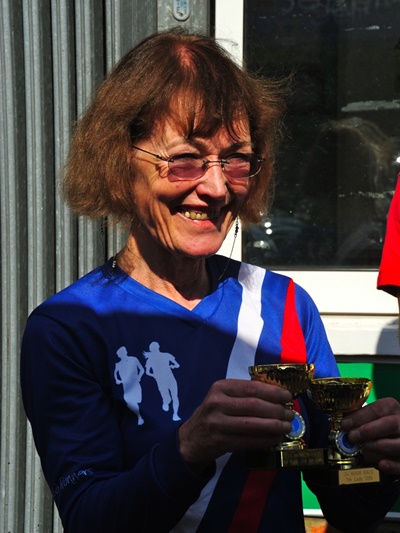 Ann Bath of VAC/26.2 with trophies: 1st over 60, and 7th lady
Photos by Jeremy Hemming
Ann Bath completed 104 miles in the 24 hrs Race, in 14th place and looked positive all the way. says Jeremy

---
VAC 10,000 Track Championships, Kingsmeadow 2 September 2015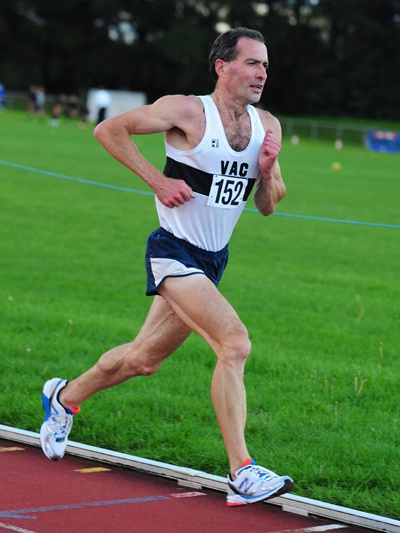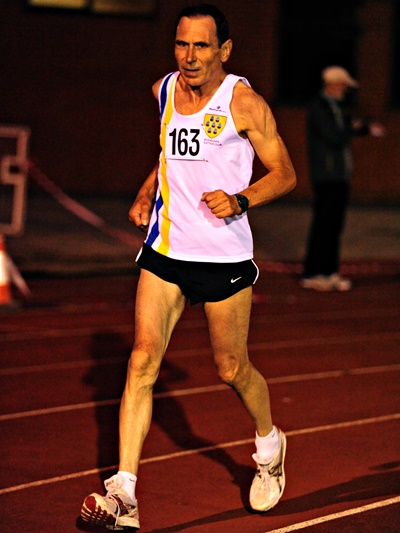 Ian Johnston Winner Race 2: John Denyer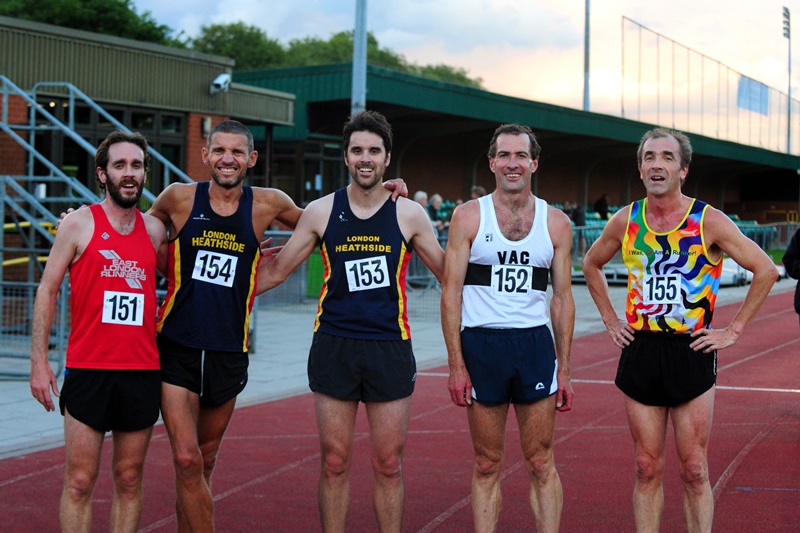 Thomas Grimes (151) - Dan Madams (154) - Edward Samuel (153) - Ian Johnston (152) - Andrew Robinson (155)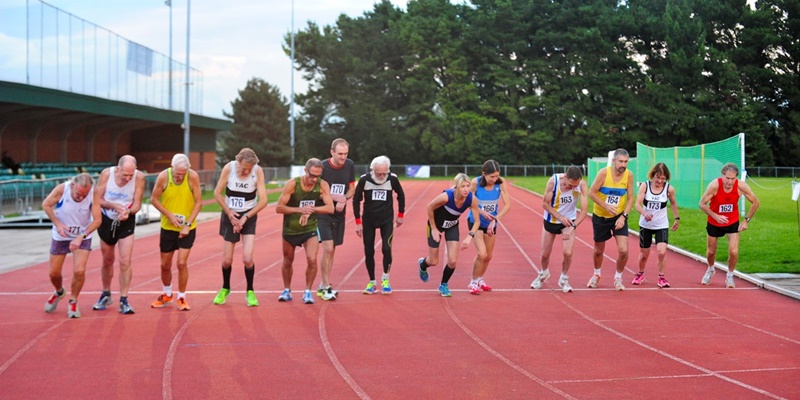 The start of race two
Photos by Jeremy Hemming
A total of 24 competitors ran the 25 laps of Kingsmeadow's athletics track in VAC's two 10,000m championship races. Our lucky weather continued for this event and, as in previous years, the stadium was blessed with settled conditions and warm sunshine until nightfall, when the floodlights made a good substitute.
Eleven men ran in the first fast race, with some close battles within the race, until the final positions were set. Ian Johnston pulled away majestically from the chasing field and his winning time of 34:15 saw him retain the prestigious McDowell Cup. Less than ten seconds separated the next four finishers, with M40 Dan Madams timed at 34:43.0, fractionally ahead of new member, Edward Samuels, who set a new VAC M35 championship best of 34:43.9. They were closely followed by Andrew Robinson in 34:46 and another speedy newcomer, Thomas Grimes, in 34:52.
The second race of 10 men and three women was won by top M65 John Denyer in 42:21, followed by the M55 gold-medallist, Peter Hall in 42:58. Steve Smith, also in the M55 category, showed good form as third-placer in 43:25, followed closely by the M70 gold medal winner, Richard Bloom, in a new VAC M70 championship best of 43:35.1. The first woman was W60 Maggie Statham in a time of 43:52. To complete the field in style, one of VAC's best supporters, Richard Pitcairn-Knowles, took the M80 gold medal in 63:05, over a minute quicker than last year's time.
Thanks go to the officials whose starting, timing, counting and recording were exemplary.
Race 1
Position
Name
Bib no.
Time
Age Category
Age Cat. Place
First Claim Club
1
Ian Johnstone
152
34:15.3
M45
1
Shettleston Harriers
2
Dan Madams
154
34:43.0
M40
1
London Heathside Runners AC
3
Edward Samuel
153
34:43.9
M35
1
London Heathside Runners AC
4
Andrew Robinson
155
34:46.7
M45
2
Kingston & Poly
5
Thomas Grimes
151
34:52.2
M35
2
East London Runners
6
David Cox
156
36:51.0
M60
1
Woodford Green with Essex Ladies
7
Dan Pescod
157
38:18.4
M40
2
Thames Hare & Hounds
8
Felix Allen
158
39:16.4
M40
3
Hercules Wimbledon AC
9
David Renton
161
39:35.0
M40
Mornington Chasers
10
Thomas Cheetham
160
39:42.9
M45
3
Hercules Wimbledon AC
11
Darryl Coulter
159
39:47.8
M40
Kent AC
Race 2
Position
Name
Bib no.
Time
Age Category
Age Cat. place
First Claim Club
1
John Denyer
163
42:21.8
M65
1
Sevenoaks AC
2
Peter Hall
164
42:58.5
M55
1
West 4 Harriers
3
Steve Smith
168
43:25.2
M55
2
Striders of Croydon
4
Richard Bloom
162
43:35.1
M70
1
Herts Phoenix AC
5
Maggie Statham
166
43:52.8
W60
1
Holland Sports AC
6
Tony Brackstone
165
44:48.1
M70
2
SCVAC
7
Liz Richardson
169
47:04.3
W35
1
Kingston & Poly
8
Colin Vickery
170
47:11.7
M40
Unattached
9
Dennis Williams
171
49:13.9
M65
2
Hercules Wimbledon
10
Alan Davidson
172
50:34.7
M65
3
Liss RC
11
Ann Bath
173
55:55.4
W65
1
26.2 Road Runners
12
Edwin Bartlett
175
60:41.9
M70
3
VAC
13
Richard Pitcairn-Knowles
176
63:05.4
M80
1
Sevenoaks AC
New Age-Group Bests
M35 Edward Samuel 34:43.9 Heathside
M70 Richard Bloom 43:35.1 Herts Phoenix AC


---
VAC Track & Field Championships, Epsom 29 August 2015
The VAC T&F Championships reverted to their traditional August Bank Holiday weekend, and we were grateful for calm, settled weather, with the forecast light rain holding off until the end of the afternoon. Thanks to all the VAC members who turned out and supported the 35 races and events on offer. A warm welcome was also extended to Masters athletes from other BMAF area clubs, and to the many from SCVAC in particular. Thanks also to the organisers and officials who ensured that the programme ran to time without mishap.

Here are the full results.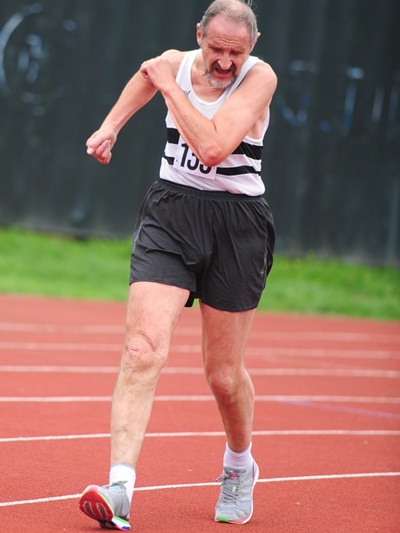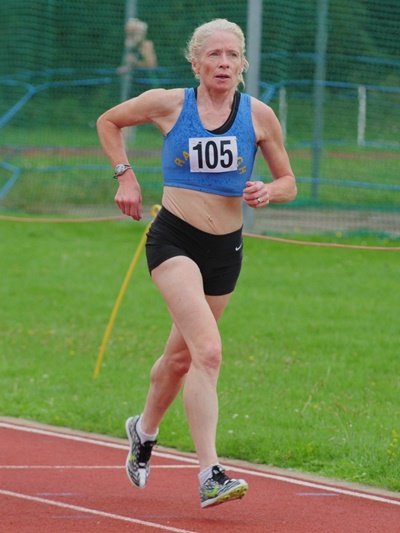 Race Walk Peter Hannell Marie Synnott-Wells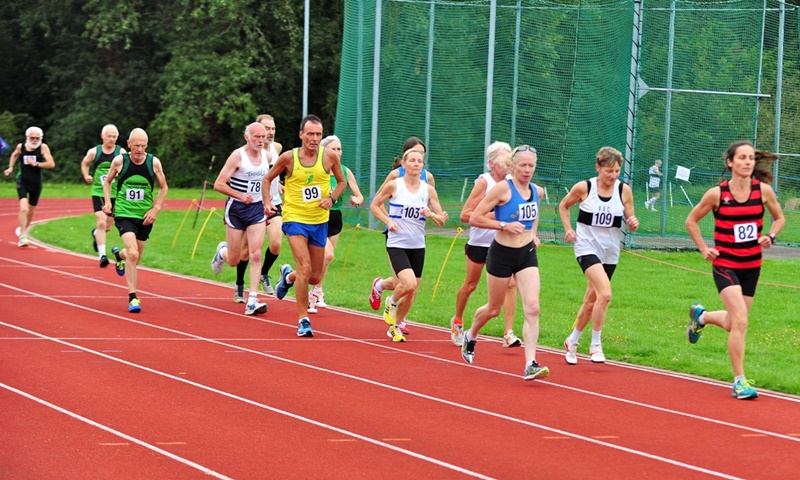 5,000m Women and older men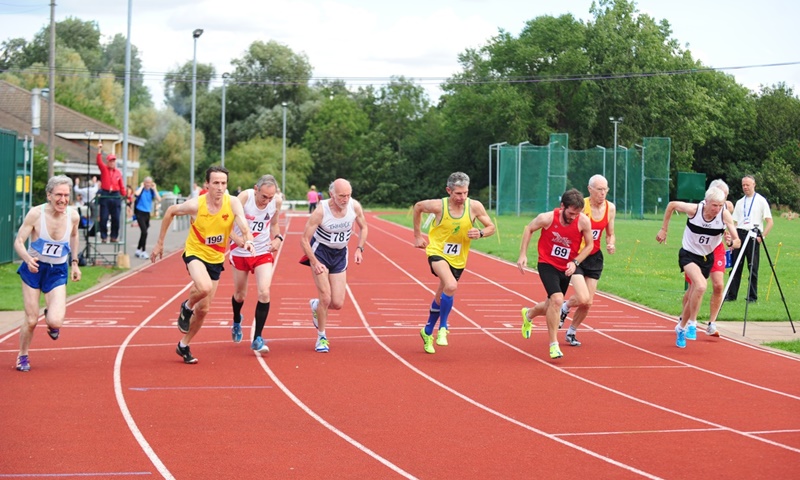 800m Mens start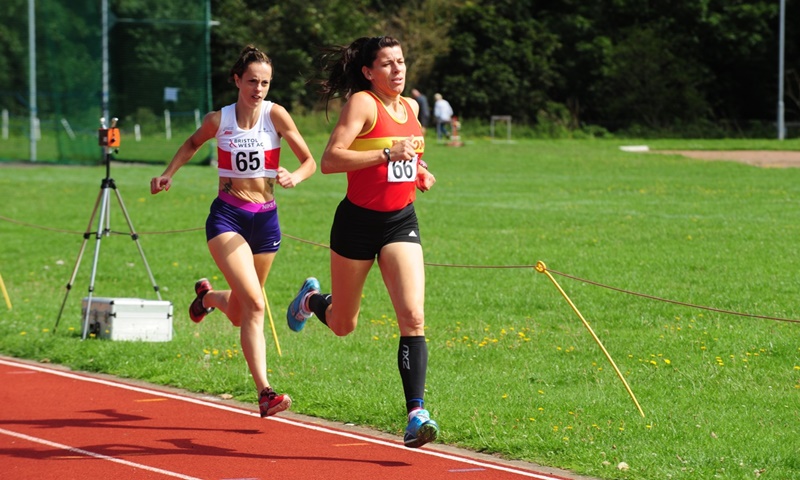 Diana Norman (66)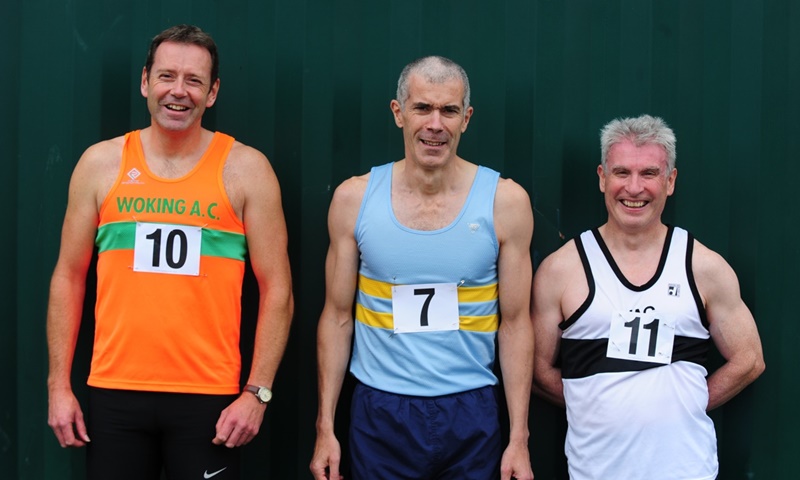 100m, first three
Photos by Jeremy Hemming

---
VAC 5M Road Race, Battersea Park 18 August 2015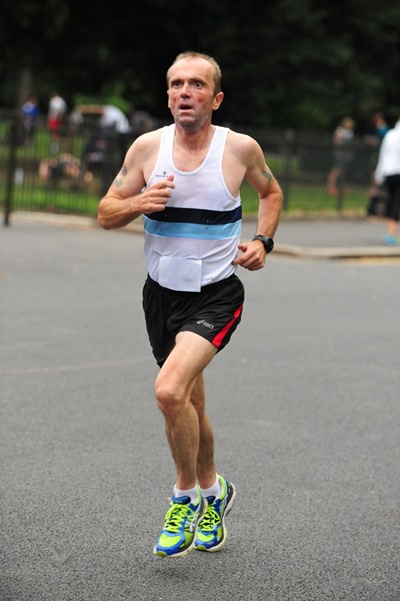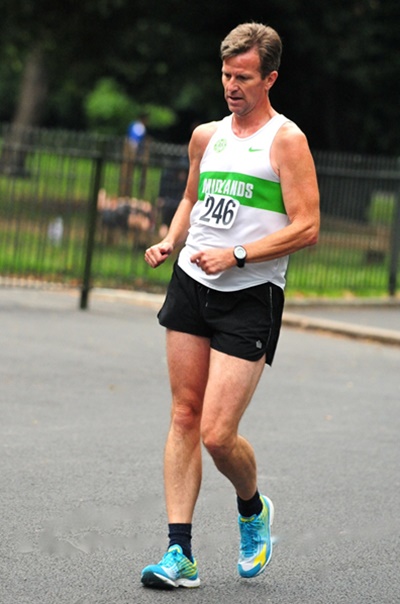 Paul Holloway, 1st 5m Race Mark Culshaw 1st 5m Walk
Photos by Jeremy Hemming
1 Paul Holloway(Ilf) 45 29:22 1s 45
2 Tom Cheetham(HW) 48 31:10
3 Frank Wood(HW)(G) 50 31:18 1s 50
4 Maggie Statham(Holl) W60 36:24 1s W60
5 Ian Sesnan(Dulwich R) 58 37:10 1s 55
6 Dennis Williams(HW) 69 39:08 1st 65
7 Maurice Marchant(Ton) 66 40:06
8 Marion Rayner(W4)(G)W65 40:27 1s W65
9 Cliff Collins(VAC) 78 42:40 1st 75
10 Alan Davidson(Liss) 68 43:00
11 Martin Lippitt(Trent) 60 43:20 1st 60
12 Anne Lippitt(Trent Pk) W60 47:10
13 Ed Bartlett(VAC) 70 49:47 1s 70
14 Richard Pitcairn-Knowles(S'noaks) 82 51:27 1s 80
Veterans AC 5M Walk 18 August 2015, Battersea Park, London SW11
1 Mark Culshaw (Bel) (G) M45 47:12
2 John Hall (Bel) M65 48:20
3 Shaun Lightman (SWC) M70 50.29
4 Arthur Thomson (Enf) M70 51:18
5 Dan Maskell (SWC) M65 51:54
6 Mick Harran (SWC) M75 53.21
7 Peter Hannell (SWC) M70 55:06
8 Paul King (Bel) M60 55:45
9 Ron Powell (Enf) M75 56:12
10 David Hoben (SWC) M60 57:12
11 Dave Delaney (SWC) (G) M70 57:21
Grey skies and no wind again made ideal conditions for racing in the 5th and final fixture of the season.
Minor engineering works following a recent event on the Carriage Drives meant navigating barriers and missing tarmac where the racing circuit had not yet been restored, notwithstanding that with a similar field to the previous fixture finishing times and positions had scarcely changed.
Mark Culshaw from Belgrave Harriers had third win of the season and of this event.
Due to the World Masters Championships in Lyon which had just ended the weekend before a few regulars were absent.
Officials: Start/finish/timekeeping/recording - Tom Richards, Carl Lawton, Peter Torre, Michael Croft;
Entries: Jeremy Hemming, David Hoben
Photography: Jeremy Hemming

---
VAC 5K Road Champs, Battersea Park 14 July 2015
1 Ian Johnston (VAC) 45 17:05 1s 45
2 Tom Cheetham(HW) 48 19:15 2d 45
3 Tony Harran(G)HHH 55 20:33
4 Peter Hall(W4H) 57 20:36 1s 55
5 Pippa Major(SLH) W50 21:07 1s W50
6 Carol Jones(ESM) W55 21:10 1s W55
7 Tom Morris(HW) 57 21:23 2d 55
8 Andrea Sanders-Reece(Morn) W59 21:30 2d W55
9 Andy Gardiner(Kent) (G) 60 21:54
10 Ian Sesnan(Dulwich R) 58 22:02 3d 55
11 Maggie Statham(Holl) W60 22:22 1s W60
12 Gerard Crispie(G)(SoC) 53 22:28
13 Tony Austin(HW) 60 22:44 1s 60
14 Rob Sargent(Ilf) 61 23:33 2d 60
15 Nicola Hopkinson(Ilf) W52 24:03 2s W50
16 Alan Davidson(Liss) 68 24:04 1s 65
17 Maurice Marchant(Ton) 66 24:13 2d 65
18 Martin Spence(VAC) 60 24:19 3d 60
19 Michael Johnson(THH) 70 24:32 1s 70
20 Joe Aspinall(VAC) 77 25:42 1s 75
21 Cliff Collins(VAC) 78 26:00 2d 75
22 Dennis Williams(HW) 69 27:01 3d 65
23 Ann Bath (26.2 RC) W66 27:14 1s W65
24 Richard Hammerson(Read RR) 73 28:11 2d 70
25 Carol Muir(Ilf)(G) W43 28:17
26 Pam Jones(Ilf) W79 29:34 (record) 1s W75
27 Bill O¹Connor(QPH) 70 30:19 3d 70
28 Richard Pitcairn-Knowles(S¹noaks) 82 30:24 1s 80
29 Ed Bartlett(VAC) 70 30:41
30 Ken Tuson (VAC) 31:55 3d 75
31 Brian Shave(Read RR) 81 35:50 2d 80
Veterans AC 5M Walk 14 July 2015, Battersea Park, London SW11

1 Mark Culshaw (Bel) (G) M45 48:00
2 Gary Smith (Enf) (G) M 55 48:52
3 Shaun Lightman (SWC) M70 50.05
4 Maureen Noel (Bel) W50 50:47
5 Dan Maskell (SWC) M65 52.12
6 Mick Harran (SWC) M75 53.02
7 Chris Flint (SWC) M70 53:09
8 Peter Hannell (SWC) M70 55:42
9 Paul King (Bel) M60 55:53
10 Ron Powell (Enf) M75 56:09
11 David Hoben (SWC) M60 56:24
12 Kay Koeslag (Bel) (G) W35 56:32
13 Dave Delaney (SWC) (G) M70 57:55

Gentle summer rain and no wind made ideal conditions for racing in the 4th fixture of the season and most improved their times from previous appearances.
Mark Culshaw from Belgrave Harriers had second win of the season and of this event.
Gary Smith of Enfield AC who has had a recent win in a Police Championships in the States was a close second.
Welcome reappearance by Paul King following a break of several months.

Officials: Start/finish/timekeeping/recording - Tom Richards, Carl Lawton, Ian Statter, Michael Croft;
Entries: Peter Torre, David Hoben
Photography: Jeremy Hemming
Walk judges: Michael Croft, Ian Statter

---
VAC and BMAF Champs - Bewl Water 15 Multi Terrain, near Wadhurst, 5 July 2015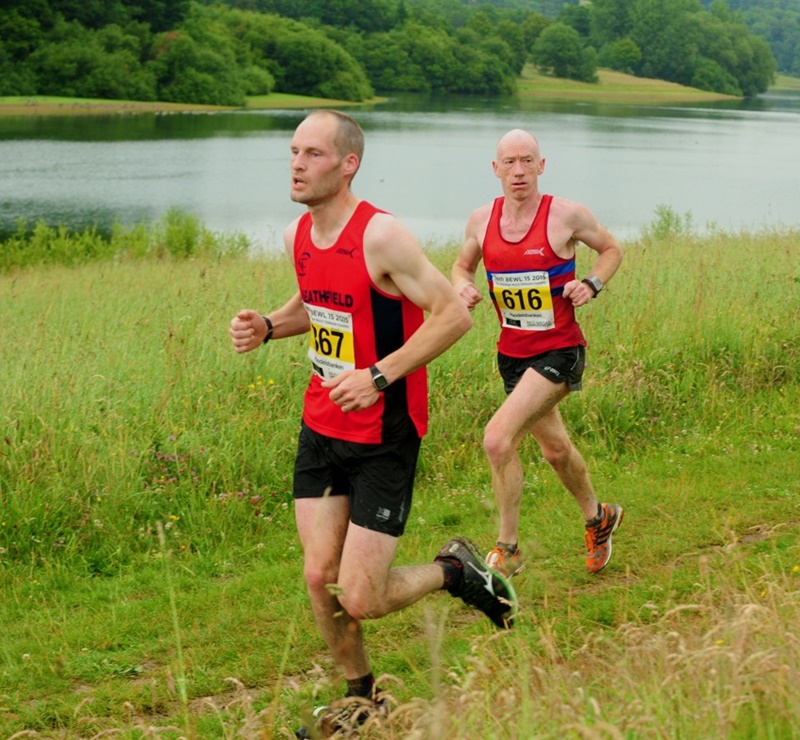 Tony Tuohy (616) 1st VAC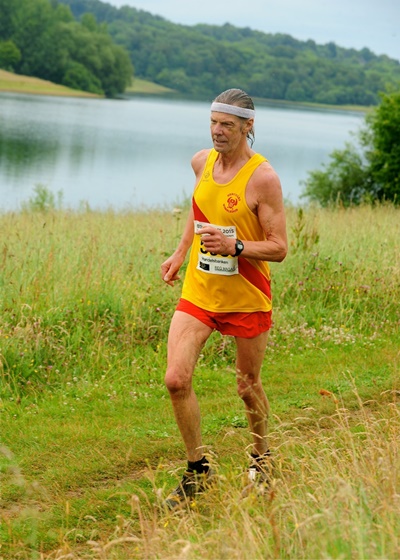 Peter Giles 1st M70
Photos by Jeremy Hemming
BMAF medals listed
23 Tony Tuohy(Dul R) M50 1:43:22
48 Dan Pescod(THH) M40 1:47:24
65 Colin Brett(Ran H) M50 1:49:27
122 Tom Ulliott(B&H) M55 1:56:36
133 Cathy Ulliott(B&H) W50 2 1:58:00
220 Peter Giles(HW) M70 1 2:06:49
522 Julia Taylor(prev Armstrong) W55 2:39:04
539 John Taylor(Hailsham) M75 1 2:41:21
660 Ann Bath(26.2RC) W65 3:10:58
684 finished