Results for January 2018 on
---
Veterans AC 5M Road Race and Race Walk, 17 April 2018, Battersea Park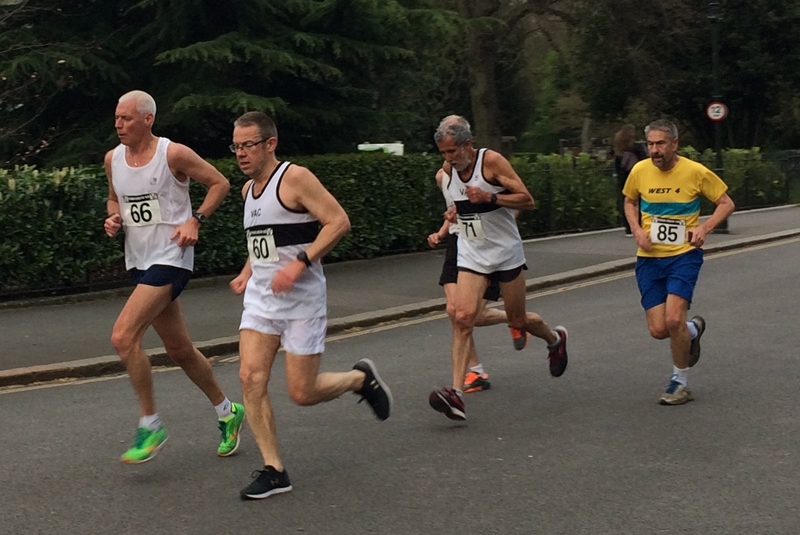 Mick Barlow, Lloyd Bevan, Mike Mann, Peter Hall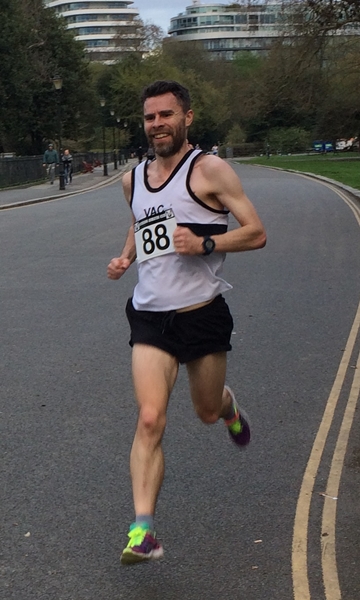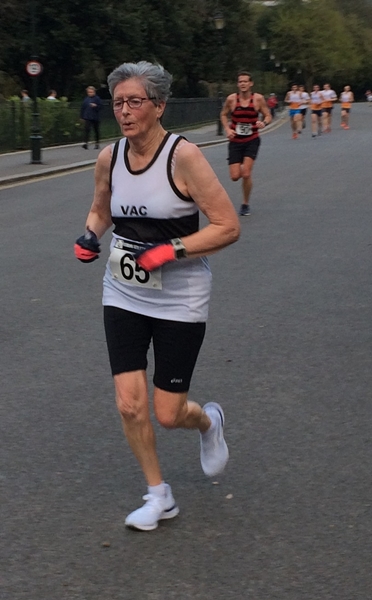 Gary Towers Penny Elliott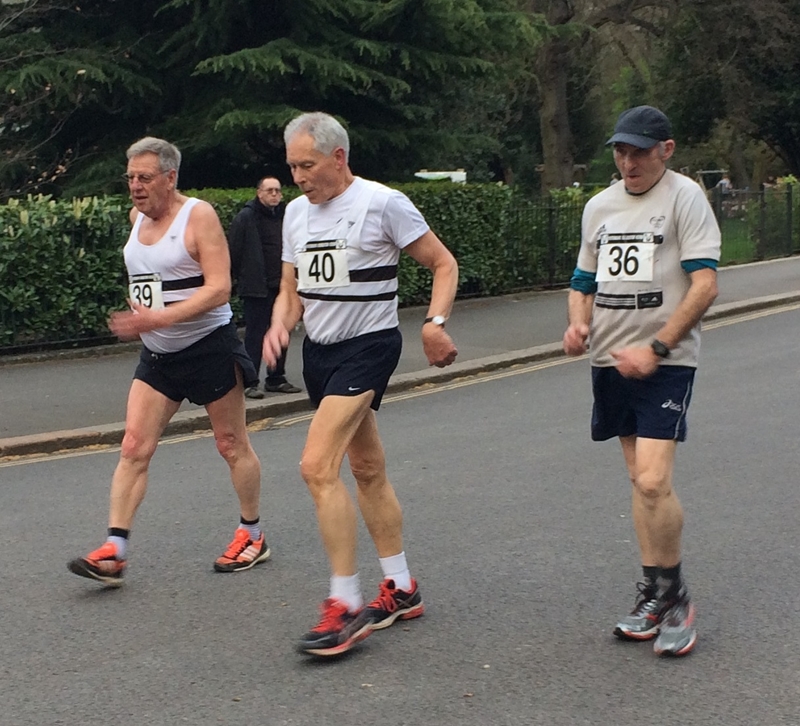 Shaun Lightman, Chris Flint, Paul King
5 Mile Road Race
Conditions were good for the first fixture of the series, not too warm or too cold, and only a gentle breeze. Simon Baines (M45) and Gary Ironmonger (M55) were rewarded by capturing two longstanding course records. Simon won the race in a time of 26:59, becoming one of the very few to dip under 27 minutes on this 5M course. His time knocked five seconds off Richard Tomlinson's old M45 course record of 27:04. Paul Cheetham and Gary Towers, both M45, battled each other to finish second and third, with Paul pulling away towards the end to win by 15 seconds in a time of 27:23. Gary Ironmonger was fourth in 27:47 and at last bettered Liam O'Hare's M55 course record of 27:49 set way back in 2005. Despite being in fine form, he only beat it by two seconds, a testament to the quality of this challenging record.
Performances to note were from Bob Bradbury, M60, in ninth position in a time of 31:06 and Terry O'Neill, M65, in 13th position with 33:03. In the middle of the field, there was a good competition between five 34-minute men, with Mick Barlow getting ahead.
For the women, Carol Jones was the first finisher in a time of 37:57 which puts her high in the W60 Runbritain rankings for 5M. Penny Elliott posted an excellent early season time of 44:28 placing her at the top of the W75 rankings for 5 miles.
Race Position
Time
Name
Age Group
Age Grp position
First Claim Club
1
26:59*
Simon Baines*
M45
1
THH
2
27:23
Paul Cheetham
M45
2
THH
3
27:38
Gary Towers
M45
3
Eton Manor AC
4
27:47**
Gary Ironmonger**
M55
1
Herne Hill Harriers
5
28:29
Dan Madams
M40
1
Tonbridge AC
6
29:09
Simon Thompson
M35
1
Herne Hill Harriers
7
29:47
Robin Jones
M45
4
Herne Hill Harriers
8
30:06
Jamie McLoughlin
M40
2
Walton AC
9
31:06
Bob Bradbury (SCVAC)
M60
1
Woking AC
10
31:11
Vic Maughn
M55
2
Herne Hill Harriers
11
32:11
Neil Cheetham (Guest)
M35
2
Visitor from New Zealand
12
32:38
Darryl Coulter (NI Masters)
M45
5
Kent AC
13
33:03
Terry O'Neill
M65
1
Belgrave Harriers
14
34:03
Mick Barlow (Guest)
M50
1
Kent AC
15
34:31
Davyd Michell (NMAC)
M40
3
Helsby Running Club
16
34:41
Peter Hall
M55
3
West 4 Harriers
17
34:48
Mike Mann
M65
2
Dulwich Runners
18
34:57
Lloyd Bevan
M50
2
Serpentine RC
19
35:09
Richard Pitt
M60
2
THH
20
35:18
Tony Harran
M55
4
Herne Hill Harriers
21
37:57
Carol Jones
W60
1
Ealing Southall & Midd
22
38:36
David Hallson (Guest)
M60
3
Road Runners Club
23
41:13
Colin Harris (Guest)
M60
4
Wimbledon Windmilers
24
41:21
Martin Wilson
M65
3
Ealing Southall & Midd
25
41:50
Phil Kelvin (Guest)
W65
1
Serpentine Runners
26
43:57
Sarah Allen
W50
1
Herne Hill Harriers
27
44:28
Penny Elliott
W75
1
Waverley Harriers
28
45:45
Michael Leigh (Guest)
M70
1
Hercules Wimbledon
29
46:45
Alan Davidson
M70
2
Liss RC
30
49:48
John Wilks
M50
3
Herne Hill Harriers
31
50:14
Joe Aspinall
M75
1
VAC
32
55:02
Ed Bartlett
M70
3
VAC
33
59:36
Richard Pitcairn-Knowles
M85
1
Sevenoaks AC
* M45 Course Record (old record: 27:04, Richard Tomlinson, 13 May 2014)

** M55 Course Record (old record: 27:49, Liam O'Hare, 10 May 2005)
Veterans AC 5M Race Walk, 17 April 2018, Battersea Park, London SW11
Permit No: RWA8039-1
The opening races of the summer series took place in fine dry conditions, with the occasional gust of wind.
The times were respectable given that nearly all the field had raced at Gravesend only 3 days before.
VAC had a new men's race winner as Seb Parris who had won the VAC 15k at the Gravesend meeting cruised home in 43:26, and Melanie Peddle had another good race to be second overall and first lady home in 49:59, in fact the runners in the accompanying race were impressed too!
Tom Casserley who had signed up recently for EHAC continued his form at the Gravesend meeting.
| | | |
| --- | --- | --- |
| 5 Mile Race Walk | | |
| 1 Seb Parris (Ilford) (G) | SM | 43:26 |
| 2 Melanie Peddle (Loughton) (EMAC) (G) | W45 | 49:59 |
| 3 Steve Allen (Barnet) (G) | M60 | 51:09 |
| 4 Maureen Noel (Belgrave) | W50 | 52:42 |
| 5 Shaun Lightman (SWC) | M75 | 54:44 |
| 6 Chris Flint (SWC) | M70 | 56:22 |
| 7 Paul King (Belgrave) | M65 | 57:09 |
| 8 Tom Casserley (Enfield) | M75 | 58:21 |
| 9 David Hoben (SWC) | M65 | 59:05 |
| 10 Peter Hannell (SWC) | M75 | 59:09 |
| 11 Kathy Crilley (SWC) | W70 | DNF |
Officials:
Clerk of the Course and Starter: Dennis Williams
Timekeepers/Recorders: David Harris, Carl Lawton, Liam O'Hare, Tom Richards
Walk Judge: Michael Croft
Entries: David Hoben, Maggie Statham
Marshals: Martin Berry, Dennis Williams
Drinks station: Maggie Statham
Results: David Hoben, Maggie Statham
First Aid: Alison Jones

---
Cecil Gittins Memorial Walks, Cyclopark Gravesend, 14 April 2018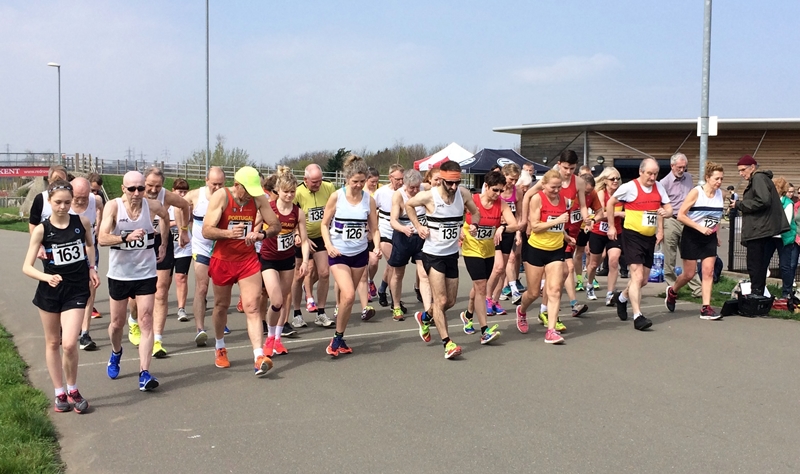 The start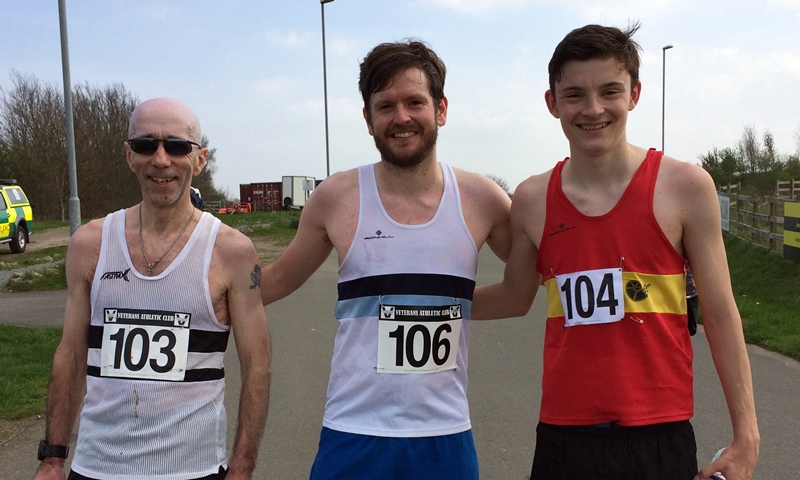 15km Race: Malcolm Martin (2nd), Seb Parris (winner), Ollie Hopkins (3rd)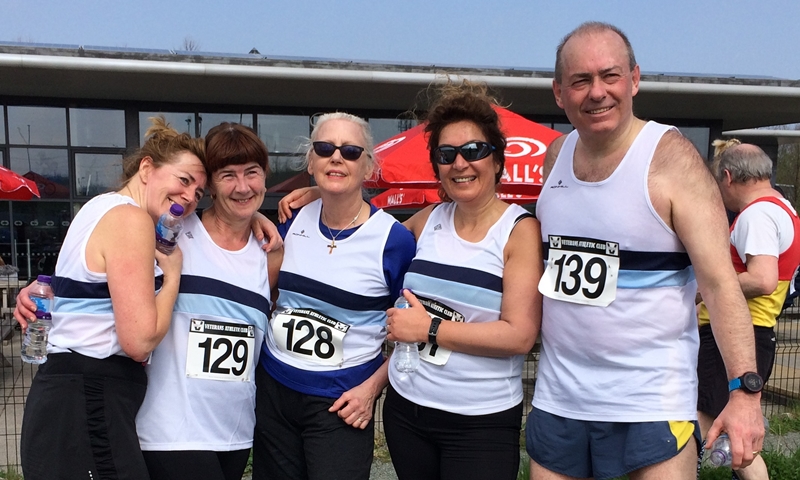 Ilford walkers: Janice Bentley Pearson, Lesley Morris, Anne Scurfield, Rachel Lawless, Stuart Bennett
Cecil Gittins Memorial Walks
Cyclopark, Gravesend
14 April 2018

Veterans AC 2.5k/5k/10k/15k road race incorporating Enfield League

RWA Race permit no: RWA8038-1 (Category B)
Veterans AC were pleased to host the third running of this event on a dedicated cycle circuit which in shape and gradients can only be described as a large Scalextric set.
In all there were 42 entries, and 39 on the line, a little down on 2017, with ages ranging from 11 to 85.
We were also pleased to welcome Pauline Nihill, wife of Olympic silver medallist Paul Nihill MBE and Noel Carmody, current RWA president.
A loud round of applause was given by the walkers in the traditional Enfield League way to commemorate the life of Bernie Hercock, president of Enfield & Haringey AC, who had sadly passed away since the Donkey Lane meeting.
Given that the winter was prolonged and there had been a gap in the race calendar the times were respectable; the favourable and sunny weather this time took some by surprise!
The 15k was won in 85:24 by an in form Seb Parris (Ilford AC), with runner up Malcolm Martin (SWC) in 85:38 and coming in third for his first attempt at this distance was Ollie Hopkins (Lewes AC) with a creditable 88:22.
For the ladies' 15k only entry was Angela Martin (SWC) who put in a gritty performance having had layoffs with injury in previous year finishing in 114.06.
For the 10k headline race which was to score in the Enfield League 2018 series this was not unsurprisingly won by Portuguese international Francisco Reis (TVH) in 50.45, the runner up was David Crane (SWC) in 52.34, and a third place for Seb Parris (Ilford AC) in 56.57 who went on to complete the 15k. The ladies race was won by 2017 overall League winner Helen Middleton in 61.29, second place was the ever-improving Melanie Peddle in 63.00, and a pb for Jacqueline Benson (Ashford AC) as she climbed to 65.11.
The supporting races included Abi Smith (BBHAC) who won her 2.5k race and is continuing her form.
VAC are grateful to Ron Wallwork for allowing this race to be incorporated in the Enfield League series.
RESULTS

DNS

Dave Annetts

M55

N Herts RR

John Ralph

M60

Enfield & Haringey

Paul Gaston

M70

Surrey WC

2.5k

F

1

Abigail Smith

U15G

Blackheath & Bromley H

15.02

2

Charlotte Wallis

U15G

AFD

15.43

3

Millie Morris

U17G

Medway & Maidstone

15.45

4

Katie Brash

U13G

Blackheath & Bromley H

16.33

5km

F

1

Linda Mountford

W50

unattached

32.32

2

Val Mountford

W70

unattached

43.24

M

1

Peter Hannell

M75

Surrey WC

36.24

2

Chris Edwards

M65

Surrey WC

37.05

3

Dave Ainsworth

M65

Ilford

44.28

4

Ken Livermore

M85

Enfield & Haringey

44.40

10km

F

1

Helen Middleton

W55

Enfield & Haringey

61.29

2

Melanie Peddle

W45

Loughton

63.00

3

Jacqueline Benson

U20W

Ashford

65.11

4

Andrea Ingram

W55

Lewes

65.53

5

Fiona Bishop

W55

Woking

68.09

6

Janice Bentley Pearson

W55

Ilford

70.46

7

Rachel Lawless

W55

Ilford

73.56

8

Angela Martin*

W50

Surrey WC

74.30

9

Anne Scurfield

W60

Ilford

77.36

10

Lesley Morris

W55

Ilford

77.37

DNF

Maddy Shott

SW

Belgrave

M

1

Francisco Reis

M55

Thames Valley Harriers

50.45

2

David Crane

M40

Surrey WC

52.34

3

Seb Parris*

SM

Ilford

56.57

4

Malcolm Martin*

M60

Surrey WC

57.25

5

Ollie Hopkins*

U20M

Lewes

57.36

6

Chris Hobbs

M60

Ashford

57.44

7

Martin Fisher*

M55

Redcar RWC

61.20

8

Stuart Bennett

M55

Ilford

63.07

9

Richard Emsley

M65

Saints & Sinners

64.37

10

Gary Smith

M60

Enfield & Haringey

65.26

11

Andy Cox

M65

Hillingdon

69.05

12

John Borgars

W70

Loughton

69.14

13

Chris Flint*

M70

Surrey WC

70.27

14

Tom Casserley

M75

Enfield & Haringey

71.26

15

Mick Harran

M75

Surrey WC

72.06

16

Mark Culshaw*

M50

Ilford

73.57

17

David Hoben

M65

Surrey WC

74.15

18

Sean Pender

M60

Enfield & Haringey

76.37

15km

F

1

Angela Martin

W50

Surrey WC

114.06

M

1

Seb Parris

SM

Ilford

85.24

2

Malcolm Martin

M60

Surrey WC

85.38

3

Ollie Hopkins

U20M

Lewes

88.22

4

Martin Fisher

M55

Redcar RWC

93.51

5

Mark Culshaw

M50

Ilford

104.28

6

Chris Flint

M70

Surrey WC

107.58

*continued to 15k

Acknowledgements

Judges: Shaun Lightman (chief), Peter Selby, Doug Hopkins

Starter: Ron Penfold

Time keeping: Carl Lawton, Maggie Statham

Lap recording: Pam Ficken

Lead cyclist & judges' runner: Eric Parker

Hospitality: Cyclopark, Gravesend

---
European Masters Championships Indoors, Madrid 19-24 March 2018

Dalbir Singh Deol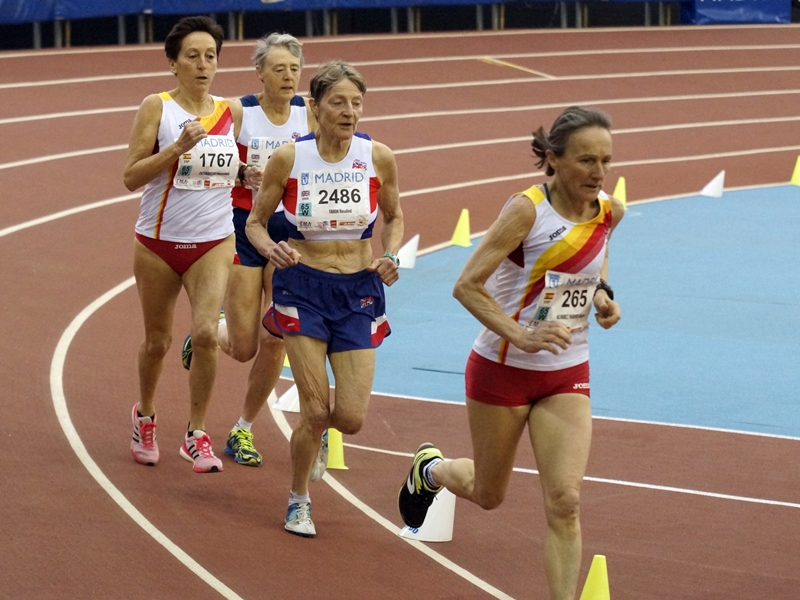 , Ros Tabor in the W65 1500m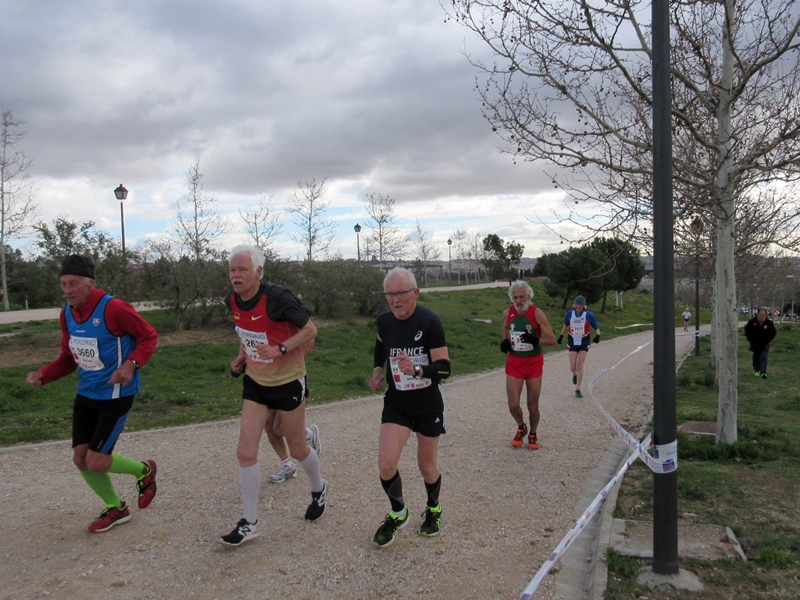 The m60+ cross country race
These championships are held every other year, with the Worlds in between, and cover indoor races up to 3k, field events plus outdoor 5k xc and walks. The stadium in use was about 3 miles south west of the city centre and was very modern, with spectator seating and display areas all round. Catering, registration and medal presentations were in adjoining marquees. It was great to watch the GB team gain second place in the overall medal table.
The championships were well organised and well supported by a large Spanish athlete entry. We had free use of public transport and Madrid was a great place to look around, with good architecture, galleries and eating and drinking places for our time away from the stadium. Unfortunately the main Retiro Park was shut most of the week due to danger from wind-damaged trees.
Cross country races were held on the last day in a linear park on high ground just across the road from the stadium, 3 laps of an undulating loop of about a mile, nearly all on firm paths. A cold wind blew against the runners on the first uphill section.
There are two further masters champs in Spain this year -European non-stadia (10k and half marathon) in Alicante in May and World track and field, plus some road, in Malaga in September. Any British VAC member can enter and be part of the GB team.
Andy Murray
Congratulations to our gold medal winners below and to all our other medal winners and participants.
European Champion VAC members
M90 60m, 200m, 400m Dalbir Singh Deol
M85 1500m, 3000m, 5k xc Richard Pitcairn-Knowles
M65 200m Wally Franklin
W65 800m, 1500m Ros Tabor
W65 Pole Vault Sue Yeomans
W60 1500m Anna Garnier
M40 400m Gavin Stephens
W40 200m, 400m Susie McGloughlin
W35 800m Fiona de Mauny

---
Croydon Harriers Invitational Cross Country, Lloyd Park, 17 March 2018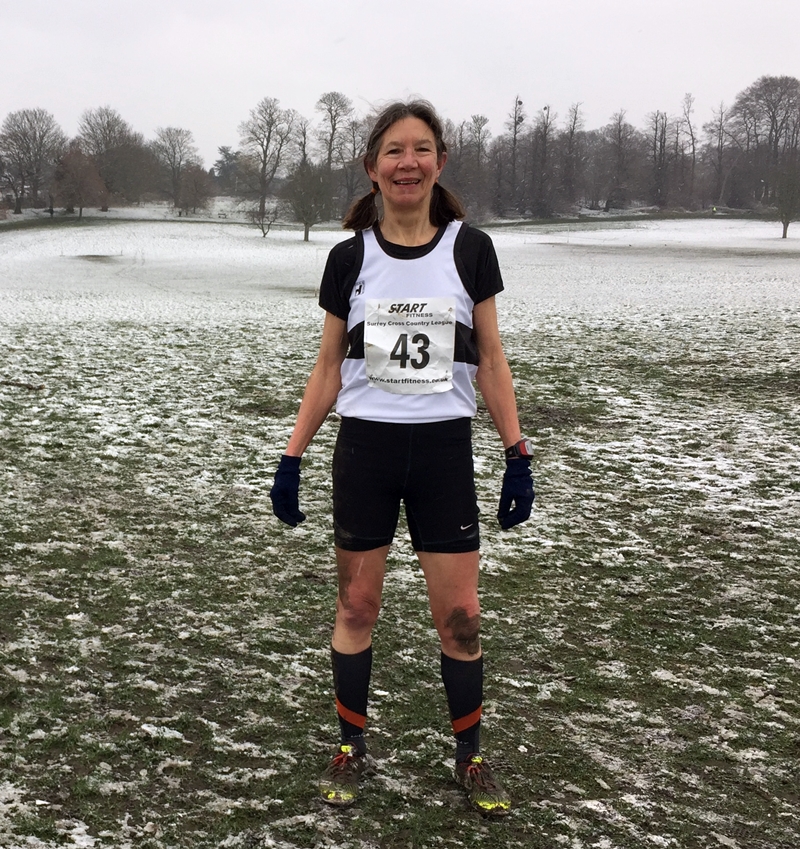 Maggie Statham
VAC members are invited each year to run in this end-of-season cross country fixture in Lloyd Park. The fixture had been postponed from 3 March because of snow but, unluckily, the conditions on 17 March were even worse. It was bitterly cold, with a biting wind and snow covering the wet, greasy, mud, customary for Lloyd Park. The six mile distance was a challenge for the 18 hardy finishers. Maggie Statham was VAC's representative, finishing in 13th position. VAC also provided a course marshal, Paddy Clark, who was sent to a windswept far corner of the course to direct and encourage the runners, a task he performed admirably. The results are here.

---
VAC Indoor T&F Championships, Lee Valley, 25 February 2018
Once again, VAC's indoor championships were held at the Lee Valley Athletics Centre as part of the South of England Masters championships. This was a well-attended meeting ranging from M35/W35s to M85s. As age-group winners, over forty VAC members were awarded nearly sixty SoE Gold medals. John Batchelor and Gary Ironmonger won three apiece and twelve members took home two Golds.
In the 60m sprints, there were wins for VAC's Richard Pitcairn-Knowles (M85), Allan Long (M75), John Browne (M60), Pat Logan (M55), Chris Taplin (M50), Sue Dassie (W65), Angela Bates (W50) and Susan McLoughlin (W40). Gold medalists in the 200m included Richard Pitcairn-Knowles (M85), Wally Franklyn (M65), Pat Logan (M55), Stuart Channon (M40), Angela Bates (W50) and Susan McLoughlin (W40). Gold medalists in the 400m were John Batchelor (M75), Terry Bissett (M70), Steven Tester (M35), Joanna Flowers (W45) and Rhiannon Needham (W35). Winners in the 60m hurdles were Barry Ferguson (M75), Emily McMahon (W65) and Wendy Lewis (W50).
Turning to the middle distance events, in the 800m there were wins for John Batchelor (M75), Peter Hamilton (M70), Gary Ironmonger (M55), Ros Tabor (W65), Andrea Sanders-Reece (W60), Susan McDonald (W50), Liz Amos (W40) and Rhiannon Needham (W35). Winners in the 1500m were Steve Atkinson (M50), Gary Ironmonger (M55), Peter Hamilton (M70), Ros Tabor (W65) and Lisa Webb (W50). In the 3000m, John Batchelor (M75), Alan Camp (M60), Gary Ironmonger (M55), Ian Johnston (M50) and Matthew Preston (M45) finished as winners.
VAC had good representation in the shot put with wins for Kathleen Moeller (W40), Fiona Argent (W60), Liz Sissons (W70), Dan Upton (M40), Robert Shephard (M55), Keith Seldon (M60), Patrick Reynolds (M65) and Clifford Taylor (M85). In the triple jump events Tina Howell (W35), Clifford Warren (M55), Patrick Reynolds (M65), Allan Cheers (M70) and Allan Long (M75) were Gold medalists. Winning long jumpers were Stuart Channon (M40), Richard Weekes (M50), Patrick Reynolds (M65), Allan Cheers (M70) and Allan Long (M75), while Wendy Lewis (W50) was a high jump winner. Finally, Brian Slaughter (M60) and Sue Dassie (W65) won their pole vault events.
Full results are available on the BMAF website.

---
Southern Counties Veterans AC Indoor Championships (incorporating Veterans AC Championships 3k walk), Lee Valley 18 February 2018
3k indoor track
1 [1] David Annetts North Herts M50 14:44.68
2 [3] John Hall Belgrave M65 16:39.46
3 [6] Peter Hannell SWC M75 22:24.07
Square brackets denote position in combined race
Another day, another win, another PB for Dave Annetts.

---
VAC at South Norwood parkrun, 17 February 2018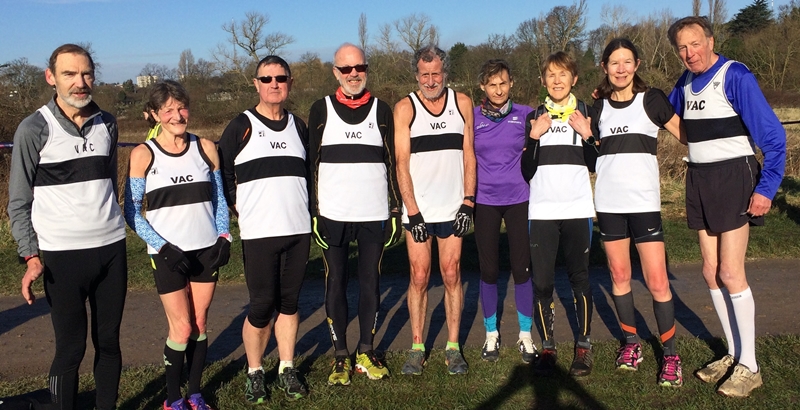 South Norwood parkrun: VAC runners, left to right: Andy Murray, Ros Tabor, William Fordham, John Carter, Mike Mann, Jane Hughes, Jo Quantrill, Maggie Statham, Richard Pitcairn-Knowles
SOUTH NORWOOD PARKRUN
10 VAC members went to this fairly new parkrun in South London for our latest 'mob match' outing.
The course is 2 laps on stony paths round the country park. It is still quite a small event so we were all able to run freely from the start. Conditions were good, with little or no wind. The puddles could be avoided. There is one small hill on each lap.
VAC members set the following age group records:
| | | | | |
| --- | --- | --- | --- | --- |
| Richard Pitcairn-Knowles | M85 | | | |
| Ros Tabor | W65 | | | |
| Maggie Statham | W60 | | | |
| | | | | |
| RESULTS | | | | |
| Mike Mann | 1st | M65 | 22.53 | 76.18% |
| Ros Tabor | 1st | W65 | 23.54 | 90.17% |
| Andy Murray | 2nd | M60 | 23.58 | 69.33% |
| Maggie Statham | 1st | W60 | 24.18 | 83.40% |
| Bill Fordham | 3rd | M65 | 24.47 | 68.33% |
| Jo Quantrill | 2nd | W60 | 24.58 | 78.84% |
| John Carter | 1st | M70 | 26.46 | 69.61% |
| Jane Hughes | 1st | W55 | 27.03 | 68.76% |
| Sarah Allen | 4th | W50 | 28.58 | 60.87% |
| Richard Pitcairn-Knowles | 1st | M85 | 33.49 | 71.86% |
We try and choose parkruns from different localities around London, so as many members as possible have a chance to join in. The next event scheduled is Hampstead Heath parkrun on Saturday 9 June.

---
Men's Surrey League Cross Country, Lloyd Park, 10 February 2018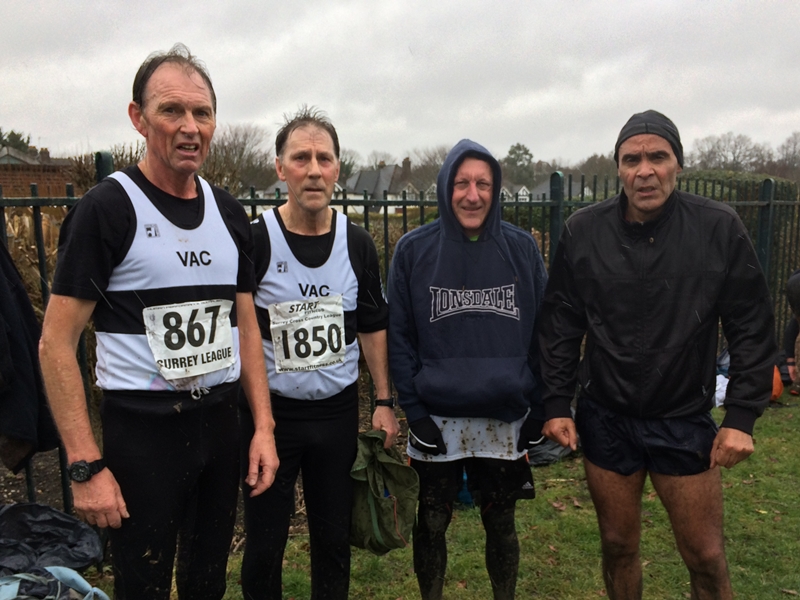 Tony Harran, Barry Attwell, Gary Ironmonger and Vic Maughn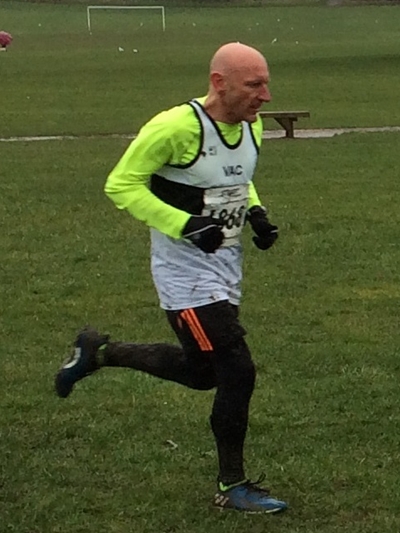 Gary Ironmonger, first VAC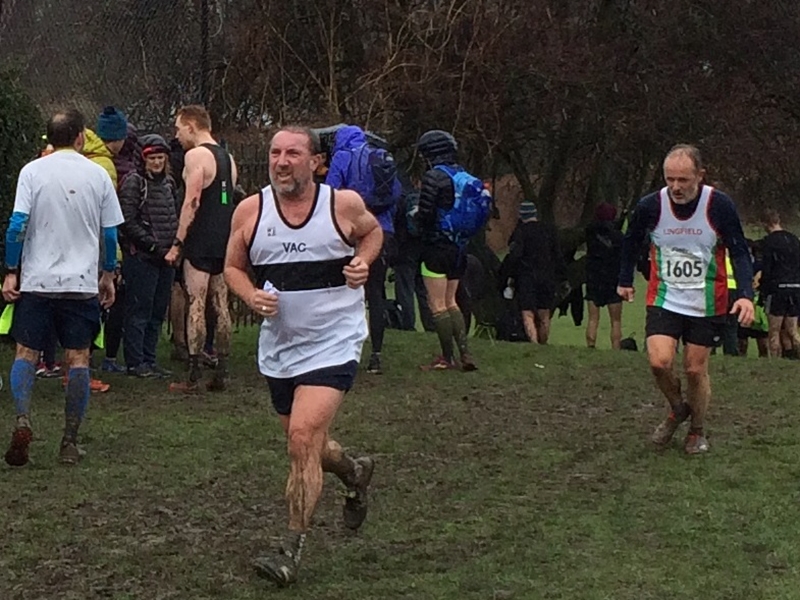 Gary Budinger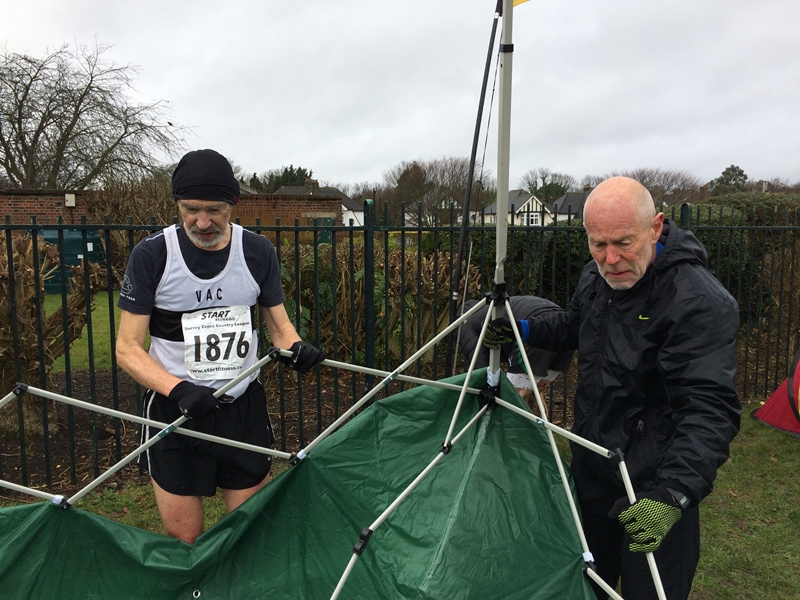 Andy Murray and Team Manager, Paddy Clark, tend to the gazebo
Eight VAC men started the final match of the series at a cold and muddy Lloyd Park. Constant rain made the usual slippery two lap, 5 mile, course even more challenging. Gary Ironmonger was first home for VAC in a great 7th place in Division Four, and 1st M55. The trio of Vic Maughn, Barry Attwell and Tony Harran held firm in the top half of the racers to take valuable places. Vic was 2nd M55 and Barry was 1st M60. Andy Murray and Carey Gray followed, reversing their usual finish order, with Andy ahead of Carey this match. Gary Budinger wasn't far behind. VAC's 8th starter, Tony Austin, wisely dropped out, feeling unwell having struggled round the first lap. Perhaps the biggest casualty of the day was the VAC gazebo which finally bent its legs and succumbed to the wind and rain, having sheltered us well throughout the season.
With three men short of a full team, VAC finished in 10th position on the day. This brought us in at 8th overall, with a total score of 2680.5 in the final standings, but tantalisingly close to Elmbridge in 7th, with only 1.5 points difference. The Surrey League also makes awards to leading individuals in the M40-49, M50-59 and M60 age groups. VAC's Gary Ironmonger won the silver medal in the M50 category with his four great performances. Carey Gray and Andy Murray also ran in every fixture. Carey hasn't missed a match since 2011!
Thanks go to Paddy Clark, the team manager, who has marshalled the team, provided the essential practical support and kept spirits high.
VAC Placings, Division Four, Lloyd Park
Race Pos.
Time
Name
Age Group
Age Grp. Position
7
32:22
Gary Ironmonger
M55
1
32
35:26
Vic Maughn
M55
2
36
36:05
Barry Attwell
M60
1
45
36:47
Tony Harran
M55
5
94
42:44
Andy Murray
M60
4
97
43:20
Carey Gray
M55
11
102
45:18
Gary Budinger
M55
13
DNF
Tony Austin
M60
115 finishers
Division 4 Team results, Lloyd Park
1 Holland Sports 228.
2 Collingwood 296.
3 Horley Harriers 419.
4 Runnymede Runners 471.
5 British Airways 574.
6 Windrush AC 608.
7 Lingfield Runners 618.
8 Wild Trail Runners 628.5.
9 Barnes Runners 687.
10 VAC 717.5.
11 Elmbridge 989.
12 Epsom Oddballs 1024.
Division 4: Final Overall Team Results
1 Collingwood 1300.
2 Runnymede Runners 1476.
3 Holland Sports 1584.
4 Horley Harriers 1905.
5 Wild Trail Runners 2155.5.
6 Windrush AC 2642.
7 Elmbridge 2679.
8 VAC 2680.5.
9 Lingfield Runners 2936.
10 British Airways 2954.
11 Barnes Runners 3042.
12 Epsom Oddballs 3686.
Full results of the Division 3/4 match and team placings are here.

---
VAC Cross Country Championships and Masters Open race, Wimbledon Common 20 January 2018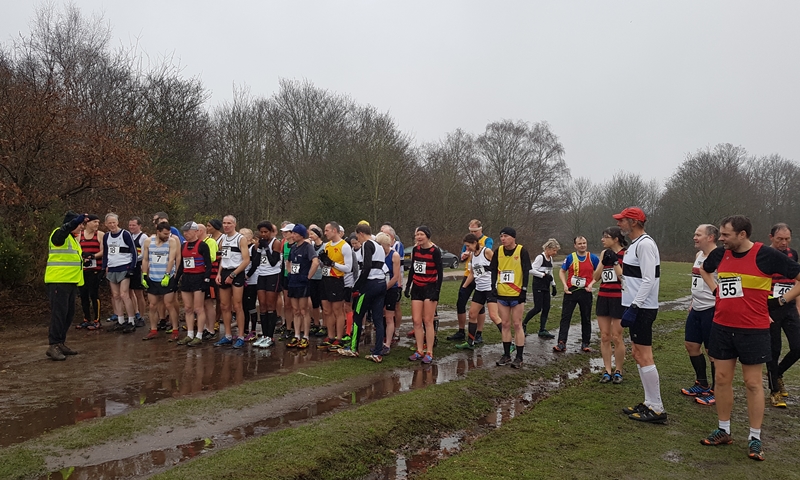 VAC CC Champs, the starting line-up (photo by Stephanie Burchill)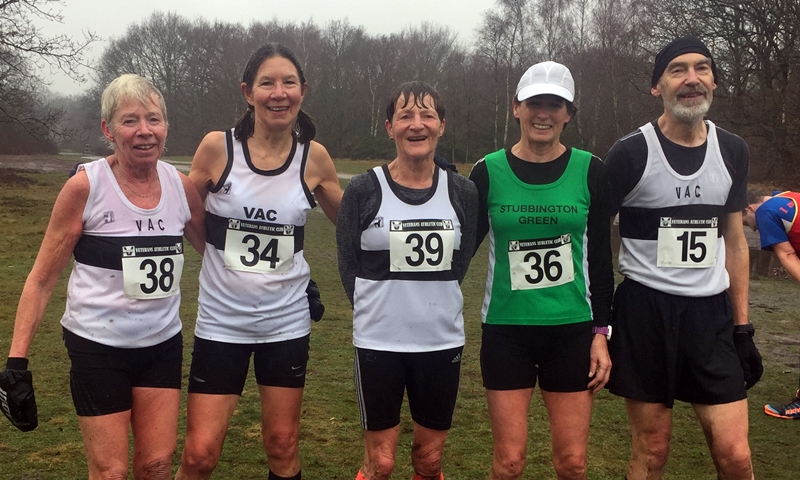 Margaret Moody, Maggie Statham, Ros Tabor, Penny Forse, Andy Murray (photo by Martin Berry)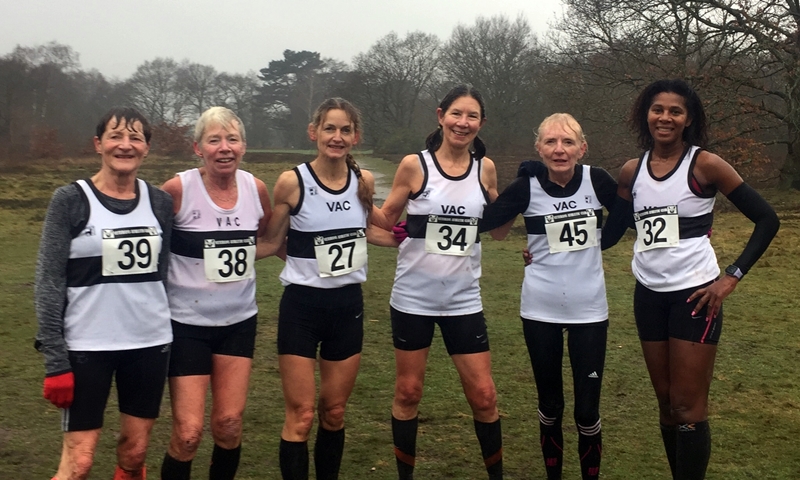 Ros Tabor, Margaret Moody, Fiona Russell, Maggie Statham, Carol Jones, Patricia Thomas (photo by Martin Berry)
Fifty runners completed the 4.5 mile course on Wimbledon Common in the worst rain that most could remember for VAC's championship race. The two-lap course presented a tough challenge with deep puddles, muddy swathes and soggy sand on the horse-ride hill.
Paul Cheetham won the race in a time of 25:31, only 21 seconds short of the M45 course record, set in much more favourable conditions. Fellow M45, Gary Towers, was second, only 19 seconds behind, having been in the lead for a while. In third place came Dan Hallam, first M40, in 27:07, closely followed by first M55, Gary Ironmonger, in 27:15. Terry Booth had a great run, finishing 9th to win the M50 Gold medal. Peter Giles was also in good form and in drier conditions would surely have broken his own M70 course record, which he missed by just 18 seconds. Barry Attwell and Mike Mann won the M60 and M65 Golds. Although it wasn't a day for breaking records, a brand new M85 age-group record was posted by Richard Pitcairn-Knowles. His time of 52:30 was faster than his M80 record of 52:46 set in 2016!
For the women, Tracy Galbraith from Eastern Veterans led the way, finishing in a good time of 31:16, taking the W50 Open Gold medal. First for VAC was Lucy Woolhouse, the W55 Gold medallist, in a time of 31:38, holding her own in a fine battle for places as she and four men all finished in a six second burst. Marie Synnott-Wells (W50), Fiona Russell (W45), Margaret Moody (W65), Maggie Statham (W60) and Lesley Bowcott (W70) all won Gold medals in their age groups.
Special thanks on such a wet day go to the officials and helpers.
Finish Line: Stephanie Burchill, Maurice Doogan, Tom Richards, Don Turner
Registration: Martin Berry, Maggie Statham
Results: Peter Kennedy, Janet Kennedy
Marshals: Joe Aspinall, Paddy Clark, Dennis Williams
Course setters: Mike Mann, Andy Murray, Dennis Williams
Medical Support: Alison Jones
VAC Cross Country Championships, Wimbedon Common, 20 January 2018
Results
Pos.
Bib
Time
Name
Age Gp.
Club
VAC pos.
OPEN pos.
First Claim Club
1
54
25:31
Paul Cheetham
M45
VAC
M45-1
Barnes Runners
2
7
25:49
Gary Towers
M45
VAC
M45-2
Eton Manor AC
3
3
27:07
Dan Hallam
M40
VAC
M40-1
Herne Hill Harriers
4
42
27:15
Gary Ironmonger
M55
VAC
M55-1
Herne Hill Harriers
5
12
27:34
Tony Tuohy
M55
VAC
M55-2
Dulwich Runners AC
6
51
28:06
Rob Marcus
M40
Guest
M40-2
Walton AC
7
43
28:25
Len Reilly
M55
VAC
M55-3
Kent AC
8
58
28:34
Felix Allen
M45
VAC
M45-3
Hercules Wimbledon AC
9
8
30:28
Terry Booth
M50
VAC
M50-1
Guildford & Godalming AC
10
29
31:16
Tracy Galbraith
W50
EVAC
W50-1
Oxford City AC
11
10
31:26
Andrew Simms
M50
VAC
M50-2
Herne Hill Harriers
12
9
31:33
Philip Cross
M50
VAC
M50-3
Woking AC
13
50
31:34
James Bartosik
M35
Guest
M35-1
Walton AC
14
49
31:36
Tony Harran
M55
VAC
M55-4
Herne Hill Harriers
15
33
31:38
Lucy Woolhouse
W55
VAC
W55-1
Veterans AC
16
22
31:39
Peter Giles
M70
VAC
M70-1
Hercules Wimbledon AC
17
56
31:50
Barry Attwell
M60
VAC
M60-1
South London Harriers
18
47
31:57
Victor Maughn
M55
VAC
M55-5
Herne Hill Harriers
19
41
32:00
Tom Cheetham
M50
Guest
M50-4
Hercules Wimbledon AC
20
53
32:03
Richard Clark
M60
VAC
M60-2
Hercules Wimbledon AC
21
55
32:34
Andrew Masters
M40
Guest
M40-3
Lewes AC
22
46
32:36
Matteo Maino
M50
Guest
M50-5
Barnes Runners
23
19
32:52
Michael Mann
M65
VAC
M65-1
Dulwich Runners AC
24
20
32:58
Stephen Plested
M65
VAC
M65-2
Ealing Southall & Middlesex AC
25
31
33:06
Cathy Stewart
W50
SCVAC
W50-2
Aldershot Farnham & District AC
26
44
33:31
Marie Synnott-Wells
W50
VAC
W50-1
Ranelagh Harriers
27
27
33:46
Fiona Russell
W45
VAC
W45-1
Mornington Chasers
28
18
33:52
Peter Kennedy
M65
VAC
M65-3
Lewes AC
29
4
34:17
Trevor Robinson
M40
EVAC
M40-4
Dagenham 88 Runners
30
32
34:59
Patricia Thomas
W50
VAC
W50-2
Ealing Southall & Middlesex AC
31
30
35:12
Mary Setyabule
W50
VAC
W50-3
Herne Hill Harriers
32
36
35:18
Penny Forse
W65
SCVAC
W65-1
Stubbington Green Runners
33
38
35:30
Margaret Moody
W65
VAC
W65-1
Basingstoke & Mid Hants AC
34
23
35:39
Roger Green
M70
VAC
M70-2
Woodford Green with Essex Ladies
35
34
35:55
Maggie Statham
W60
VAC
W60-1
Holland Sports AC
36
39
35:58
Ros Tabor
W65
VAC
W65-2
Dulwich Runners AC
37
15
36:07
Andy Murray
M60
VAC
M60-3
Dulwich Runners AC
38
6
36:30
Gareth George
M45
VAC
M45-4
Epsom & Ewell Harriers
39
37
37:35
Jane Georghiou
W65
VAC
W65-3
Farnham Runners
40
45
37:41
Carol Jones
W60
VAC
W60-2
Ealing Southall & Middlesex AC
41
13
38:23
Anthony Austin
M60
VAC
M60-4
Hercules Wimbledon AC
42
14
39:03
Martin Garrett
M60
VAC
M60-5
Sudbury Court RC
43
11
39:28
Ian Strong
M55
VAC
M55-6
Epsom Oddballs RC
44
21
39:37
John Carter
M70
VAC
M70-3
Wimbledon Windmilers
45
48
39:39
Jo Quantrill
W60
VAC
W60-3
South London Harriers
46
28
41:38
Sarah Allen
W50
VAC
W50-4
Herne Hill Harriers
47
40
44:02
Lesley Bowcott
W70
VAC
W70-1
Wimbledon Windmilers
48
57
44:36
Christine Munden
W45
Guest
W45-2
Thames Valley Harriers
49
52
47:05
Bill O'Connor
M70
VAC
M70-4
Queens Park Harriers
50
25
52:30
Richard Pitcairn-Knowles
M85
VAC
M85-1
Sevenoaks AC