Results for July to December 2023
---
Women's Surrey League Cross Country, Hurst Green, 11 November 2023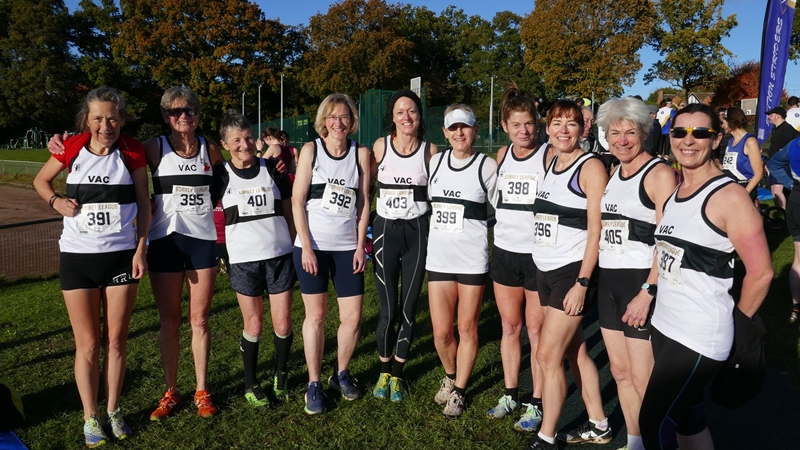 VAC's Women's Team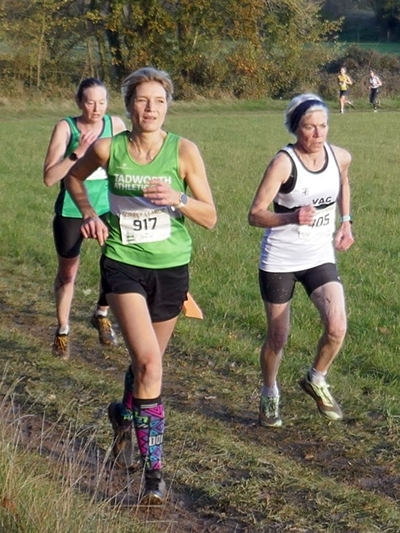 Lucy Woolhouse (405) Lisa Thomas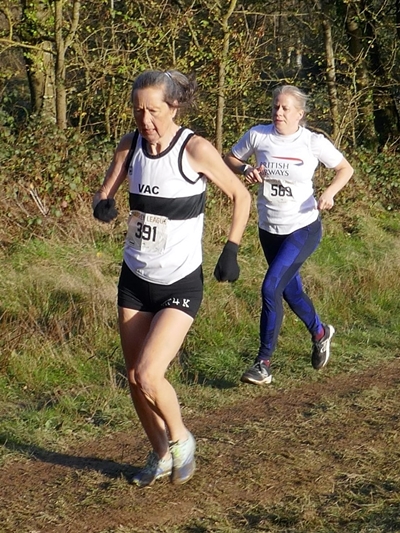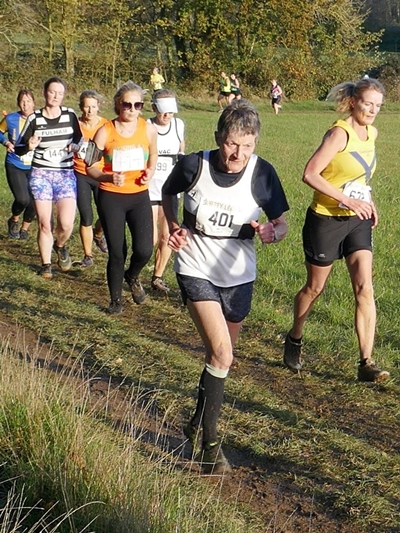 Sarah Allen Ros Tabor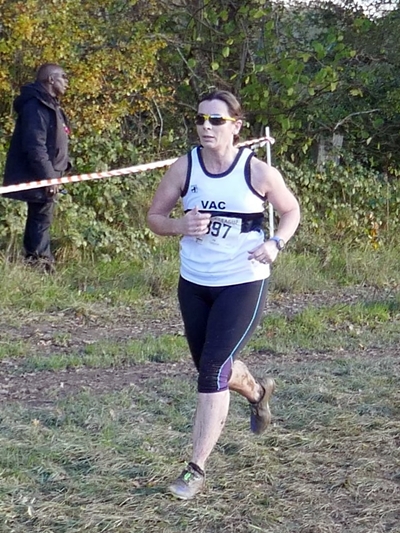 Vera Blei Sarah Knox
Photos from Helen Davies
The women's combined Divisions 2 and 3 race was the last of the day and the muddy course, described in the report of the men's Surrey League match, was by then well and truly churned up. The women's 6km course missed out some of the men's mud but it was still very tricky underfoot as testified by several who had taken tumbles or whose shoes had been claimed by the bog.
A record turnout of 11 demonstrated that VAC's women's team is going from strength to strength in participation and performance in the second season back in the league. Lucy Woolhouse was again the first finisher with a splendid 34th place in the combined race of 296 finishers, and 26th in Division 2. Her time of 27:36 was convincingly the best in the W60 age group contest. The scoring "A" team was completed by Lisa Thomas, Pippa Major, Brigid Hibberd and Anna Garnier, and placed a good seventh "A" team on the day. Having a full "B" team was a boost and was rewarded by a sixth place out of the Division's 12 "B" teams.
The full results are on the Surrey League website.
VAC Placings, Division Two, Hurst Green, 11 Nov 2023
Pos.
Time
Name
Age Group
26
27:36
Lucy Woolhouse
W60
41
28:41
Lisa Thomas
W55
53
29:46
Pippa Major
W55
54
30:00
Brigid Hibberd
W55
59
30:21
Anna Garnier
W65
96
33:16
Gina Coulson
W65
101
33:43
Sarah Knox
W50
108
35:00
Vera Blei
W50
109
35:04
Viv Mitchell
W60
112
35:32
Ros Tabor
W70
114
35:45
Sarah Allen
W55
146 finishers in Div 2 (296 in combined race with Div 3)
Division Two "A" Team Results at Hurst Green
Points
1
Fulham RC
47
2
Woking
59
3
DMV
94
4
West 4 Harriers
132
5
Croydon Harriers
159
6
London City Runners
219
7
VAC
233
8
Holland Sports
240
9
Kingston & Poly.
307
10
Striders of Croydon
324
Plus a further 5 "A" teams

---
Men's Surrey League Cross Country, Hurst Green, 11 November 2023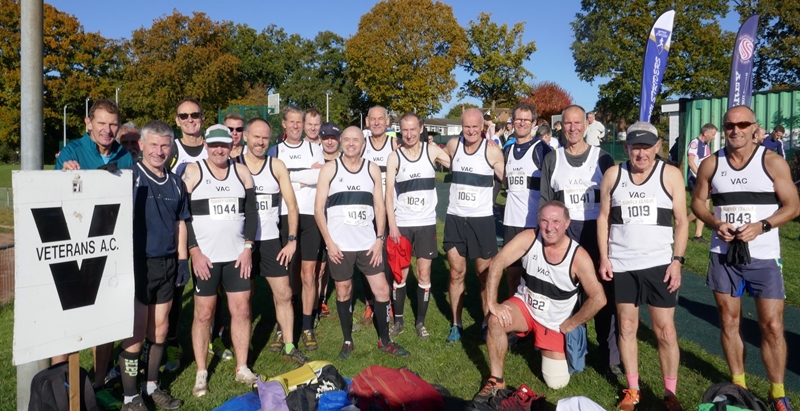 VAC's Men's Team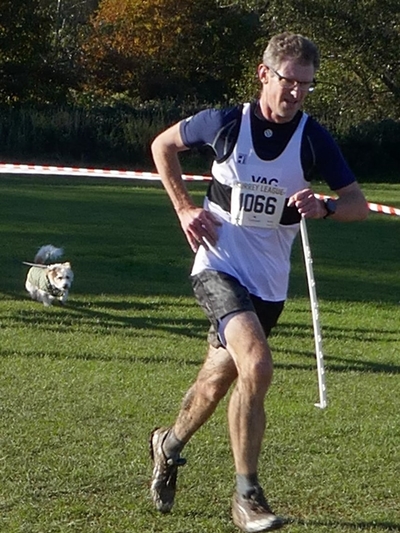 Richard Batchelor Peter Lee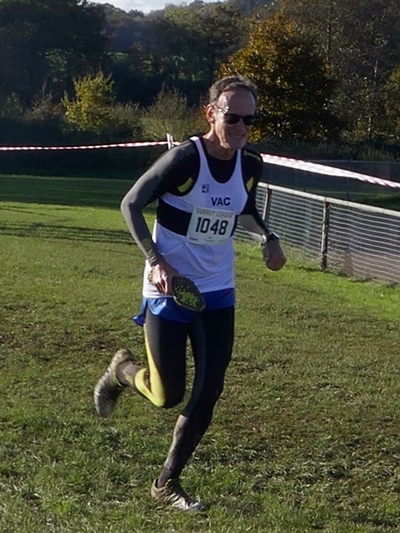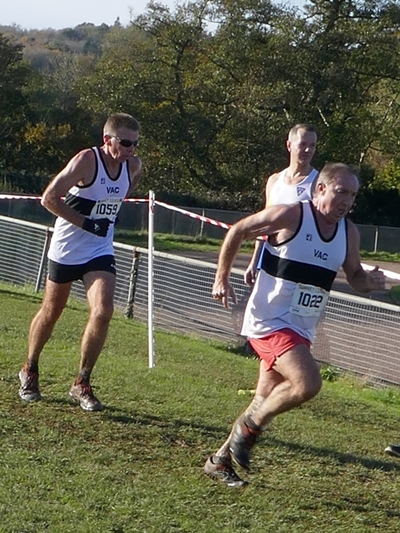 Ebe Prill Gary Budinger (1022), Dave West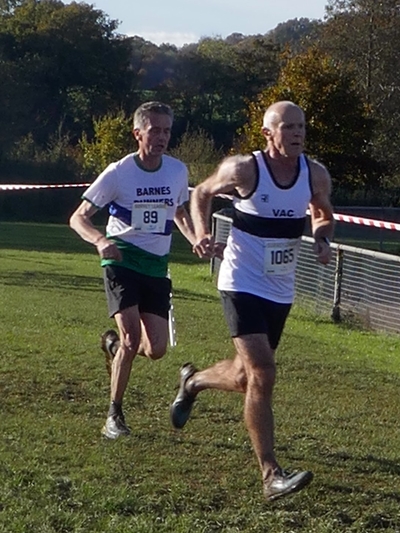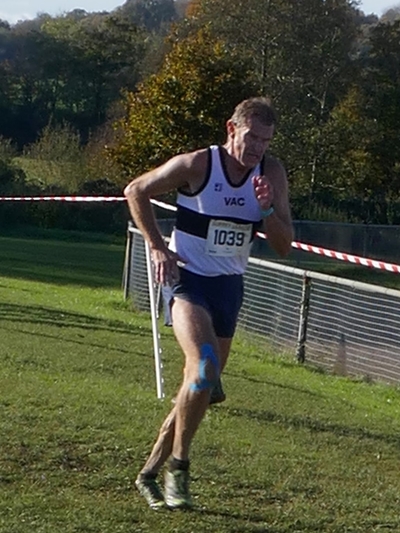 Charles Hampden-Smith (1065) Chris Lee
Photos from Helen Davies
A magnificent turnout of 22 men represented VAC in the second match of the season. Holland Sports AC hosted the fixture and laid out a new 8km course from their headquarters at Hurst Green, near Oxted. Clubs had been warned to expect mud and having had several weeks of heavy rain before the event, there was certainly plenty of it. However, on the day, bright sunshine and cool air presented ideal weather conditions.
The race began with a sprint round a waterlogged playing field before negotiating the first of two bridges and a narrow path leading to open fields beyond. After a long upward slope, the route dropped to the first sticky section where trail shoes and cross country spikes came into their own. And so it went on, with field after field alternating between being slightly muddy through to downright bogs, interspersed by a couple of wet wooded sections. After two gruelling laps, a short sprint over the bridge led to the finish line.
Richard Batchelor again led the team, finishing 26th out of the 351 finishers in the combined Divisions 3 and 4 race, and eighth position in Division 4. He was followed by Peter Lee and Simon Moore in positions 23 and 29. Next were Malcolm Davies, Richard Evans, Ian Barnett and Bruce McLaren, all in the top 50. Charles Hampden-Smith, Stewart Bond and Ebe Prill (with a shoe in his hand) completed VAC's scoring "A" team of ten. VAC's remaining runners pushed for every place to score for the "B" team.
Newcomers Peter Lee, Simon Moore, Richard Evans, Charles Hampden-Smith, Stewart Bond and Petros Hahladakis were welcomed. They made great contributions.
The "A" team were an excellent third in the Division 4 match, maintaining VAC's push for promotion to Division 3. VAC's "B" team were rewarded by coming first in their competition. In the age group contests, VAC took the top four places in the M60 rankings.
The full results are on the Surrey League website.
VAC Placings, Division Four, Hurst Green
Pos.
Time
Name
Age Group
8
31:48
Richard Batchelor
M45
23
34:25
Peter Lee
M55
29
35:08
Simon Moore
M55
33
35:34
Malcolm Davies
M55
40
36:07
Richard Evans
M60
46
36:56
Ian Barnett
M60
49
37:03
Bruce McLaren
M55
58
37:54
Charles Hampden-Smith
M60
61
38:21
Stewart Bond
M50
80
40:00
Ebe Prill
M60
94
41:03
Chris Lee
M60
100
41:24
John Barron
M65
107
41:44
Glen Morgan
M60
115
42:21
Peter Giles
M75
124
43:30
Mike Mann
M75
128
44:05
Clive Walker
M65
147
46:48
Gary Budinger
M60
150
46:58
Dave West
M65
151
47:12
Petros Hahladakis
M45
159
49:29
Andy Mitchelson
M55
161
50:07
Andy Murray
M70
167
52:06
Dan Maskell
M75
175 finishers (351 in combined race)
Division Four Team Results at Hurst Green
Points
1
Sutton Striders
182
2
Clapham Pioneers
349
3
VAC
416
4
Collingwood
472
5
Sutton Runners
540
6
Lingfield Running Club
595
7
Chessington Unity RC
759
8
British Airways
787.5
9
Horley Harriers
801
10
Dulwich Park Runners
883
11
Windrush Tri Club
950
12
Epsom Oddballs
1002.5
13
Runnymede
1040
14
Waverley AC
1093

---
VAC 7 mile road walk championships, Enfield, 11 November 2023, King George V Playing Fields, Enfield

The event was held in conjunction with Enfield & Haringey AC's 7 Mile Open race, now in its 96th edition, in idyllic conditions, and now takes the name of Bernie Hercock, who was a long-time VAC member and prolific racer.

There were 25 in total on the start line, similar to 2022.

The VAC contingent was strongly led home by Ian Richards (Steyning AC) and Penelope Cummings (HHH) led for the ladies (4th lady and 4th overall).

VAC are grateful to the Enfield League organiser, Ron Wallwork, for allowing VAC to incorporate their championships within the Enfield Open 7.

Square brackets denote position in race:

M60
1 John Arthur [11] (Ilford AC) 83.24
M65
1 Stuart Bennett [7] (Ilford AC) 75.26
M75
1 Ian Richards (Steyning AC) 70.08
W45
1 Penelope Cummings [4] (HHH) 71.09
W60
1 Maureen Noel [5] (Belgrave H) 73.28
2 Fiona Bishop [9] (EHAC) 81.14

In addition there were partial completions from:

W55 Sian Baum (HHH) 59.37 5 miles
W60 Shaheda Arthur (Ilford AC) 88.30 5 miles
M70 David Hoben (Surrey WC) 74.52 6 miles
M75 Christopher Flint (Surrey WC) 75.06 6 miles

---
Jack Fitzgerald Centenary Memorial Walks Tilgate Park, Crawley, 4 November 2023
Veterans AC approx. 3 miles and 6 miles road race
Permit No: RWA23065-1 Category B
Results
5.44k
1
Nicholas Fleeman
M65
Winchester and District AC
38:47
9.52k mixed
1
Melanie Peddle
W55
Loughton AC
59:22
2
Trevor Jones
M65
Steyning AC
61:01
3
Brian Kirkdale
M65
Hastings Runners
63:57
4
John Borgars
M75
Loughton AC
66:23
5
Fiona Bishop
W60
Woking AC
67:54
6
Paul Gaston
M75
Surrey Walking Club
70:31
7
Judith Carder
W65
Brighton & Hove AC
75:59
8=
Christopher Flint
M75
Surrey Walking Club
76:24
8=
Stephen Cartwright
M65
Gt Bentley RC
76:24
Veterans AC were pleased to host the eighth running of this event on a lakeside course once used as the test bed for Britain's water speed record round popular beauty spot Campbell's lake, now in Jack Fitzgerald's centenary year.
The rain which endured until the event had just finished could only be described as heavy and persistent or just persistent.
In the headline race over 9.52 km VAC were pleased to welcome back Trevor Jones from Steyning AC on his second win for the men at this event; the overall and ladies' winner was Melanie Peddle from Loughton AC, who is having a very successful year.
VAC are always grateful for our judges and team of officials, especially in these difficult weather conditions, in particular Ron Penfold who is a local resident had been monitoring the state of the course up to the day before; in the end the usual loop was roughly halved and became out and back due to the flooded patches on the return half.
The race was held to raise funds for Blind Veterans UK, as a tribute to RAF fighter pilot Jack Fitzgerald.
Acknowledgements
Judges: Peter Cassidy, John Hall
Starter: Peter Hannell
Time keeping/lap recording: Peter Selby, Jeremy Carmichael, David Hoben
Lead cyclist + marshal: Eric Parker
Signage: Ron Penfold
Hospitality: Tilgate Forest Golf Centre
From an original idea by Walter Hill, SCVAC

---
Men's Surrey League Cross Country, Epsom Downs, 14 October 2023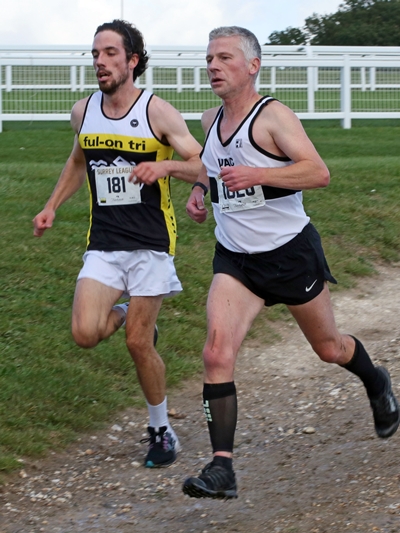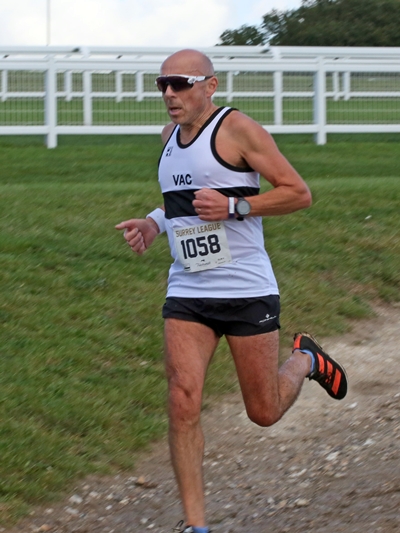 Richard Batchelor (1020) Mike Webber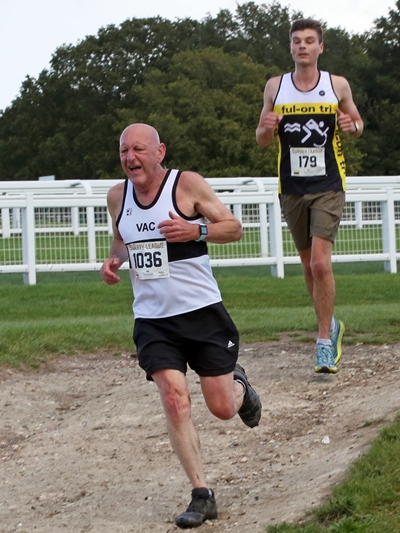 Gary Ironmonger (1036) Gary Budinger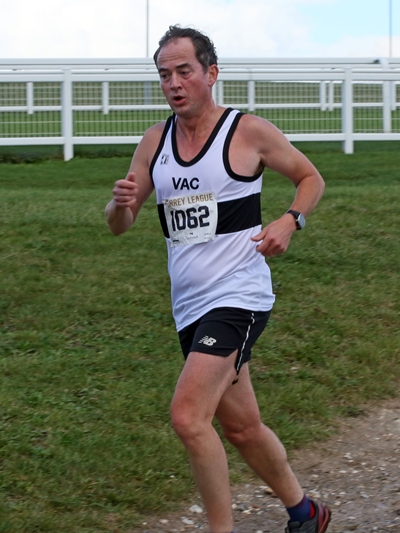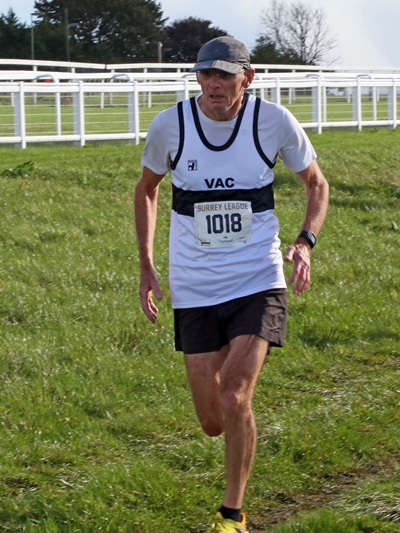 Ben Revill Ian Barnett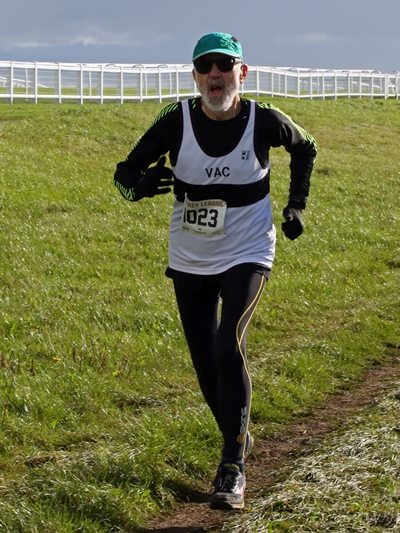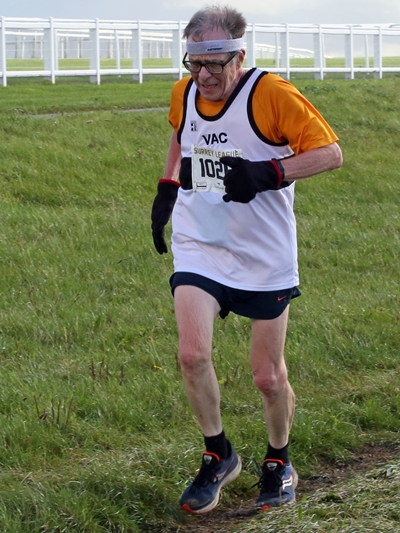 John Carter Martin Evans

Photos from Cliff Hide. Cliff has more photos and is happy to supply J-Peg copies to competitors.
Email him at cliffhide10@aol.com
A great turnout of 19 VAC men contested the combined Division 3 and 4 race at Epsom Downs. On arrival, most were drenched by a heavy shower but by the time the race started, it was sunny. Despite the rain, the 8km, two-lap, course past the iconic grandstand, was firm underfoot.
Richard Batchelor (M45) was VAC's first finisher in a hard fight for 11th place. Mike Webber (M55) was next, making a great contribution in 19th place, followed by Vic Maughn who topped the Division's M60 results' listing. Clive Rolfe, Ian Barnett, Gary Ironmonger, Malcolm Davies, Tony Harran, Ben Revill and John Foss completed the scoring "A" team which finished in a fantastic second place out of the 14 clubs in Division 4. The "B" team of the next nine runners fought for every place and matched the A team by coming second in the B team competition.
Newcomers, Mike Webber, Ian Barnett, Ben Revill and John Foss were welcomed. Their fine performances certainly bolstered VAC's teams' standings.
The full results are on the Surrey League website
VAC Placings, Division Four, Epsom Downs
Pos.
Time
Name
Age Group
11
31:26
Richard Batchelor
M45
19
32:38
Mike Webber
M55
33
34:36
Vic Maughn
M60
36
34:44
Clive Rolfe
M45
38
35:19
Ian Barnett
M60
39
35:21
Gary Ironmonger
M60
45
36:01
Malcolm Davies
M55
64
38:18
Tony Harran
M60
72
38:57
Ben Revill
M50
74
39:02
John Foss
M65
92
40:37
John Barron
M65
98
41:09
Chris Lee
M60
113
43:59
Martin Evans
M70
128
47:52
David Hinds
M70
133
48:14
Andy Mitchelson
M55
137
48:44
Gary Budinger
M60
141
50:42
Dan Maskell
M75
145
53:31
John Carter
M75
148
56:02
Ian Strong
M60
150 finishers (323 in combined race)
Division Four Team Results at Epsom Downs
Points
1
Sutton Striders
212
2
VAC
410
3
Sutton Runners
414
4
Chessington Unity RC
595
5
British Airways
613
6
Lingfield Running Club
693
7
Dulwich Park Runners
719
8
Horley Harriers
729
9
Runnymede
756
10
Collingwood
854
11
Epsom Oddballs
890
12
Clapham Pioneers
903
13
Waverley AC
948
14
Windrush Tri Club
1134

---
Ladies Surrey League Cross Country, Epsom Downs, 14 October 2023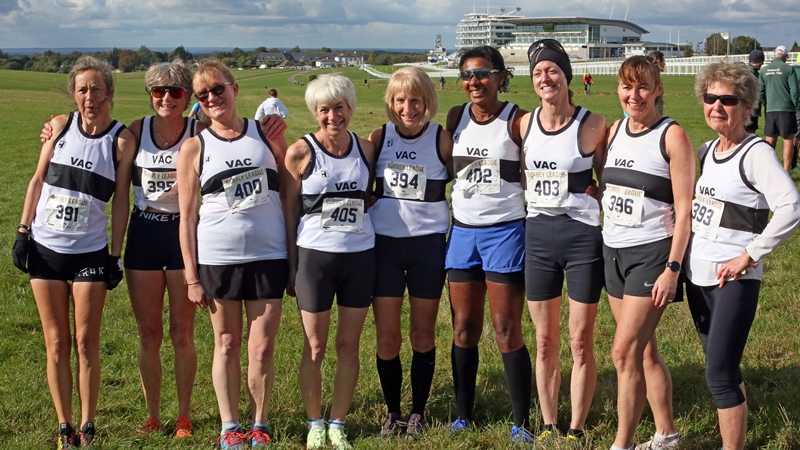 VAC Team: Sarah, Anna, Catherine, Lucy, Gina, Patricia, Lisa, Brigid, Lesley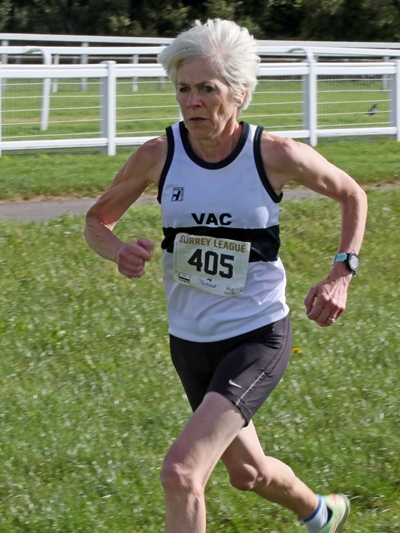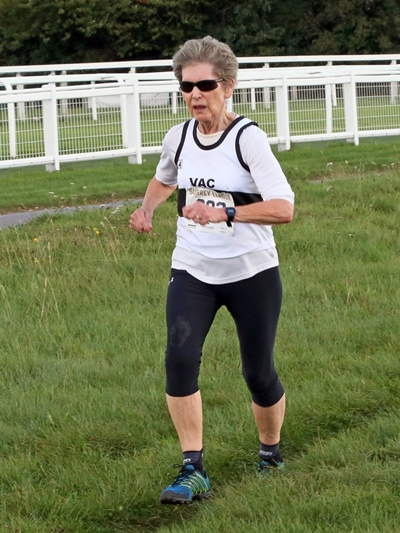 Lucy Woolhouse Lesley Bowcott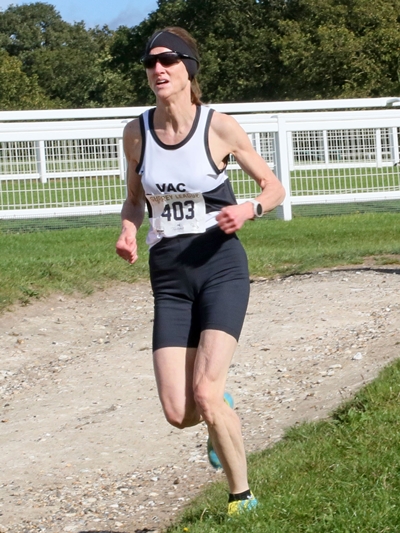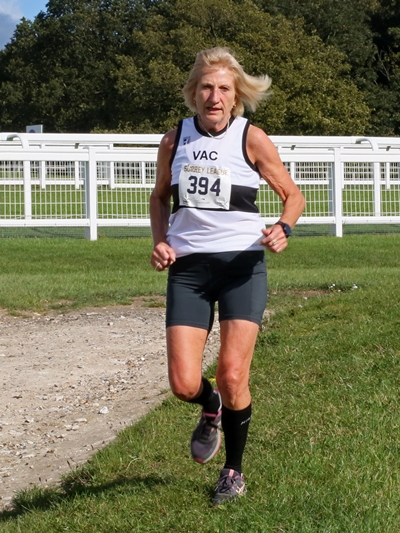 Lisa Thomas Gina Coulson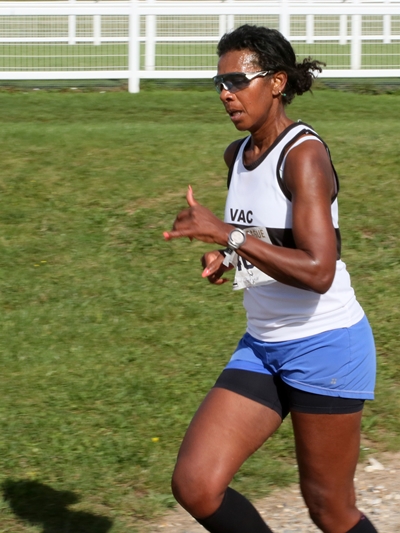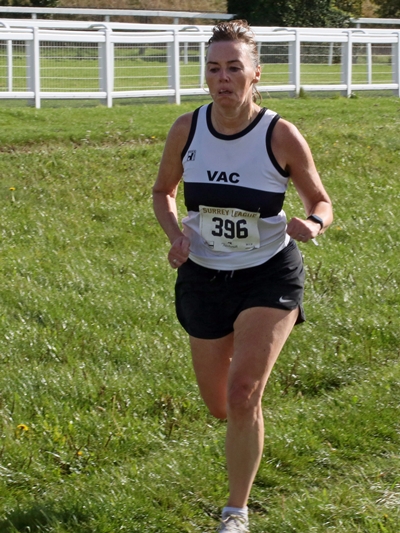 Patricia Thomas Brigid Hibberd
Photos from Cliff Hide. Cliff has more photos and is happy to supply J-Peg copies to competitors.
Email him at cliffhide10@aol.com
VAC's women's team competed strongly in the combined race for Divisions 2 and 3 at Epsom Downs in sunny, but cold, conditions. The two-lap, 6km, course was a mixture of rough gravel, dirt tracks and grassland, with a steady climb up the Down and a fast descent to Tattenham Corner.
Lucy Woolhouse was the first finisher from VAC's team of nine in 25th position in Division 2 and first W60 in the combined race. Next was Lisa Thomas (W55) in 43rd position followed by Brigid Hibbert (W55) in 62nd place. Anna Garnier (W65) and Gina Coulson (W65) completed the scoring "A" team which finished a commendable 8th out of 15 "A" teams. The next four finishers, Patricia Thomas, Sarah Allen, Catherine Porter and Lesley Bowcott scored for the "B" team which also finished eighth. A warm welcome was given to new VAC members, Brigid and Catherine. Also running for the first time in VAC's Surrey League team were Lisa, Gina, Patricia and Lesley who all made great contributions.
The full results are on the Surrey League website
VAC Placings, Division Two, Epsom Downs, 14 Oct 2023
Pos.
Time
Name
Age Group
25
28:46
Lucy Woolhouse
W60
43
30:15
Lisa Thomas
W55
62
31:27
Brigid Hibberd
W55
71
32:20
Anna Garnier
W65
89
33:37
Gina Coulson
W65
98
34:08
Patricia Thomas
W55
111
36:54
Sarah Allen
W60
113
38:16
Catherine Porter
W55
141
48:09
Lesley Bowcott
W75
142 finishers in Div 2 (283 in combined race with Div 3)
Division Two "A" Team Results at Epsom Downs
Points
1
Ful-on Tri
45
2
Woking
75
3
DMV
83
4
West 4 Harriers
122
5
Croydon Harriers
138
6
London City Runners
163
7
Holland Sports
269
8
VAC
290
9
Ealing
304
10
Kingston & Poly.
309
Plus a further 5 "A" teams

---
East Surrey League Cross Country, Lloyd Park, 7 October 2023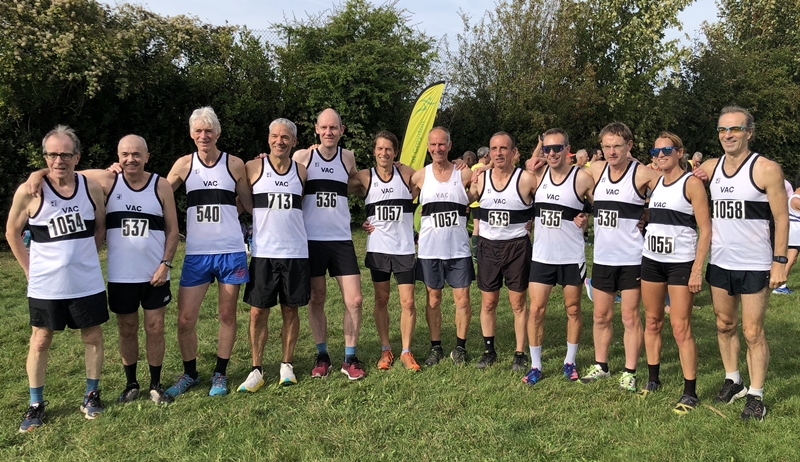 VAC's team (except for Alex Baird who missed the photo)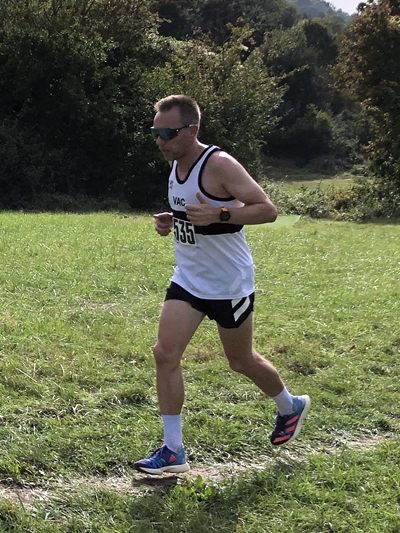 Alex Baird Jani Kraner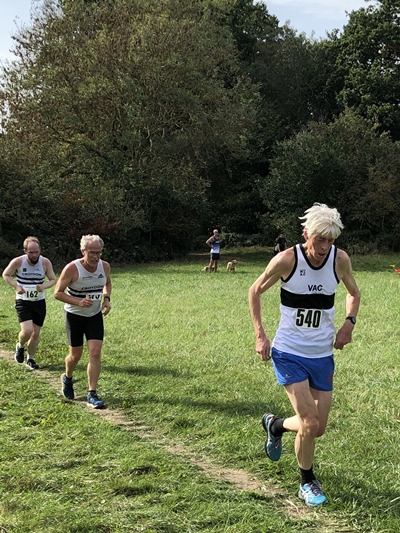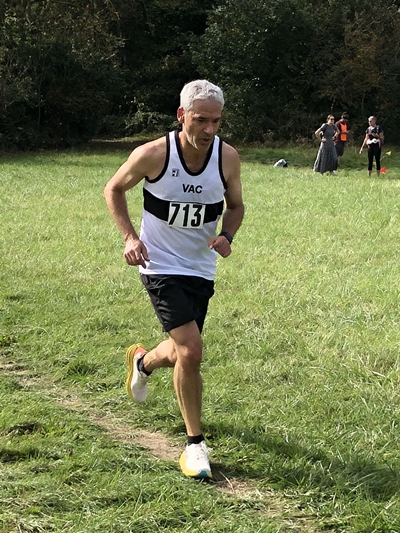 Hugh Balfour John Foley
Photos from Martin Berry
Here are the Results of the East Surrey League race, 7 October 2023.
Hot sunny weather and dry ground made an unseasonal start to VAC's cross country campaign but the team of thirteen tackled Lloyd Park's traditional course with enthusiasm and determination in a very competitive first match of the East Surrey League.
Jani Kraner (M40) led the team home with a splendid second place finish. Also in the top ten were Mark Tennyson (M55), in eighth place, followed by John Foley (M55) in ninth, just four seconds behind. VAC's fourth scorer was Terry Booth (M55) whose 17th position cemented VAC's excellent second place in the men's team competition.
VAC's Alex Baird (W40) was third in the women's competition, followed by Victoria Carter (W50) in seventh place.
VAC scored well in the age groups. Jani Kraner was first M40-49, Mark Tennyson first M50-59 and Hugh Balfour first M60+.

---
Veterans AC 10k track race incorporating Sussex, Surrey, Middx & Herts County Championships Woodcote High School, Purley, 30 September 2023
The annual VAC and Counties championships took place in good racing conditions on a picture-perfect autumn afternoon, with cloud cover and a modest breeze.
With the second rail strike in two years on this race date and a number of regulars racing in Holland this was never going to be a big field, however ten on the line faced the starter's pistol.
The men's race was won by Blackheath's junior Jonny Ellerton with good style, in an excellent time slightly outside his personal best time at Coventry track this year. EHAC's entry second male Dave Walsh also did a good time just outside his PB, and beat the rail strike by an interesting route including a local park run and cycling. The ladies' race, Surrey County and VAC championship, was won by Penelope Cummings in a time just outside the hour, with Sian Baum from Herne Hill Harriers taking second place in the same championships in her first attempt at this distance. Both ladies were commended for their style.
Flying the flag for Sussex, Paul Gaston (SWC) took the County honours, and Ron Penfold (Steyning AC) won the men's VAC championships.
VAC are indebted as always to the team of officials and judges for this event to take place, who appear below.
Veterans AC 10k track race walk incorporating Sussex, Surrey, Middx & Herts County Championships
Woodcote High School, Purley, 30 September 2023
Permit No: RWA23047-1 Category A
F
1
Penelope Cummings
W45
AFD/VAC [1]
1:00:44.8
Surrey
2
Sian Baum
W55
Herne Hill Harriers/VAC [2]
1:13:59.6
Surrey
M
1
Jonathan Ellerton
U20M
Blackheath & Bromley Harriers
57:19.1
N/A
2
David Walsh
M60
Enfield & Haringey AC
1:02:47.8
N/A
3
Matthew Ellerton
M50
Blackheath & Bromley Harriers
1:08:21.6
N/A
4
Paul Gaston
M75
Surrey Walking Club
1:12:47.4
Sussex
5
Ronald Penfold
M80
Steyning AC/VAC [1]
1:13:51.0
Sussex
John Borgars
M75
Herts Phoenix
DQ
Championship results in square brackets
County championships:
Surrey:
Women:
P Cummings, S Baum
Sussex:
P Gaston, R Penfold
Veterans AC 10k Open track race walk
Permit No: RWA23047-1 Category B
1
Graeme Heaton
M60
Heathfield RR
1:12:42.1
Peter Hannell
M80
Surrey Walking Club/VAC
DNF
Acknowledgements
Judge: Shaun Lightman
Starter: Steve Knight
Time keeping: David Harris/Ian Statter/Carl Lawton
Lap recording: Nolan Simmons, George Collins, David Hoben
Hospitality: Woodcote High School
Track equipment: South London Harriers

---
Vitality Westminster Mile, VAC One Mile Championships, 23 September 2023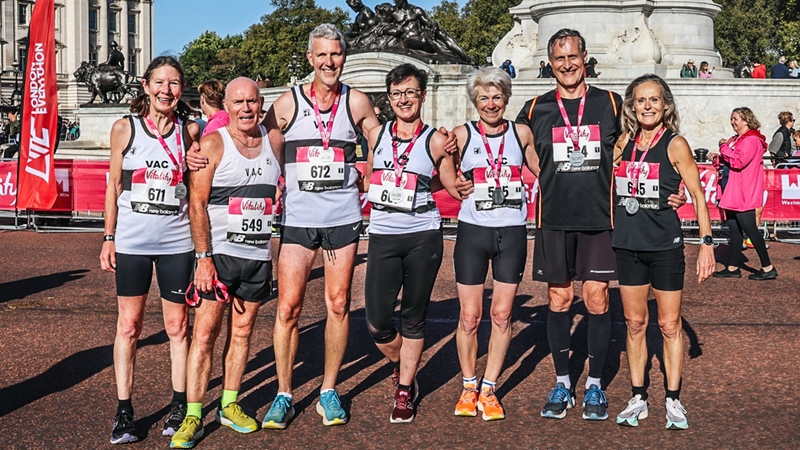 Some of VAC's runners: Maggie, Ron, Andrew, Chiara, Lucy, Hugh, Pam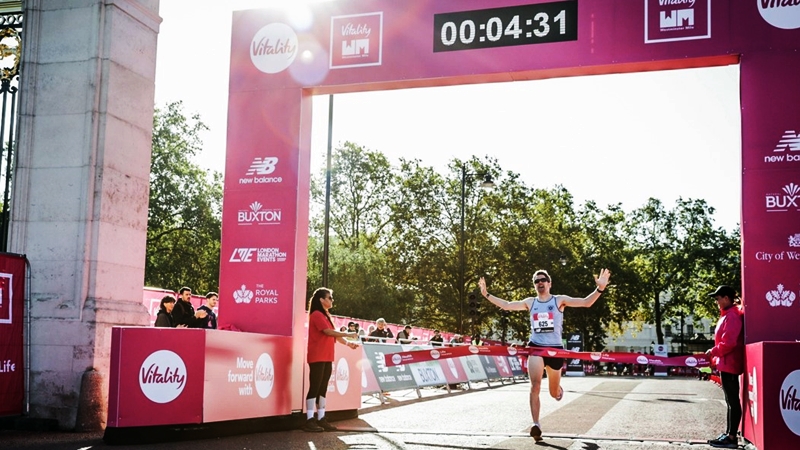 Chris Loudon wins Wave One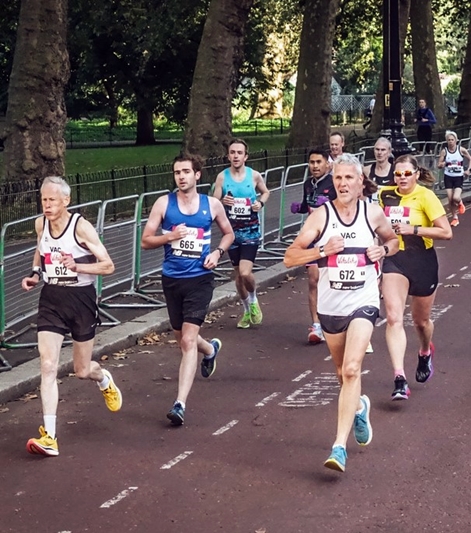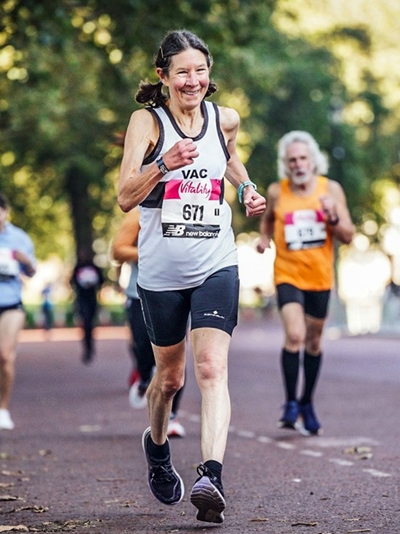 Peter Kennedy (612), Andy Cornish (672) Maggie Statham-Berry, 1st W70
Nineteen VAC members enjoyed the Westminster Mile's traffic-free course along the Mall, past Horse Guards parade ground and back along Birdcage Walk to the iconic finish outside Buckingham Palace.
VAC's Chris Loudon (M35) won Wave One in style, breaking the tape in a fantastic 4:26 chip time. Paul Howard was the second VAC finisher, clocking 4:43 as the first M40 in the race. Gina Galbraith was VAC's first woman in 5:27, placing second in the combined times for Waves 1 and 2, and first W45. VAC members dominated the age groups. Other age group firsts were achieved by Lucy Woolhouse (W60), Peter Hall (M65), Avril Riddell (W65), Peter Kennedy (M70), Maggie Statham-Berry (W70) and Bill O'Connor (M75). Lucy's time of 6:05 translated to a magnificent age-grading of 95.22%. Pamela Whitter and Avril Riddell also achieved over 90% with a further five members above 85%.
Results of the VAC One Mile Championship, Westminster Mile, 23 September 2023
Pos.
First Name
Last Name
Age Grp
Result
Age Grade
VAC Medal
1
Chris
Loudon
M35
4:26
87.24
Gold
2
Paul
Howard
M40
4:43
85.13
Gold
3
Gina
Galbraith
W45
5:27
88.06
Gold
4
Andy
Bowen
M55
5:35
81.19
Gold
5
Tim
Grose
M55
5:37
79.35
Silver
6
Andrew
Cornish
M55
5:50
77.05
Bronze
6
Peter
Hall
M65
5:50
82.69
Gold
8
Dean
Saliba
M40
5:57
68.00
Silver
9
Peter
Kennedy
M70
6:04
85.72
Gold
10
Lucy
Woolhouse
W60
6:05
95.22
Gold
11
Tom
Cheetham
M55
6:17
70.93
12
Pamela
Whitter
W60
6:20
94.25
Silver
13
Jerry
Lockspeiser
M70
6:51
74.00
Silver
14
Avril
Riddell
W65
7:15
90.61
Gold
15
Chiara
Cristoni
W50
7:16
68.57
Gold
16
Ronald
Vialls
M70
7:37
67.37
Bronze
17
Maggie
Statham-Berry
W70
7:49
85.48
Gold
18
Bill
O'Connor
M75
10:01
57.65
Gold
19
Patrick
Reynolds
M70
13:34
38.89

---
Peckham Rye parkrun, Saturday 16 September 2023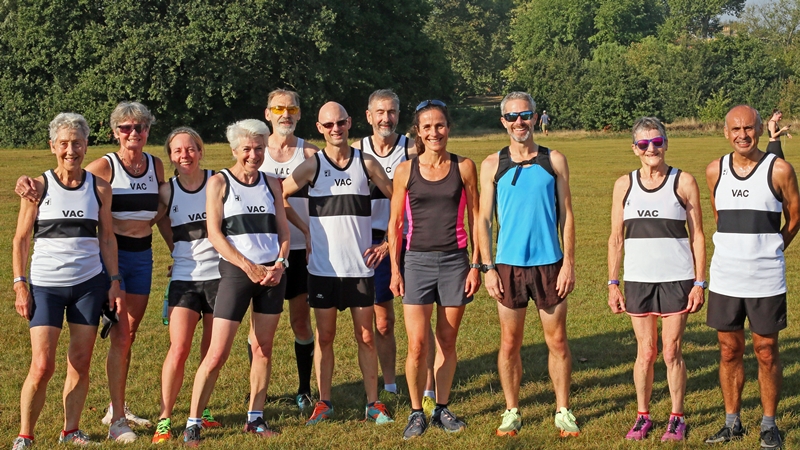 Avril, Anna, Rachel, Lucy, Andy M, Andy B, Peter, Nikki, Ade, Ros, Martin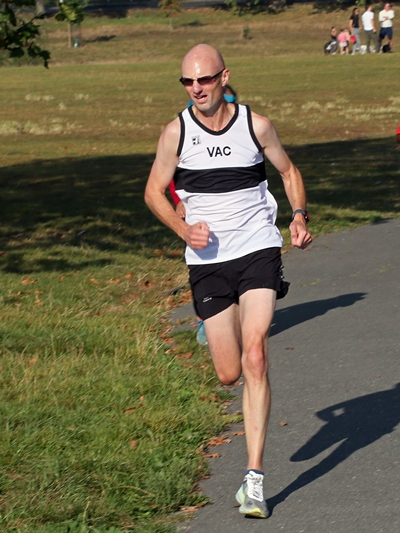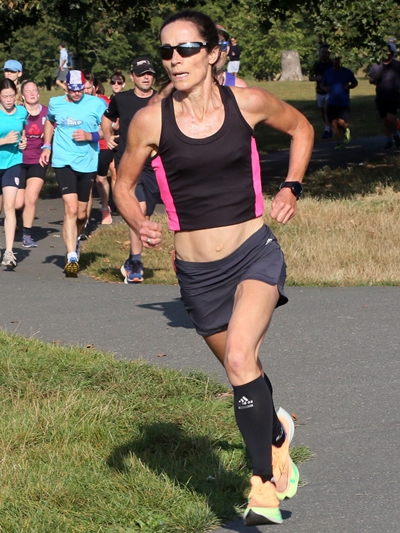 Andy Bond, first place Nikki Sturzaker, first woman
Photos from Cliff Hide.
15 VAC members arrived at Peckham Rye Park for the latest parkrun meet-up. It was a lovely morning – sunny and still, but not too hot for running. The course is a twisty three-lapper with a slight uphill at the end of each lap. The run was quite congested at the start and the paths are narrow and uneven, but we all settled down and enjoyed ourselves. Cliff Hide was present to encourage us and take photos.
Results for VAC were impressive. We had the first finisher for men and women (Andy Bond and Nikki Sturzaker). The first seven on age grading were all VAC members. Andy Bond, Ade, Nikki, Ros, Lucy, Peter, and Avril were all first in their age groups.
| | | | | | |
| --- | --- | --- | --- | --- | --- |
| Pos'n | Name | Club | Cat. pos'n | Time | Age Grading % |
| 1 | Andy Bond | Dulwich Runners | 1st M 50 | 16:24 | 89.94 |
| 3 | Ade Russell | Dulwich Runners | 1st M 45 | 17:04 | 83.69 |
| 9 | Nikki Sturzaker | Herne Hill Harriers | 1st W50 | 18:42 | 89.66 |
| 23 | Martin Daoud | Ealing, Southall & Midd | 2nd M 60 | 19:58 | 81.05 |
| 37 | Rachel Berry | West 4 Harriers | 2nd W 50 | 20:57 | 80.99 |
| 38 | Peter Hall | West 4 Harriers | 1st M 65 | 20:58 | 79.97 |
| 45 | Lucy Woolhouse | VAC | 1st W 60 | 21:22 | 90.80 |
| 102 | Graham Laylee | Dulwich Runners | 2nd M65 | 23:52 | 70.95 |
| 150 | Helen Corbishley | VAC | 2nd W 45 | 25:31 | 63.49 |
| 176 | Avril Riddell | Serpentine | 1st W 65 | 26:37 | 82.28 |
| 177 | Anna Garnier | Thames Hare & Hounds | 2nd W 65 | 26:38 | 82.23 |
| 184 | Ros Tabor | Dulwich Runners | 1st W 70 | 26:50 | 88.76 |
| 213 | Andy Murray | Dulwich Runners | 2nd M 70 | 27:52 | 63.28 |
| 401 | Dennis Williams | Hercules Wimbledon | 3rd M 75 | 40:19 | 48.78 |

---
VAC 10,000m Championships, Battersea Park, 13 September 2023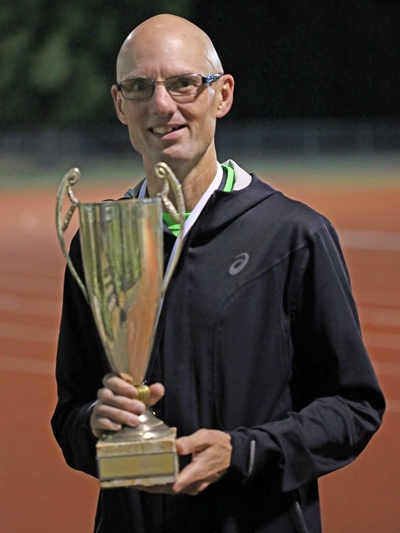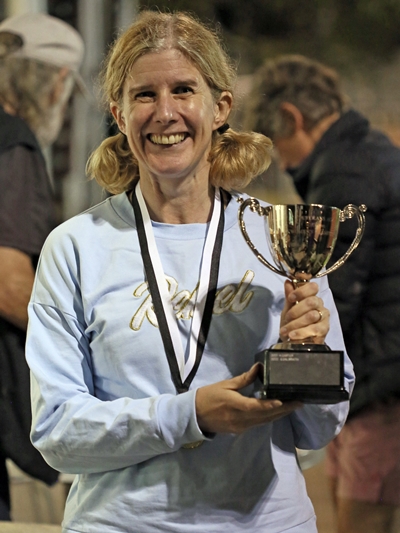 Andy Bond, VAC Champion Madeleine Armstrong-Plieth, VAC Champion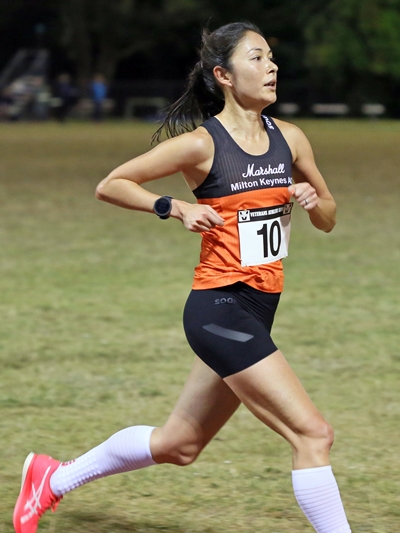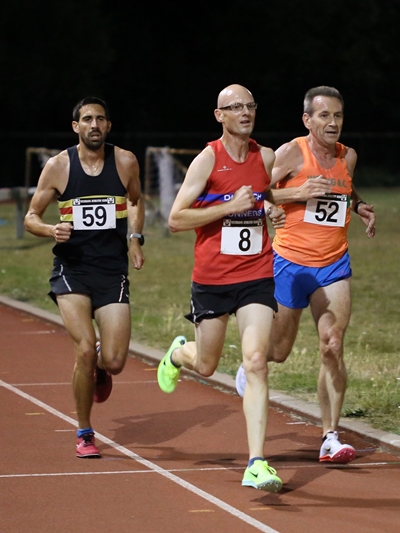 Lara Bromilow, women's winner Andy Bond (8), Duncan Woolmer (59) 2nd place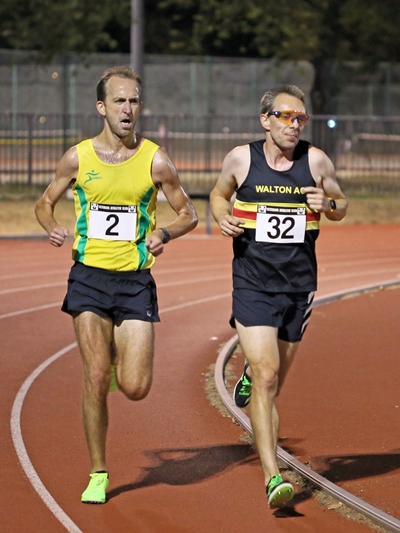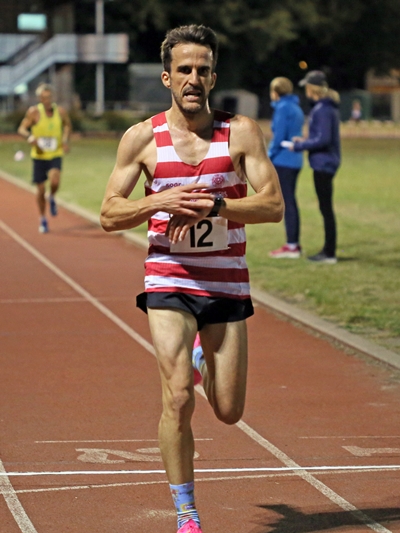 Andrew Aitken (2), Jani Kraner (32) Ruben Carvajal, winner Race 2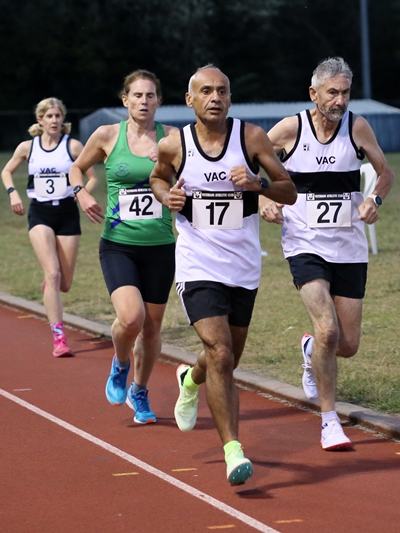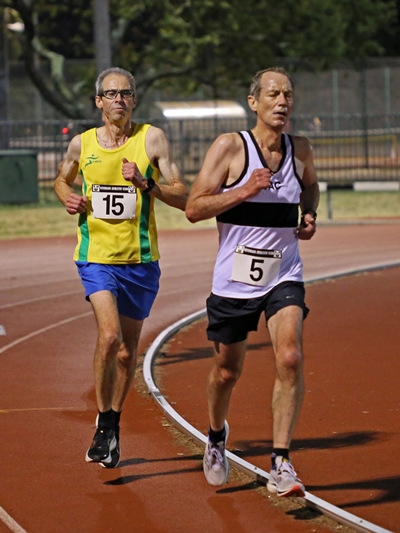 Martin Daoud (17), Peter Hall (27), Helen Pool Roger Beardsworth (5), Steve Corfield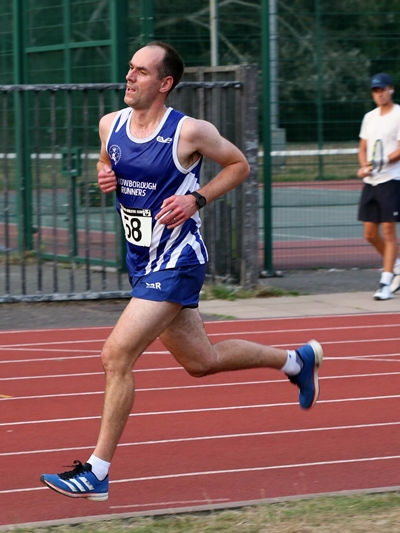 Pete Woodward, winner Race 1 Edward Smyth, Clare Norris, Race 1
Photos from Cliff Hide. Cliff has more photos and is happy to supply J-Peg copies to competitors.
Email him at cliffhide10@aol.com
Here are the results of the individual 10,000m races
Here are the combined results including medallists
The three seeded races took place in settled weather, warm and calm.
Andy Bond (M50) retained his VAC men's 10,000m champion's title, followed throughout by the 2021 winner, Duncan Woolmer (M40) who gradually lost ground. Andy's time of 33:11.82 set a new M50 Championship Best Performance, just a fraction of a second ahead of Simon Baines's previous record of 33:12.22 set in 2022. The first woman was Lara Bromilow of EMAC in a fantastic time of 36:23.31, an all-comers' record for W40. Madeleine Armstrong-Plieth was the first VAC woman and was awarded the Champion's trophy which was a fitting reward for her first track 10k.
Ruben Carvajal (M40) from Queen's Park Harriers won the second race in 38:08.10, pursued by Jeremy Garner (M45) in 38:16.89, in turn chased by Steve Corfield who pulled ahead of fellow-M60, Roger Beardsworth, to claim M60 Gold.
In the first race, Pete Woodward (M40) of Crowborough Runners was dominant and won in a time of 37:31.82. Pete had been on the start list for the second (faster) race, but travel constraints were taken into account, and he joined the earlier race instead. Clare Norris (W45) led the main field of runners, finishing in 43:03.01, having pulled away from fellow Dulwich Runner, Edward Smyth.
Gold medals for men's age-group firsts were won by Chris Jones (M35), Duncan Woolmer (M40), Andrew Aitken (M45), Andy Bond (M50), Jonathan Ratcliffe (M55), Steve Corfield (M60), Peter Hall (M65), Jerry Lockspeiser (M70) and Eddie Torpe (M75). For the women, the Golds were awarded to Sara Ellen (W35), Lara Bromilow (W40), Loise Faherty (W45), Vera Blei (W50) and Caroline Helder (W60).

---
VAC and London Masters Open Track & Field Championships, Finsbury Park, 9 September 2023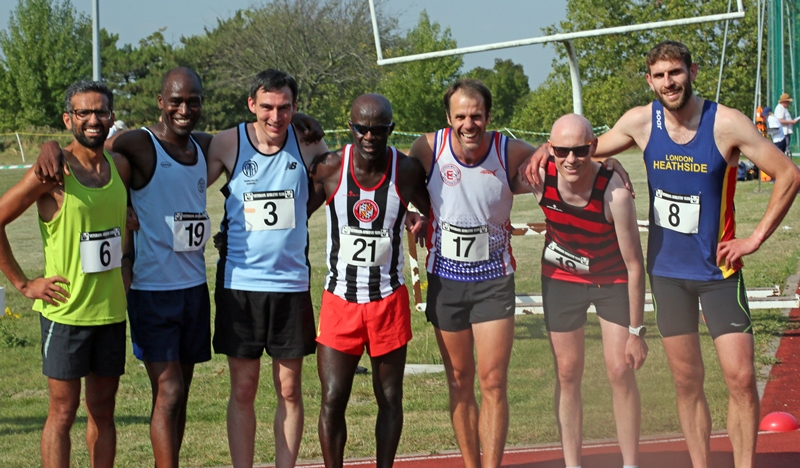 800m: (left to right) Mohsin Javed (M35 Gold), Edmund Adigwe, Scott Brewer, Kojo Kyereme (race winner, M45 Gold), John Whittaker (M40 Gold), Jonathan Whittaker, Richard Macaulay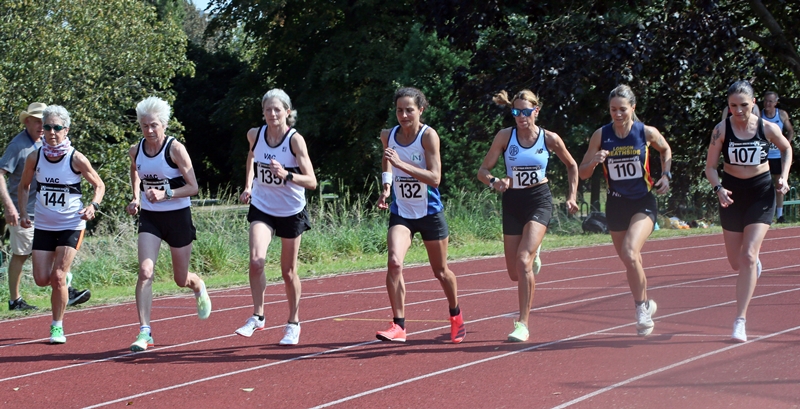 1500m: (left to right) Avril Riddell, Lucy Woolhouse, Anna Critchlow, Samantha Lamb (race winner), Victoria Carter, Lucie Mauger, Sara Ellen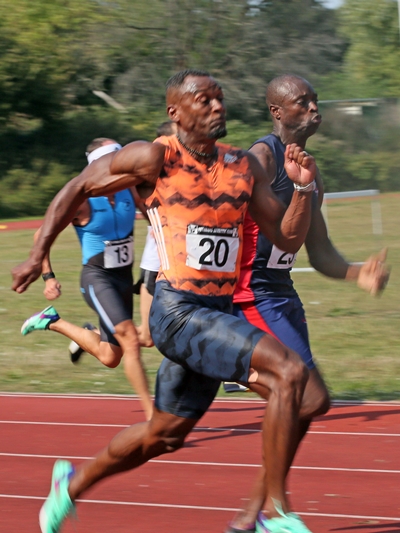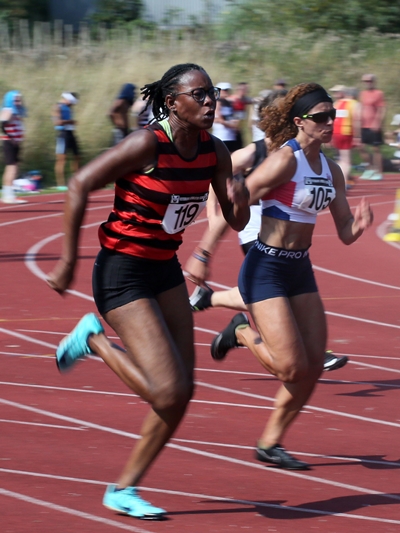 Mensah Elliott, 100m M45 Gold Michelle Watson (119), Krystle Balogun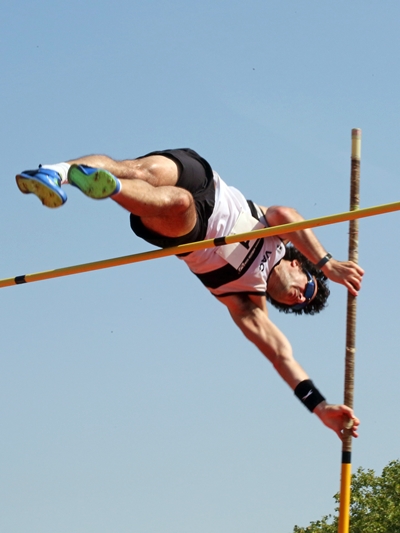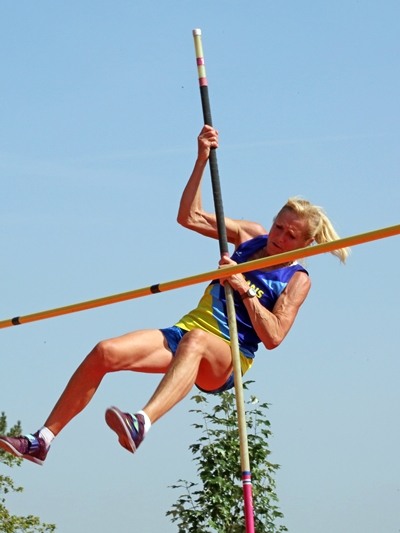 Bilen Ahmet, W35 Gold Sue Yeomans, W70 Gold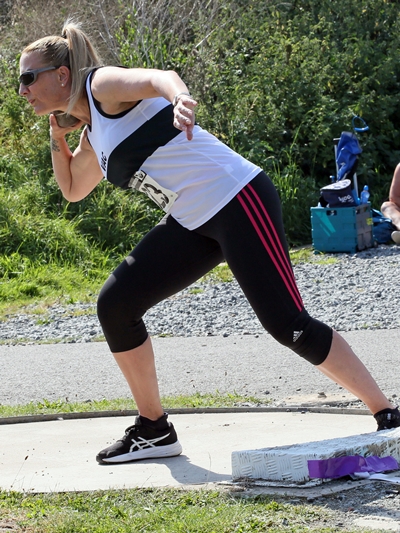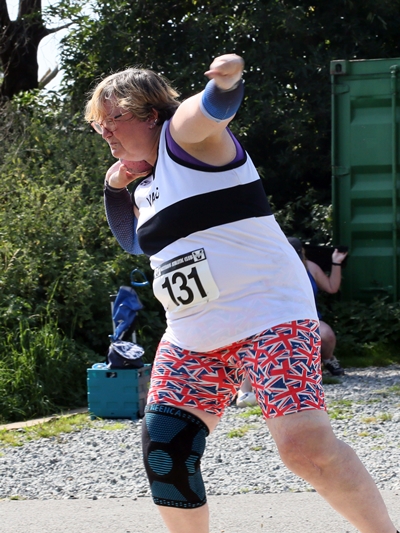 Suzanne Harding, W45 Gold Sharon Hutchings, W50 Gold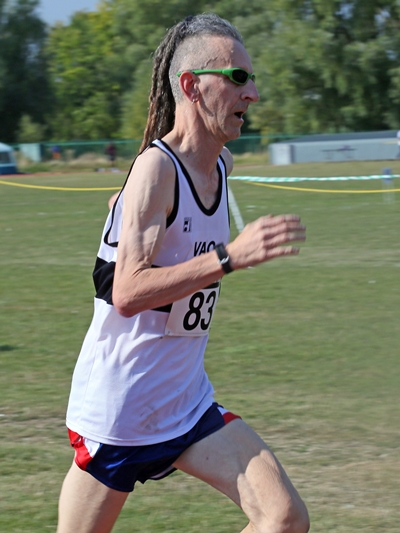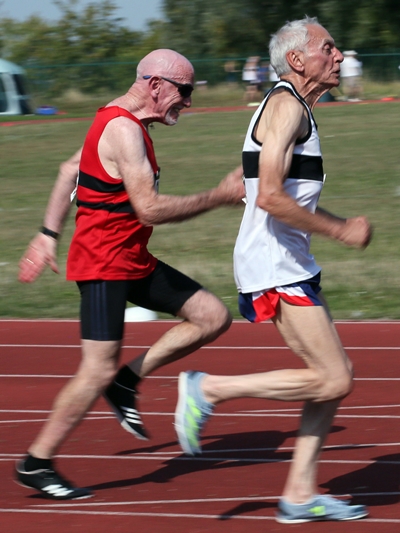 Paul Negri, M65 800m Allan Long (M80) leads Gerry Lustig (M75)
Photos from Cliff Hide. Cliff has more photos and is happy to supply J-Peg copies to competitors.
Email him at cliffhide10@aol.com
Here are the results on Power of Ten of the VAC/London Masters T&F Championships, 9 September: Results (thepowerof10.info)
Here are the results for each event by age group category
VAC's Track and Field championships took place during a heatwave at London's Finsbury Park athletics track. In a new venture, VAC expanded the club championship to include an open London Masters tournament. The event was successful and attracted over 150 entries, with half of these from non-members, many experiencing their first Masters competition in age groups.
Despite the heat, there were fine performances, with many athletes competing in several events. VAC's multi-eventer, Bilen Ahmet, completed 12 events!. London Marathon ever-present, Bill O'Connor, completed seven events, including all five track distances.
VAC was grateful for the support of the London Heathside club at its home track and particularly for the vision and organisation provided by Adrian Essex and Adrian Day of Heathside and Peter Kennedy of VAC. Other local clubs also rallied round and provided many officials. Thanks go to all the officials and helpers who served for many hours in the high temperature to ensure a successful meeting, which we plan to repeat and build on next year.

---
England Masters Athletics Association Inter-Area Challenge, Nuneaton, 6 August 2023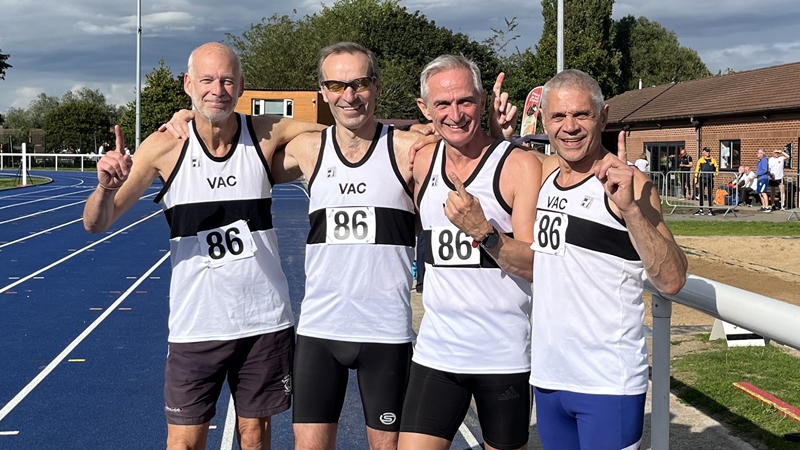 First place for VAC's M60 4 x 100m Relay team: Tim Carter, David Hinds, Brian Steene, Mike Vassiliou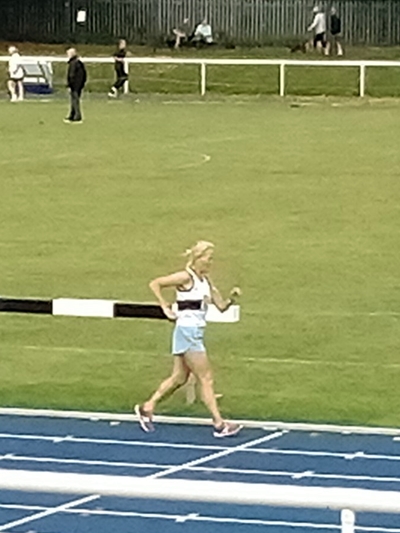 Peter Kennedy (87), 2nd 800m Fiona Bishop, 2K Walk
Photo of the M60 Relay Team from Brian Steene. Other photos from Andy Murray.
Here are the Results of VAC's Team Members.
The date of the annual fixture was later than usual and slipped into the holiday period. VAC had a numerically weakened team but there were great efforts from those who made the trip to Nuneaton's Pingles Stadium where there was a pleasant track and a well-officiated meeting.
Particular highlights were the double firsts for Gavin Stephens (M35 200m and 400m) and Mike Vassiliou (M60 200m and 400m) plus first places for Chris Taplin (M50 400m), Tim Carter (M70 Long Jump) and the M60 relay team. There were also six splendid second places and eight third places. Many team members did more than one event, with multi-eventer, Bilen Ahmet, scoring well in eight events. Fiona Bishop did five events and Natalie Mann did four.

---
VAC Battersea Park Grand Prix, Summer Race Series 2023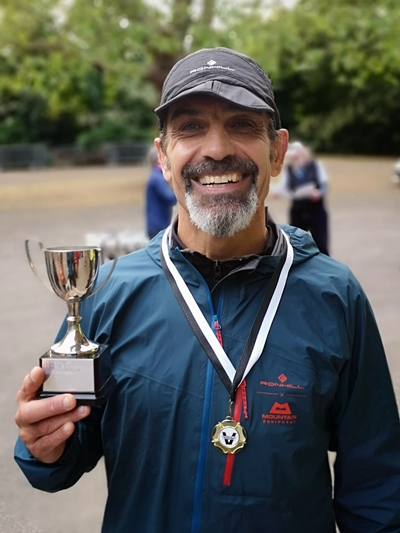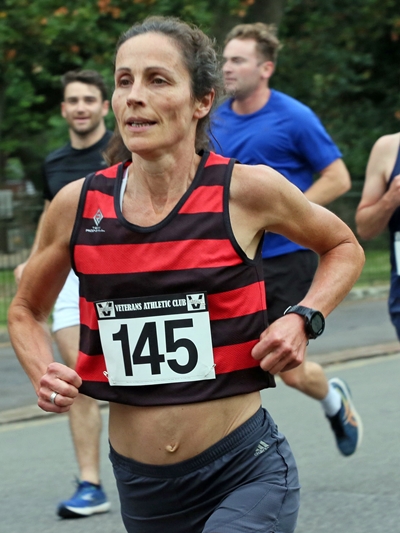 Neil Danby, Grand Prix winner Nikki Sturzaker, 2nd place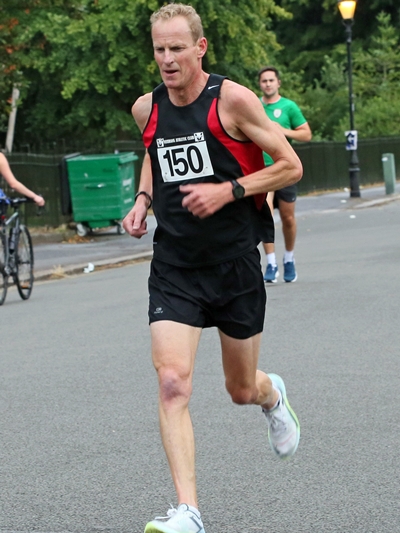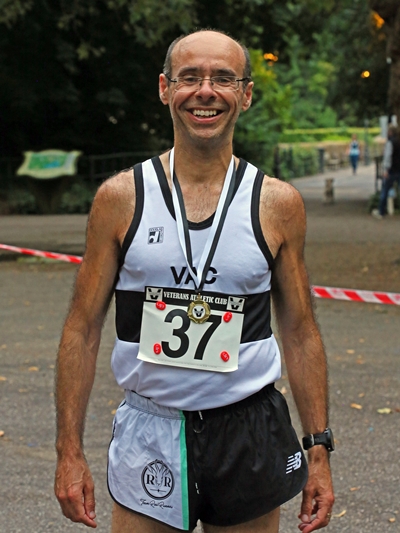 Richard Tomlinson, 3rd place Joseph Gonzalez Armas, 4th place
Photo of Neil Danby from Andrew Cornish. Other photos from Cliff Hide.
Thirty VAC members qualified for the 2023 Grand Prix. To be eligible, members needed to register times in at least three of VAC's four 5km/5 mile road races in the 2023 series in Battersea Park. Each year, the person with the highest average of his or her three best age-graded performances is awarded the Snow Cup, a beautiful trophy which dates to 1950.
Congratulations to Neil Danby (M55) the worthy winner of the 2023 competition with an outstanding average age grading of 93.19%. In each of his three races, Neil set new M55 records for the Battersea Park courses. In April's 5k race, his time of 16:29 beat his own course record of 16:33 set in 2021. He went even better in June's race by posting 16:25 to win VAC's 5K championship and improve his M55 record by four seconds. In May's 5 Mile championship race, he won M55 Gold against top opposition and set a new course record of 27:35.
Nikki Sturzaker (W50) was second in the Grand Prix with an average of 89.64%. Nikki set new W45 course records in April's 5k and May's 5 Mile races, and then, having turned 50, set a W50 5k record of 18:04 in August's race which was actually faster than her W45 record (18:16). Richard Tomlinson (M55) was third in the series with an average of 88.53%, closely followed by Joseph Gonzalez-Armas (M50) with 88.02% and Simon Shaw (M50) with 87.91%.
Six members were ever-presents, contesting all four races. They were Andrew Cornish, Martin Daoud, Jay Hadfield, Caroline Helder, Nikki Sturzaker and Tony Tuohy. Thanks go to all the VAC members and open runners who competed in the races over the summer. The series resumes in April 2024.
League Table, Battersea Park Road Race Grand Prix 2023
Pos.
VAC Member's Name
Age-graded %*
Age Grp.
Club
Avg. best 3 races
1
Neil
Danby
93.19
M55
Holland Sports
2
Nikki
Sturzaker
89.64
W50
Herne Hill Harriers
3
Richard
Tomlinson
88.53
M55
Medway & Maidstone
4
Joseph
Gonzalez-Armas
88.02
M50
Herne Hill Harriers
5
Simon
Shaw
87.91
M50
Ealing Southall Middlesex
6
Tony
Tuohy
87.25
M60
Dulwich Runners
7
Ged
Ruffle
87.11
M70
Hart
8
Terry
Booth
87.03
M55
Guildford & Godalming
9
Steve
Roberts
85.6
M55
Handy Cross
10
Robin
Jones
84.13
M50
Herne Hill Harriers
11
Avril
Riddell
83.77
W65
Serpentine
12
Peter
Hall
82.09
M65
West 4
13
Tim
Grose
81.76
M55
Walton
14
Caroline
Helder
81.01
W60
Wimbledon Windmilers
15
Martin
Daoud
80.95
M60
Ealing Southall Middlesex
16
Mike
Mann
79.87
M75
Dulwich Runners
17
John
Foss
79.85
M60
South London Harriers
18
Robert
Nagorski
79.5
M60
Herne Hill Harriers
19
Edward
Thorpe
78.67
M75
Reading RR
20
Sam
Rahman
78.5
M40
Ilford
21
Gavin
Englefield
77.5
M45
South London Harriers
22
Carol
Jones
76.86
W65
Ealing Southall Middlesex
23
Tim
Sharp
76.39
M45
Kent
24
Clare
Norris
76.28
W45
Dulwich Runners
25
Andrew
Cornish
75.62
M55
Holland Sports
26
Tom
Cheetham
75.16
M55
Hercules Wimbledon
27
Karen
Samuel
70.04
W60
Kent
28
Tom
Morris
69.15
M65
Hercules Wimbledon
29
Jay
Hadfield
65.98
W50
Fleet & Crookham
30
Peter
Torre
57.35
M80
VAC
* Age grading based on actual age, using World Masters Athletics Road age-grading calculator 2020.

---
VAC 5 Km Road Race, 1 August 2023 , Battersea Park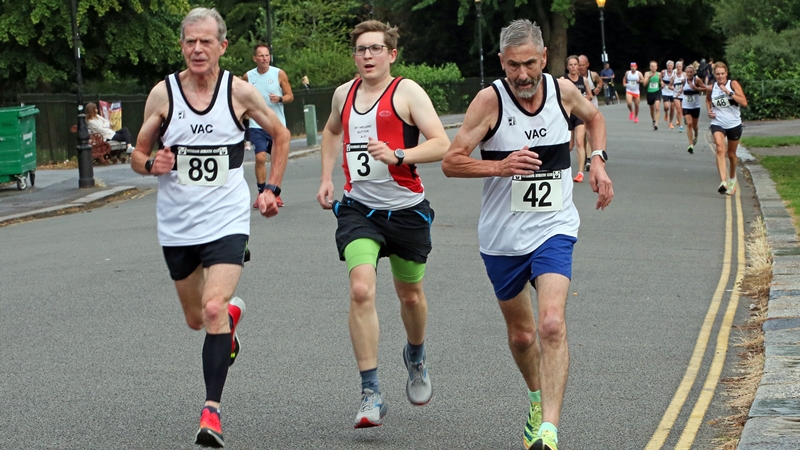 Ged Ruffle (1st M70), John Appleton, Peter Hall (1st M65)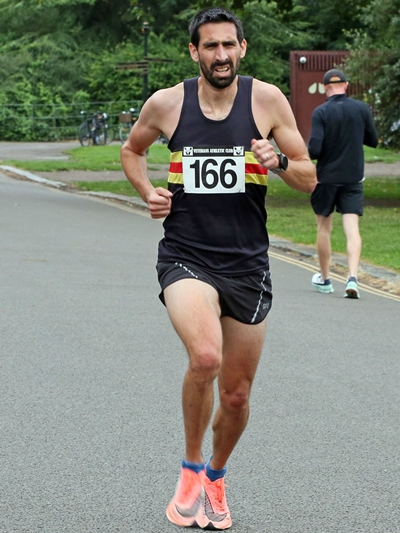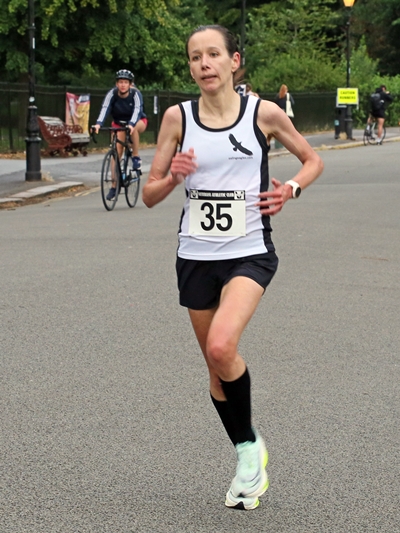 Duncan Woolmer, race winner Melissah Gibson, women's winner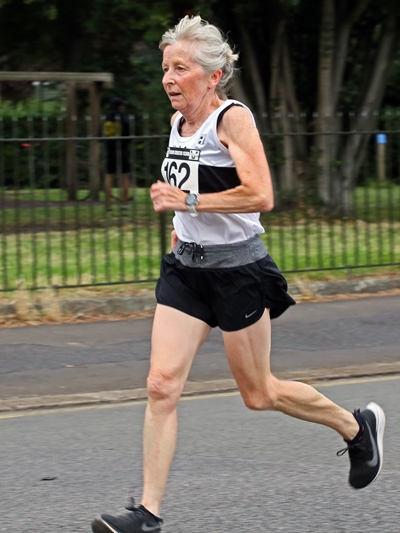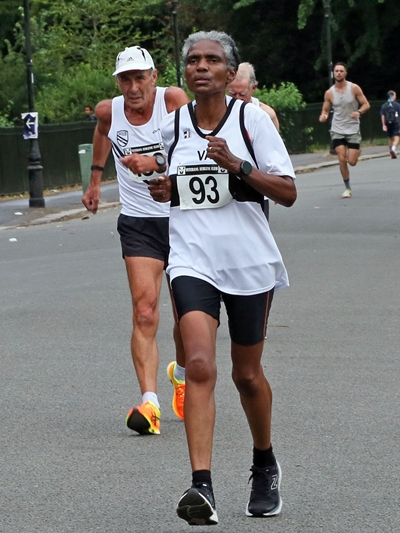 Lynn Wilson, 1st W65 Karen Samuel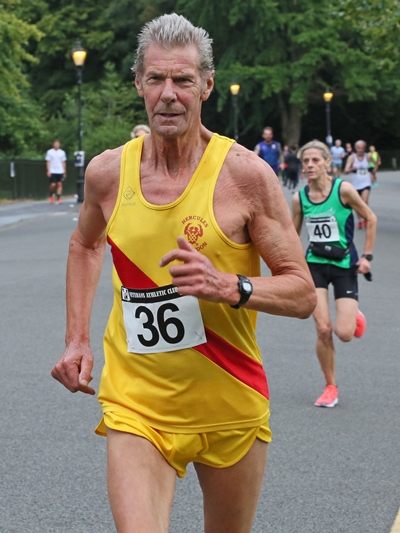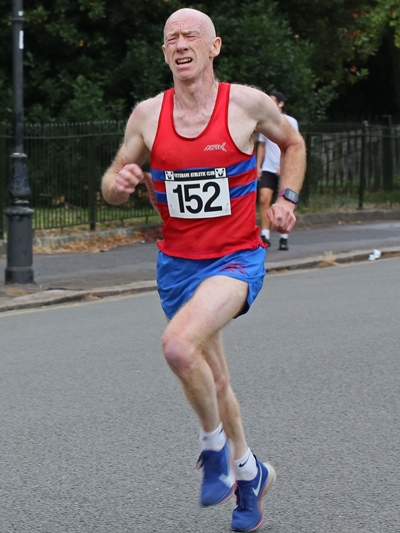 Peter Giles, 1st M75 Tony Tuohy
Photos from Cliff Hide. Cliff has more photos and is happy to supply J-Peg copies to competitors.
Email him at cliffhide10@aol.com
Here are the Results of the 5K Road Race , including the category positions (PDF file).
August's race in VAC's summer series is usually depleted by hot weather and holiday absences. This was not the case this year when 101 runners completed the 5k race in ideal cool conditions. VAC's Duncan Woolmer won the race in an excellent 16:05 which set a new M40 course record for a VAC member, 14 seconds inside Steve Surridge's previous record of 16:19 set 20 years ago in July 2003. Tom Hollis (M35) of Lonely Goat Running Club piled on the pressure to finish second in 16:08, closely followed by Chris Mullin (M45) in 16:09. The record-breaking continued when Mark Cursons set a time of 17:14 which convincingly bettered David Ogden's M60 record of 17:39 set in 2021. Other age group winners were David Williams (M50), Richard Tomlinson (M55), Peter Hall (M65), Ged Ruffle (M70), Peter Giles (M75) and Michael Johnson (M80).
Melissah Gibson, the women's winner of April's race, dominated the field of 25 women to cross the line in 17:35 which improved her own W35 all-comers record of 18:10. Next was Nikki Sturzaker, new to the W50 age group, who worked hard to hold off Carole Coulon (W45). Nikki's time of 18:04 wiped over 40 seconds off Anna Critchlow's W50 record of 18:45 set in 2021. The fourth woman was Maria Heslop of Tonbridge AC who set a phenomenal W55 all-comers' record of 18:22, well inside the record of 19:55 for a VAC member held by Lisa Thomas since 2021. Another splendid record was set by Penny Elliott whose time of 28:47 improved on her own W80 record of 29:02 set in June. Penny tops RunBritain's W80 5k national rankings for 2023. Other age group winners were Lucy Woolhouse (W60), Lynn Wilson (W65) and Annie Ross (W70).


---
Veterans AC 5k Road Walk - Battersea Park, 1 August 2023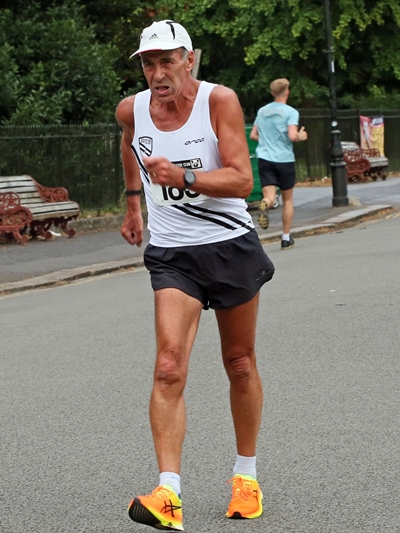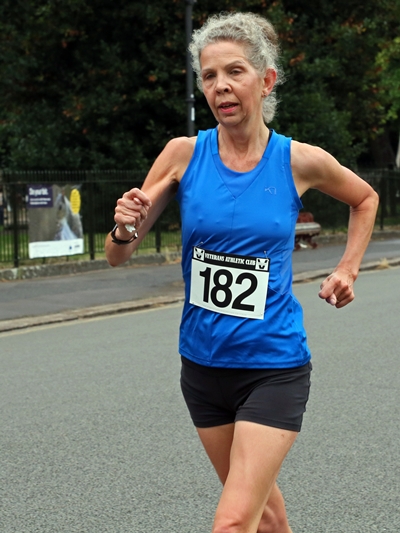 Ian Richards (M75) Melanie Peddle, 1st woman
Photos from Cliff Hide. Cliff has more photos and is happy to supply J-Peg copies to competitors.
Email him at cliffhide10@aol.com
The last of the regular Battersea Park races had an average field this time in indifferent humid weather, luckily the rain held off for the duration.
Coming in as men's winner was Dave Annetts from N Herts RR in a fast time just outside his personal best, with Ian Richards from Steyning AC not far behind.
The ladies' winner for the third time running was Melanie Peddle from Loughton AC, in her usual highly respectable time.
Veterans AC were pleased to welcome two guests from Hong Kong, Min Yee Michelle Lee and For Yau Fung who had chosen the race while holidaying in the UK.
In addition the other guests were Paul Hawkins from Stratford upon Avon AC, and promising junior athlete Trejan Checheku-Boamah from Blackheath & Bromley AC who completed in a good time; going under 30 minutes for this distance is now a realistic target for him.
Veterans AC 5k Road Walk - Battersea Park, 1 August 2023
Fixture IV
RWA Permit No 23025-4
Place
Name
Age Group
Club
Time
1
David Annetts
M55
N Herts Road Runners/Veterans AC
23:32
2
Ian Richards
M75
Steyning AC/Veterans AC
27:43
3
Melanie Peddle
W50
Loughton AC/EMAC
28:11
4
Trejan Checheku-Boamah
U15B
Blackheath & Bromley AC
30:18
5
Penelope Cummings
W45
Herne Hill Harriers/Veterans AC
30:20
6
Maureen Noel
W55
Belgrave Harriers/Veterans AC
32:24
7
Fiona Bishop
W60
Woking AC/Veterans AC
34:26
8
Min Yee Michelle Lee
W60
SSH RWA (Hong Kong)
36:15
9

Paul Hawkins

M65
Stratford-upon-Avon AC/MMAC
36:20
10
David Hoben
M70
SyWC/Veterans AC
38:07
11
Christopher Flint
M75
SyWC/Veterans AC
39:27
12
For Yau Fung
M65
SSH RWA
47:23
Stuart Bennett
M60
Ilford AC/Veterans AC
DNS
Peter Hannell
M80
SyWC/Veterans AC
DNS
Lesley Morris
W60
Ilford AC/Veterans AC
DNS

Tessa Killingbeck

W40
City of Norwich AC
DNS
Artur Olszewski
M40
Veterans AC
DNS
Officials:
Race Director and Starter: Ben Noad
Clerk of Course: Dennis Williams
UKA Adjudicator: Malcolm French
Timekeepers: David Harris, Don Turner
Recorders: Helen Davies, Ian Isherwood, Carl Lawton, Maggie Statham-Berry, Ros Tabor
Walk Judge: Shaun Lightman
Registration: David Hoben, Maggie Statham-Berry, Ros Tabor
Marshals: Joe Aspinall, Martin Berry, Stephanie Burchill, Tony Harran, Andy Murray, Dennis Williams
Results: Ben Noad
Photography: Cliff Hide
First Aid: Bespoke Medics Ltd

---
Octogenarian and Nonagenarian gathering at the Bushy parkrun, 1 July 2023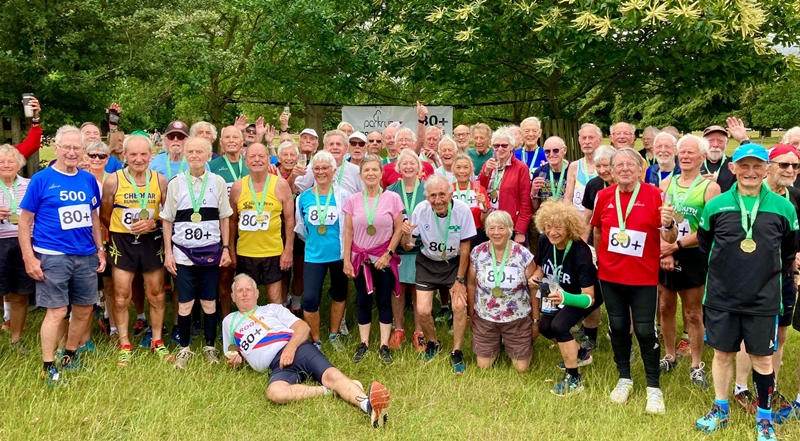 Some of the over 80s at Bushy parkrun, featuring Joe Aspinall in the VAC vest
Here are the results for the over 80s in each age group.
VAC members led the way at the sixth annual gathering of the over 80s at the Bushy parkrun. Eighty-five octo- and nonagenarians came together to set an unofficial record amongst the 1453 finishers at the 937th parkrun at Bushy Park, the home of parkrun. Never have so many over 80s started together. VAC member, Richard Pitcairn-Knowles (M90) is one of the founders of the annual meeting which includes prosecco and cupcakes as rewards. He was one of four over 90s to complete the course. There were 64 finishers in the 80-84 age group and 17 in the 85-89 age group.
VAC's Michael Johnson was the fastest of all the over 80s with an impressive time of 25:54 and an age-grading of 83.20%. The fastest of the women was VAC's Penny Elliott who achieved the best age grading of the entire field with a magnificent 89.88%. Her time of 29:39 was only nine seconds short of the all-time best for the W80 age group at Bushy Park. VAC's Joe Aspinall clocked a time of 34:17 which was convincingly the fastest of the M85 competitors.
Next year's gathering at the Bushy parkrun will take place on 6 July 2024 with the aim of 100 over 80s taking part.

---